Merry Christmas from me at SpankingBlogg – I hope that over this festive period you all enjoy yourselves with family and friends. I intend to drink and eat too much as I normally do and am hopeful of a new pair of slippers which I doubt I'll be using much to walk in… if you know what I mean! In a slight effort to be festive here, I have a few galleries and updates that reflect the season, but as the northern hemisphere is gripped in cold, let's not forget our chums in the south where it is positively baking and I have got an outdoor treat for you from a new site MarkedButts.com for you all to check out! & so I'll start here first since new sites are always interesting and this one looks great!
Now as I'm busy, I'm sure I and my fellow spanko enthusiasts will be reviewing this site very soon, but from what I've seen so far, I think this is the site that Kyle and his spanko partner, the lovely Kat St James are running. It looks like it – as there is an awful lot of stuff with Kyle on it… anyway, there's a decent tour page with streaming clips for you to check out – but inside you get WMV files to download and I have cut a clip of Kyle and Kat with him spanking her in the big outdoors on the beach! She had thrown her Flip Flops (beach sandals) over the cliff edge, a present that Kyle had given her because she didn't like them… so he spanks her on the sand, constantly looking out to see if there is anyone else watching… perhaps he should have looked around a little closer – as you'll see! (Oh and if he did that anywhere in England on Xmas Eve both he and Kat would be in A&E suffering from hypothermia… heh heh!)
So check out the stunning scenery of the Californian coast and Kat's spanked bare bottom from the movie "Outside adventure – sealing her fate" with the emphasis, I should hope… on "seal" LOL! Anyway, I enjoyed this unintentionally funny part with Kat concerned that a previously well camoflaged seal is watching her getting spanked on the bare, since Kyle has his back to the animal, he doesn't believe her and continues, his reaction to the seal when he finally susses out Kat isn't lying is priceless! (I have a clip of this and you can actually see the real quality of the type of WMV films to download) – I like the first impressions of this site, with focusses on new girls, amateurs and good old fashioned hard domestic spankings… hope this warms y'all up (more pics from the above movie are below)
Click here to view more of this new site (and check out their very fair pricing!)
*********************************************
Check out this festive treat below just out today in time for Xmas from NorthernSpanking.com
Yup, what is it with Paul and his fairies??? This time the Xmas tree fairy comes to life in the shapely form of Sam Johnson and rifles through his presents until he puts a stop to it! However, this is another magic wand fun filled spanking again… very funny and an excellent film to let you all know about out now! Enjoy! I'm off to get very merry now!!! Back soon 😀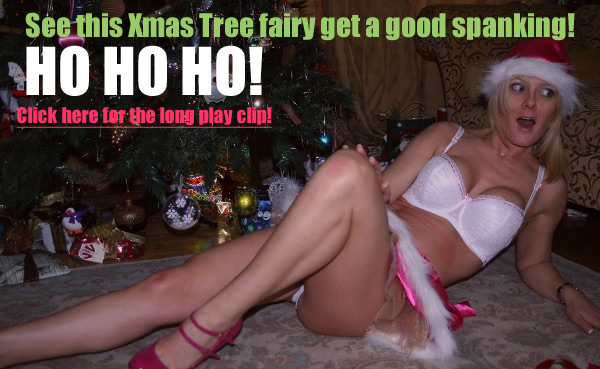 Any excuse to show the lovely lithe Samantha Johnson, eh? 😀
See MORE of Sam Johnson & all the crackers exclusive to NorthernSpanking!