Here in the UK, we are pretty rubbish at handling a little bit of snow and cold weather, despite our once great nation being labelled as "cold country" status for many years now, our impoverished government has finally realized years of disinvestment in the infrastructure, especially during the winter months, means we are slipping and sliding around in our over taxed cars like headless chickens running amok on our dangerous highways… I'm sick of it and have just decided to stay indoors and put my feet up… it's been so cold that we have had some stunning "hoarfrost" – luckily where I live it hasn't snowed as much as the rest of the country, it's just been freezing fog and ice on the roads, which I think is worse – as I can't even throw snowballs at my psycho neighbor *sigh*
See what hoarfrost is, it can look really beautiful, where I am, there's no real snow, just frost that has stayed for days as it hasn't gone above 0c (32f) for days, even during daytime and even formed some amazing ice crystals all over my car which I had never seen before!!! (Oh, I had to get a new damned car battery which cost 80 Quid – as the other one gave up! Yet more expense I could do without!)
So what have I been doing whilst warming up getting toasty? I have been reviewing and watching some lesser known spanking films courtesy of the Spanking Theater, using some of my credits to check out these movies below from Smart Films. If you're into English style discipline punishments and long play spanking films in the style of Miss Marchmont or Strictly English (I think I shall also be reviewing some of these soon as I was watching some of their movies in the lists provided) … then read on, I have included some choice images from the movies, just to keep you interested, of course!
***************************************************
Smart Films brings you quality British Domination & Spanking videos. I have featured 2 films below: "Red Rolls Royce" and "Tara's Naughty Friends" this network promises viewers are "in for a rosy assed treat" – read on and see if they live up to this claim!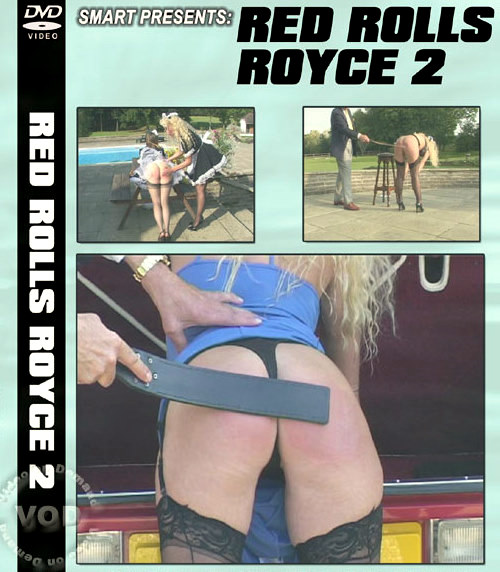 "Red Rolls Royce" James and Tara Wentworth returned from a business lunch where Tara had apparently been less than polite to the host's staff. The classic red Rolls Royce arrived home with the couple having words about the earlier incident. James has had enough of arguing so he bent Tara over the hood of the Rolls Royce where she was given a proper hard spanking! They were interrupted by Prudence, the maid, bringing out the telephone for posh James to speak to the host of the earlier lunch. Prudence displayed obvious delight at seeing her mistress being spanked. She was then instructed to fetch out the punishment strap. At this point Tara was taken to the trunk of the car, where James found a paddle to give her a few swift strokes across her bare behind before the maid returned with the strap. Tara was then made to bend over with her hands on the trunk floor and Prudence was instructed to remain and watch, much to Tara's embarrassment & annoyance. Imagine the joy of her put down maid watching Tara getting a proper strapping on that tight derriere! To further humiliate Tara, James made her spend the rest of the weekend working with the maid just so she'd know what domestic staff had to put up with! However, during that weekend, Tara had enough of the humiliation of being in her maid's uniform and listening to Prudence prattle on so she overpowered Prudence and spanked her over her knee, then used the table and finally made Prudence kneel on a bench for our viewing pleasure with her cute butt fully exposed! All this is ready for the strapping that takes place next which was quite erotic! Prudence was then bent over a high stool for an unexpected caning which all Brit style movies should contain… and her loud cries and sobbing protest attracted the attention of James who decided that Tara had gone too far so caned her over the stool for disobeying his wishes and exceeding her authority. The final scenes of Tara bent right over over grasping her ankles is worth the entrance fee!!! James now decides that Prudence should endure another caning, as she seemed to find Tara's punishment so amusing (this movie ends in caning mayhem much to my amusement). James left her sobbing in tears with a severely marked bottom! Did I enjoy it? You bet!!! See some images taken from the movie below!
YOU CAN VIEW THIS FILM IN FULL HERE
***********************************************************
Tara's Naughty Friends As in the above film I featured, this stars James and Tara Wentworth from the "Red Rolls Royce" film. This time Tara's friend, Linda, arrives at the front door in a distressed state, having been thrown out of the house by her husband, Bill. It transpires that Linda has "borrowed" some money from her employers and has been discovered before she has repaid the "loan". They are now threatening prosecution if this money is not repaid within 24 hours. Tara comforts her, gives her a cheque and tells her she can stay in the house until things calm down. James returns from work and discovers the situation, which has all been arranged without his agreement. Tara is promptly put over James' knee and given a good spanking, then instructed to fetch the paddle, punishment strap and cane. The paddle is administered first, after the first stroke of the new strap, which obviously is extremely effective, she protests strongly but this is to no avail and she receives a sound strapping. Linda, meanwhile, has been informed that she will receive exactly the same punishment and has been watching with increasing concern. Her turn now comes to be put over James' knee for a spanking, followed promptly by the paddle and the strap. She is then told to stand and watch Tara being caned as an example of what is to come. James then proceeds to give Tara a thorough caning, firstly over a stool and finally touching her toes. Linda, suitably alarmed at what is imminent, is then given a similar caning. The girls are finally dispatched to commence household duties and prepare James' tea… as all good Englishmen should expect! There are some extensive images taken from this movie below in another long play movie that I highly recommend (pictures speak a 1000 words, so they say, so i'll shut up with my waffle!)
VIEW THE FULL FILM OF TARA & LINDA HERE
Of course if you haven't signed up to my Spanking Theater then you can't take advantage of a freeview of any spanking film (there are now literally 1000's to choose from all over the spankosphere!) – so take advantage, sign up and get some freeview clips before you decide what options to view any movie from!
More movies today from Smart at the Theater are featured below:
If you want something a little different from a spanking producer you may not have heard of that has some amazing punishments of some attractive girls with a decent storyline, great location and costumes then give SMART Films a look!
*********************************************************
& of course today marks a sad anniversary, the 30th year since John Lennon was so cruelly taken from us when he was only 40 years old, don't you wonder what beautiful music he may have made since 1980? Staggering, I can only "imagine". R.I.P. a true musical genius!