Regulation Knickers is one of those British sites you might miss, but you really shouldn't, as all their content is exclusively produced in house and what they were famed for, authentic school uniforms and girls in various states of undress, with those regulation knickers drooping half way down their legs as they got their bottoms spanked hard is still very much the order of the day!

Before you check the rest of the update, see a couple of Free Exclusive WMV clips that of course you lucky lot know and expect from The Chief unlike other places you might go read up on films and reviews etc but I have also included an extensive free gallery that I have had made specially for this blog taken from one of the most recent remastered full movies available for members! It stars one very naughty and very cute looking Emma Brown (playing mischievous schoolgirl Emma Cousins) caught smoking and slacking by Gym Mistress Miss Hastings earlier in the day on a cross country run and so she reports for her detention punishment after school! Seeing her in that old style authentic uniform with her bottom pushed out for her punishment is an amazing sight as you'll see from the 1st spanking clip and images!
Taken from the movie: "That'll teach her!"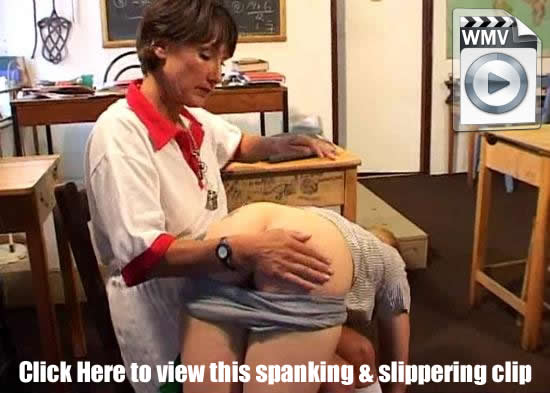 Emma is a defiant cocky girl that still manages to snigger and giggle when she is being chastised by Miss Hastings, the slippering seems to do the trick and then Emma is told to report to her in her regular full school uniform and also to fetch the cane from further down the school in just her knickers as further embarrassment – the final caning scenes are typically severe and any smirks and smiles that Emma showed foolishly earlier are gone as her bare bottom took a series of stinging strokes as you'll see from a short clip and from the images taken from this long play movie (typically the long play movies at RegulationKnickers are 4-500Mb in size!)
Check out some more typical storylines below which includes all our fetish needs, including a nice schoolgirl and nurse theme: loving the uniforms!
Some new faces and as ever the schoolgirls are not only in full school uniform right down to their school regulation knickers but they are going to be thoroughly punished too!! You will be able to watch this great spanking movie develop from the beginning and really enjoy this spanking story as the title suggests like the movie I had featured with the added bonus of authentic school uniform action!
The Deputy Headmistress brings this highly attractive blonde 18 year old schoolgirl home from boarding school as she just can't behave. Her mother, to the delight of this strict Deputy Headmistress is wearing her nurses uniform. As you will see as this movie develops, the interview with the nurse does not go well and in no time all she finds herself over the teachers knee whilst still in her uniform. She gets such a spanking and her daughter is permitted by the Headmistress to watch just to make her plight worse. You'll also see a fantastsic scene of the schoolgirl strip so that her legs get a damn good slapping!
Things are not going well for either this tall attractive 6th form girl or the Gym Mistress. Both Matron and the Headmistress have both of them exactly where they want them …. lined up for this punishment! See how this schoolgirl is dealt with, and to create YET more embarrassment for the Gym Mistress, she is given the same punishment bringing her close to tears of shame and humiliation! View and download these excluisve films including sets of girls in their regulation knickers at school only from Regulation Knickers