I have been sifting through some of my old classics that have been filmed over 5 years ago and now at sites like spankingTV they are remastering these old movies and making them available for download! Take this extremely humiliating and embarrassing punishment for Hannah & Rachel who have been caught bullying the younger pupils. However, the Headmaster isn't allowed to use corporal discipline at his school thanks to the namby pamby liberals in his area but he does send them to the parent of the girl they bullied the most and of course it's Mrs Bradley … maybe these girls will learn who they are picking on in future! She canes them hard over their panties after she makes them soak them in the sink first, then when their bottoms are stinging and damp, she canes them without their knickers on, a most humiliating punishment as you'll see in the pics and promotional vid below!

The image below leads to an instant long play clip taken from SpankingTV.com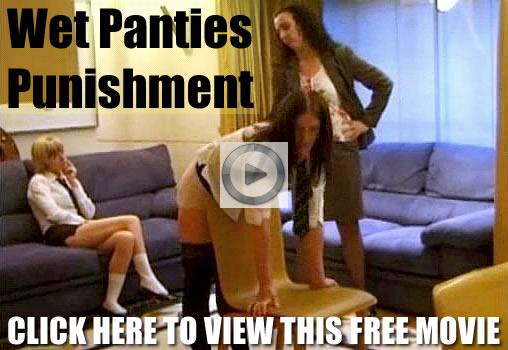 This unique movie and loads more full length English classics are available for immediate download only from SpankingTV – a massive collection of remastered long forgotten classics that any lover of English spanking erotica should have in their essential female discipline library!
***********************************************************
Continuing with girls all slippery and wet etc, ahem – I love these type of scenes especially when it involves playful catfighting and spankings, and I love them more when the 2 naked wet girls who are grappling and spanking each other in a warm steamy bathroom are none other than Kat St James and Sarah Gregory – it's highly erotic and of course the glistening wet flesh of the girls get a good hard soaking wet slapping… and the dreaded bathbrush is never too far away if needed! Well, as you will see these 2 lovelies compliment each other perfectly… Sarah's big heaving bosoms and Kat's petite frame make this a proper visual feast for us connoisseurs of all things spanking and girl fun!
To remind you of their previous encounter in the shower, check out this clip and some images where sarah gives Kat a good hard spanking in the tub, then with the brush and finally Kat's slippery body is placed over Sarah's lap for a beautiful girl/girl spanking!
Click image below to play the Free Shower scene clip

– Right click and save the movie file –
This movie file in Quicktime .mov format can be played with Realplayer or VLAN Player
CLICK HERE TO SEE MORE OF SARAH & KAT HERE

Well, the reason I'm showing yout he above punishment, which members of SpankingSarahGregory have watched and rated very highly, well, these girls are BACK in the bathroom and this time they get a little playful in the bubbles in the tub only this time Kat gets her revenge and manages to spank Sarah as her heavenly heaving bosoms sawy as her soaped slippery bottom is given a proper reddening! But in this fun filled spanking, Sarah also shows us why kat is so popular and once again has her wicked way over her knee! Spanktastic!  This is a real treat for lovers of these girls and F/F punishments in particular!
Sarah Gregory and Kat St James are really good friends. They both love to get spanked. So, they decided to film a fun and sensual spanking video in a warm bubble bath. This video is more realistic in that they are just casually talking and spanking each other and having fun, much like they would do off camera. & for what it's worth, I hope that when sarah invited kat back again, they spend some MORE time in the bathroom, I can tell you if they do, you will be the FIRST to know here!
See more of the latest movie action exclusive to SpankingSarahGregory.com
**********************************
Next today I decided to reprise this naughty minx from one of New Jersey's sleaziest motels! She may not be in the bathroom just yet, but she'll soon be there when The Mystery Spanker has finished with her!!!
The lucky webmaster at BunBeatingFun always informs me of new models or brats he enjoyed spanking and this is one of those girls! I have downloaded the full movie a while back but thought you might want to see this real nasty brat getting what she thoroughly deserved! This bratty thing really blubs and sobs throughout her ordeal when the patience of our Mystery Spanker are tested to the limits with her filthy smoking habit on set in the sleazy motel room…when asked not to smoke she basically says "cough on that!" – well, check out the FREE Clip below and the images and downlaod the full 500Mb Hi Res wmv movie for yourselves at BunBeatingFun.com
This is what Greg had to say about his latest update with Mandy!
"Mandy is that sort of long-legged Italian princess who is very much accustomed to having her own way. Because we're in the business of dealing with models, our being confronted with diva like behavior is nothing out of the ordinary.But, when Mandy insisted on smoking in a no smoking room and then compounded her impertinence by deliberately blowing smoke into the face of our asthmatic director. Well, that's when she earned herself the bare ass thrashing of a lifetime… and then some!"
"eeny – meeny – miney – moe…" I wonder if Mandy had any idea of what she was to expect? Great choice of model, Greg, and I loved her buxom bosomly look. A hot lassie, indeed! Check out all the latest updates from the extensive tour pages HERE – decide for yourselves!
***************************************
The below movie from NorthernSpanking was actually one of my faves released last year and I'd like you to remember it with me withthis cracking update I made at teen Spankings blog an age ago so you may not have seen this! It's a cracker and brilliantly acted by leia-Ann Woods, Amy Hunter, Stephen Lewis and Andi Switch! If I could make movies like this I'd be chuffed!!! 😉
It's been a while since I did a proper review of a long play movie and this one starring Amy Hunter and Leia Ann Woods as 2 bratty sisters is a peach of a film from spanking specialists NORTHERN SPANKING! Why? Well, I loved the authentic settings, we even get an opening scene of both girls playing up in the car as Mum drives them home in difficult driving conditions… now I'm sure many of you will be aware of the distractions of annoying brats in the rear seats…play fighting, mucking about, saying they want to go "for a wee" or asking that infernal question "Are we there yet?" See the build up below and you'll understand why these girls will soon be ending up pants down, crying and humiliated when they get home!!!
Below are some images and of course, you may have realised by now, this movie is one of their special HD spanking versions in MP4 format – all these movie formats are easily played on VIDEOLAN, the best multi platform media player – if you don't have this, you can download it free HERE. Anyway, the images below show you that both girls are spanked and slippered across their panties, then with them removed as each girl at first is forced to watch the other. Amy takes a spanking whilst Leia pokes her tongue out, hmm, they aren't taking this seriously, are they?….it's around this point that both girls are given the slipper as mum is convinced these brats are NOT learning their lesson!
Now the twist happens to these "Little darlings" during their nasty slippering punishment as both bottoms are beginning to turn a shameful red, and both girls are snivelling and starting to feel sorry, so what happens? Stephen Lewis returns to find his "little darlings" being thrashed and having spoilt his girls (rather foolishly) the slippering stops and the arguments about the car journey, the bickering and these brats behaviour comes out but Stephen isn't listening and ushers the girls away after even giving them pocket money!!! Check out the moment that he returns to find this terrible scene in front of his eyes!
Don't you hate it when you can see precious little darlings like this wrap their fingers round their adoring dads? Mother here thinks so, she knows the true extent of their nature but he's blind to it, and now as the girls are away he punishes his wife in the same room that only 5 minutes earlier was filled with the moans and sobbing of Amy and Leia-Ann! What follows is a great domestic discipline scene of a hard spanking followed by a quite severe caning – and I have to say, Andi Switch – who plays the wife is looking MILFtastic – who would have thought she was wearing such erotic lingerie underneath that boring plaid skirt? yet another surprise inthis great movie!!! The end of this film is a great finale as she is caned, stripped down to just her sexy underwear, and I'm always a sucker for women with great legs in dark stockings anyway…check out the caning scene below, you'll get an idea of what happens at the end! (the full caning scene is fantastic btw!)
This long play HD Spanking movie (and there's so much more, I have only scratched the surface of what this one film offers) is only available at NORTHERN SPANKING – there are other HD movies which are being uploaded which adds to their vast movie collection, and of course, there are now over 60 of their infamous SSS (Short Sharp Shock) films which caters to those wanting to see punishments quickly without a big build up of storylines etc…
SEE MORE AND CHECK OUT THE GIRLS IN THEIR TOUR AREAS HERE
**********************************************
If you like to see your girls spanked in various uniforms, especially those haughty Air Stewardesses and those sexy girls in French Maid uniforms…then today is your lucky day as these are the 2 most recent updates! What's more, either side of the English Channel, Mike has brought more Brit spanking stars over (Pandora recently starred as an air stewardess at Europe Airlines) well this time, she's sent to the BirchRod Inn to learn some manners and stop being so arrogant and accusing others of sexual harassment! Nothing worse than a tell tale and a sneak!!!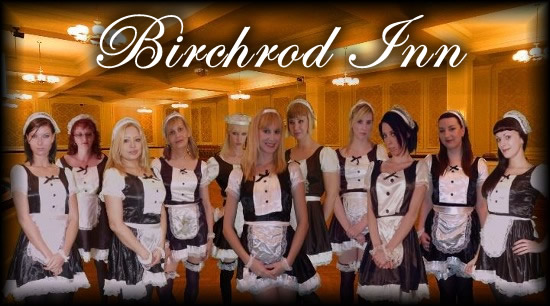 So it is pleasing to see Pandora Blake spend some days at Birchrod, dressed in her demaning French maid's outfit, an object of lust for many a red blooded male…
This is what the management of the Birchrod Inn had to say: "The arrogant, hoity-toity little madam Pandora was sent to us because after her boss smacked her bottom a few times, she sued him for sexual harassment. She needed to be taken down a peg or two so she was sent to the Birchrod Inn for 3 days. Not long after she arrived she was over Mr. Johnson's knee getting a sound spanking for her attitude."
Later, after scrubbing the garden furniture,  during her break, she overslept and was rudely awakened with the sting of a leather paddle over her bed and Pandora was given another nasty punishment that almost made her cry! This is a top movie of a girl subdued and made to learn some manners and respect!
See the FULL movie of Pandora and all French Maid uniform punishments HERE
As I said, the latest update comes from the Europe Airlines section of this site – pity it's not the rotten lazy cabin crew of British Airways…now there's a group of greedy good for nothings that deserve birching! They get paid MORE than other cabin crews, get MORE perks and want MORE! Well, f*ck 'em…I'd never wish anyone losing their jobs, but these morons are going the right way to finishing of Britain's flag carrier…that's all we need!!! A cheapy Ryan Air to remain the strongest airline in the UK…now there's an airline I detest!
Anyway….back to thieving Donna, who dares to steal some accounted for bag of nuts on a flight! The utter outrage of it!!! Check out what happens below…and also, don't you think she and pandora have similar bouncing cheeks? They can both take a damned hard thrashing!!!
Here is the written report from Mr Johnson who had the duty of punishing Donna on not one but 2 occassions, I'll let his report explain it all below:
"Flight attendant Donna has a habit of eating a lot of nuts on the planes which are meant for the passengers. She was reported to me and I gave her a sound OTK spanking with the promise of a good caning if she did it again. The next day on flight EA 194 to Madrid, the little madam stuffed herself with nuts again so back at the airport, she was soon bending over for 12 hard strokes with the junior cane and 12 with the senior cane!"
Seriously do NOT miss the harsh caning scenes of Donna's welted buttocks!
You can see this in the Air Europe section HERE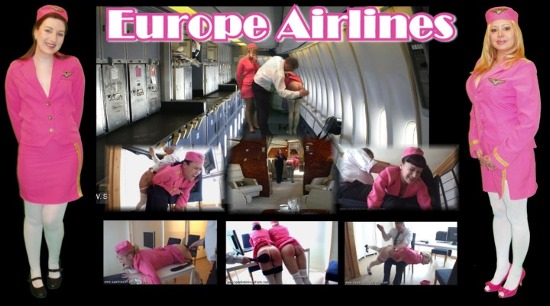 To see all the girls in all the unforms sections – check out the site at the banner below if you haven't already!

Have a great weekend & enjoy this uber update, more to come! Chief.