Ah, it's good to be back, some of you will probably not even notice I was away on this blog as it was being transferred to a new server so until it was complete I couldn't post anything otherwise it would have got removed or lost in transfers as they take a point and transfer from there! I had some teething problems like being unable to log on and other minor niggles like after that unable to post images. I had been hassling my hosting company's customer support until the guy got fed up with me! I've also lost a few comments from the last post so it's not me being ignorant, as I said, the transfer takes place and cuts off anything after that (in this case Paul's PJ comments and such…) So enough of my prattle, I am massively behind on my schedule again due to these long delays and can only post this about the beautiful but very addictive Amber Dawn. before i go on, at least I didn't make a gaffe like this "live" on BBC Sports News calling French football legend "Le God" or Eric Cantona a "C*NT" (this man is seriously cool, even if he is French… sorry my French "amis" I am only joking) these are the sort of career killing gaffes you get, I love seeing people squirm like this live on TV! "C*NT!" haw haw haw 
Oops! Anyway, I decided to make a quality post as I'm back and chose Amber (who I shall not be calling a c*nt) and this post covers a very naughty movie just completed at SpankAmber.com which sees her explore her bondage fetish in the form of Shibari ropes – oh, along with a lot of spanking, and submission like sucking her man "Daddy's" cock, butt plug spankings and strapping as well as getting fucked to orgasm whilst bound… all pretty hot stuff from this beautiful fiery redhead and you can see a very special gallery and 2 naughty preview clips that I had made yesterday, just click the link HERE or the image below to access this!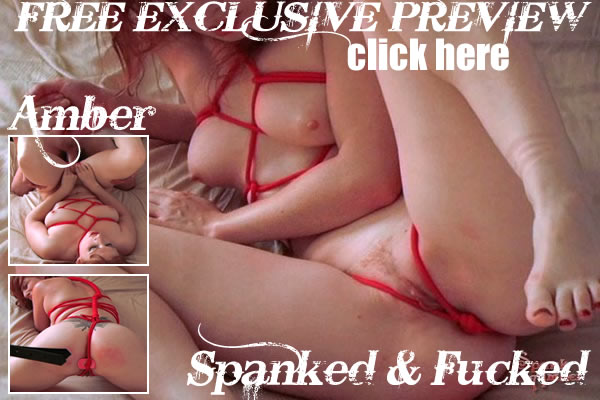 This Special Free Gallery taken from the BareBottom.biz Galleries
I have updated this site recently & plan to add many more free stuff soon, so bookmark it!
Sorry, I forgot to advise you all to only watch this under a freezing cold shower lest ye all explode in a mushroom cloud of excitement… so apologies for those who have lost various body parts, I am now typing this in an ice bath such is the ferocity of the next images that will blow you away, this, I think… is one of Amber's earliest F/F "jollies" which eventually led to her starting up her AmberSpanks.com website – and what a wise decision that was, as Amber has shown that she and her partner can produce the most consistent and original content around, mainly because it centers on Amber… but seriously, this long play movie with this buxom Doll called Laila really caught my eye and I enjoyed watching it all over again (the lower res Wmv version is 46oMb alone!)
Chop Shop Spanking:
Greasemonkey Amber is criticised for not finishing the car by her customer, this whiney and very attractive brat catches Amber's eye as she complains about the delays and Amber tells her to quit bitching as Laila hasn't paid her much but she has another way of getting payment and that's a good old fashioned spanking that leaves voluptuous Laila ripped of her clothes and left with a sore red bottom by the time Amber had her way! I loved this movie, loved the location and the way in which Amber dominated Laila, who I'm guessing must be dinky at around 5ft tall as Amber appeared to tower over her! Images below are screen grabs from the movie:
SEE THE FULL MOVIE ONLY AVAILABLE AT AMBERSPANKS.COM
There was a sweet bonus spanking at the end of this movie some of which is covered in this special freeview below and both Amber and Laila are in an old 50's automobile, in a time when girls would fawn over their boyfriends macho drag racing antics and this is a good excuse for some nice photography and another chance for Amber to spank Laila who looks absolutely ravishing in this scene, check out the long play clip below, this scene in original Wmv would have been over 140Mb so the Flash Player has reduced it without losing too much quality: Enjoy!
This instant play movie clip shown via Teen Spanking Tube
Finally today I have some images from the original movie and check out their sexy costumes and of course Laila's beautiful bubble butt that Amber gleefully spanks! …& I'm "spent" 😀
So if you fancy hot girl girl spanking action, you could do far worse than choose Amber's sites! Check it out, you also get options to sign up to both for a REDUCED amount which I applaud and is my preferred way of viewing all of Amber's amazing movies!
Have a great weekend, if you sign up at Amber's site you'll hooked downloading her stuff, I guarantee it – back soon!
Chief