Dang! I was going to post something else but when I saw this latest update, I just had to let you know about it as Clare is my favorite female spanko webmasters… why? Because she loves her work, she gets in the naughtiest girls and every now and then, it seems Clare needs a good spanking herself and just has to bare her bottom and I'm all for that, hell yeah! I have 2 updates from 2 very different sites that Clare runs, first up from MySpankingRoomMate.com – her spanking soap opera website, we are at episode 72 (hard to believe) and this is the epsiode Clare gets a darned good spanking off Police Officer Chris!
So the storyline is this: As you should all know by now, Clare is quite the lesbian cougar on MySpankingRoomMate. She has struck up a friendship with the local police officer, Chris, and makes some inappropriate advances! Chris, a strong woman with a mean arm on her, takes Clare over her knee & gives it to her on her tight jeans, then her snug blue panties, and finally on her pale bare bottom which gets very red and Clare sobs real tears! You'll see Police Officer Chris really whacking Clare, giving her a hard lesson right in the bathroom, which I have to say must have been warm in there as she roughly moves Clare around over the counter and off her lap to drive home the lesson and you can see Chris working up quite a sweat! This is one spanking Clare won't be forgetting in a hurry: Check out some Hi Res images from the new movie below which shows off clare's spanking and her MILF-tastic butt (& yes… a MILF – "I would!")

"Get your jeans down now!" Clare's red bum was all too obvious from her hard spanking over her jeans!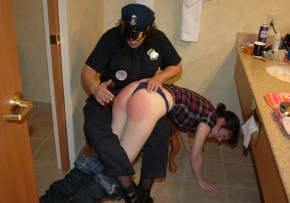 "…and let's be having your tight blue panties off too!" She barked , as Clare felt tears welling from the overpowering shame of her, a grown woman, being spanked like a naughty little teenage slut for daring to try it on! The humiliation was almost unbearable!

This full movie update is available to view HERE
THIS SITE IS PART OF THE SPECIAL CLARE FONDA PASS
******************************************
& now for something completely different (and very naughty) from the delicous pervy mind of Clare who has an amazing Adult Diaper site NaughtyDiaperGirls that most of her models love working on as it makea a visual feast with beautiful women in diapers. Some have a diaper punishment, some are diaper lovers and there is spanking added, adult baby-play with rectal temperature taking, mouthsoaping, cornertime, and buttplugs! All the new stuff is also shot in Hi-Def/Hi-Res playback.
Click on the images below which contains some of the latest galleries from this unique site.
In the first gallery below: One of Clare's regular adult baby girl models, Kay (main c0-star of Room Mates above) , plays a nanny who comes to Clare's house looking for work. She ends up finding out that she is the baby!  Clare gets Kay in a nicely fitted diaper and she meets her new "co worker"- Baby Mary Jane! Mary Jane is a curvy model with tiny little titties and she is brand new to modeling but already a massive hit on Clare's other sites and with me as I have raved about her too! Enjoy the girls playing and cuddling on the couch and of course you just know that Kay always brings some naughty play into her scenes!

Kay & Clare get involved in some serious Diaper play
The 2nd Gallery features Mary Jane as she is interviewed to find out what she is looking for in both a "mommie" and a "daddy". Cute MJ, who is such a natural as you will see from the images, sucks on her pacifier and crawls around showing off her stunning body and adorable big baby girl manner that Clare captures so well.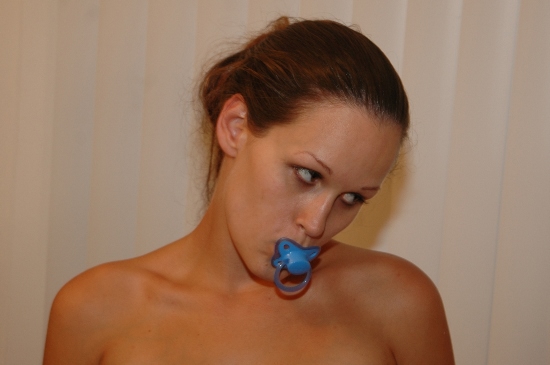 Adult baby diaper girl MJ plays up for the cameras beautifully
Popular fetish and spanking model, Elise Graves, is back and this time doing some adorable adult baby play in a crib! This set from the movie including some breast feeding play from a naughty Clare simply HAS to be seen!!!

Elise Graves dressed in her diaper needs her milk!
& finally I saved the best til last as it features Clare peeing her panties and jeans when she plays a housewife caught short… who needs to be properly diaper trained by the looks of it! Check out Clare's images below.

Housewife Clare pees herself! Click image to view the free extensive gallery
Phew! So there you have it, thanks to Clare for throwing me off my regular schedule, but I just *had* to update this for you all, I hope you appreciate some of Clare's unique work! Check out the full tour pages HERE if you haven't already!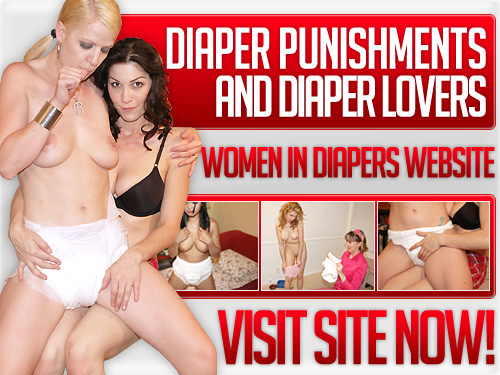 Back soon with more updates from around the spankosphere!
Regards, Chief