Today's post is a review of Hand-Spanking.com
Ok, I have rather been a "Dodo" about the site Hand-Spanking.com website – I once joined up many years ago only to be a little disappointed. However, now, I took the plunge again last night and, well… I'm blown away! You may all know I have a rather delicate fetish for all things Japanese so to see this site with a clear and easy navigation once inside was a joy! A model index with names which I always think is now essential really makes it worth viewing and the films have all been remastered and all new content is widescreen 16:9 ratio showing us far more clearly on a larger screen all the essential spanking action… and finally, of course, the girls and spankers are a joy to watch, even the English translations are near perfect so it's hard not to miss ANY of what is going on! This site covers all manner of F/F spanking in all your usual locations of the home, school and at work and there's a strong theme of Mother/daughter relationships and role reversals which I like… I suppose I could be on here gushing for an age and boring you, so instead, just check out the very latest update below (as of Jan 28th 2011) which I've covered (God, this girl is cute). Also,  to show you a taster of what is inside, I've got a collection of some beautiful pics which showcase exactly what Hand-Spanking.com is all about!
Cute Kurumi is about to be spanked by her cruel Stepmother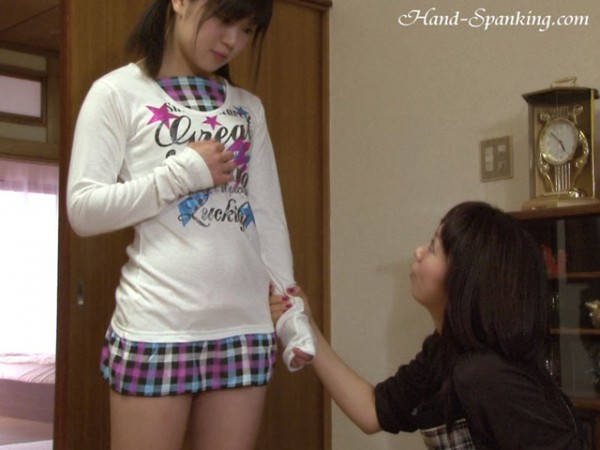 Kurumi spends her high school days in constant fear of the punishment her stepmother could inflict. It's hard not to see why this 18 year old cutie is a victim of her cruel stepmother who obviously enjoys spanking her tight white bottom!
Crumbs! You can see MUCH MORE of Kurumi's spanking punishments HERE
OK, I wasn't going to review this site but it is fast turning into that so here goes…
"What do you get for your money?"
Considering the vast array of spanking films (there are 100's of films and most seem to average out from what I've downloaded so far to around 10-12 minutes which is fair) they only contain F/F action: I knew this in advance and it is obvious from their tour pages this is what to expect. Will you find the girls spanked with other implements? No you won't as this is strictly "hand spanking" as the title suggests and that, too, is fine by me. It's a shame I would love to see their menfolk spanking the girls but this is how it appears to be with the 2 big Japanese spanking sites, (edit: maybe I should import some Japanese girls and spank them myself? … as long as I had my cast iron protective undergarments on!). I am guessing that the owner employs English speakers or is fluent him/herself as the the English version is impeccable and the translations in wmv format are pretty much spot on, so I can concentrate on the spanking and dialog without giggling at the English translations that I sometimes see on foreign language spanking sites who want to cater for the vast international English speaking market! Costs are reasonable too. Considering what is available to download, $24.95 per month or the highly reasonable longer term membership options ($60 for 3 months) seem fair and full updates of movies usually come at one full movie and images per week!
Ok, here are some more images which, as they say, speak a 1000 words
and considering my waffle, that's no good thing!
Ok, I think you get the idea, there are quite extensive tour pages including free intro clips that give you a better idea of what to expect if you've never seen this site before and they do show you the quality of their movies which is totally acceptable! The spankings are not the hardest in the world, but then again, I don't always want to see girls brutalized, this site fulfills a real niche of seeing very pretty women spanked by women in a variety of believable situations and of course, no girl, and I mean no Western girl cries as beautifully as a Japanese girl and hearing them cry out is somewhat addictive! (I've noted even in orgasm they seem pained from my, ahem, review of vanilla Japanese stuff, but that is of course another story and another hard drive of naughty materials).
So, finally to recap, do I like the site? Hell, yes! You know I have been raving about Japanese girls for some time on this blog (you only have to enter "Japanese" into my search box in the menu bar and you'll find a ton of stuff…) well, if you liked what you had seen before, you will love this site too and my highest recommendation is that from now on this site will get a regular updated feature as well as my odd ramblings about their archives, and since the site looks to be updated with a new film and images every week without fail I shall be letting you all know about the latest ones when they come out from now on! In conclusion, those who like asian girls, Japanese girls who cry beautifully and are into F/F punishments and hand spanking will love this site! For those requiring more severity, (some spankings are tougher than I once remembered which is good and there are red bottoms of course) if you're into wanting to see nasty hard spankings then this isn't for you.
Want to know more? See what all the fuss is about by clicking the banner below:

Regards,
Chief (a Hand-Spanking.com convert)