Hi everyone, just a quick good hard look at the very latest spanking update from FetishFlixx which stars 2 American girls which grabbed my attention… why? Well, because I was present at this film shoot a few years back so am able to give you a better "behind the scenes" perspective!
FetishFlixx have Niki Flynn (left) & Lauren Legends (right) nervously awaiting their thrashing!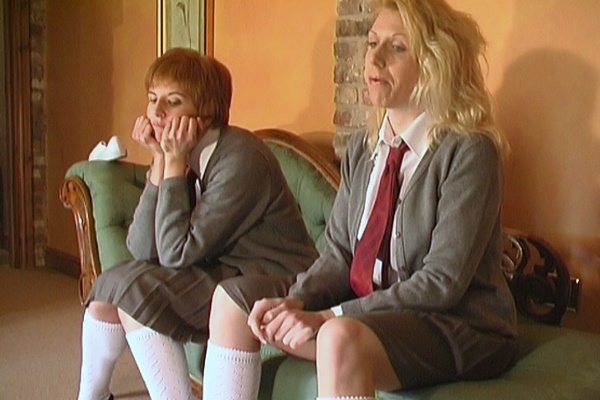 This was an interesting movie, those who are into Googling names might want to Google "Lauren Legends" and they will see she was an American porn actress, good old vanilla porn, with some fetish thrown in here and there. I had a conversation about her roughly a year ago with Clare Fonda as I had seen her in an old archive from one of her sites and brought her and a few other girls up in conversation as she mentioned that she had once been approached about some girls that Xerotics wanted to hire (I found out it was indeed Lauren and the others) and fly over to the UK at the time! This is always a risky strategy for producers in advance so getting feedback from other folk they have worked with is important as Clare had mentioned thay had all worked well with and for her previously.
Click image below to view my special free spanking clip of Lauren

The reason was because poor Lauren cried out on day 2 of an important rare 3 day film shoot at the time and pretty much deflated everyone there – but I will leave it at that as you never know, maybe it was her time of the month, (doubtful, and I saw no evidence of that, lol) these things happen and you can't force people to do stuff and girls limits are always respected (hence why she stopped) but I guess she wasn't as "Fetish" as the other girls so had "rather embellished" her credentials a little… which is somewhat annoying to say the least. However,  remember some girls thrive on being spanked hard and will tell you if you are not properly spanking them and request harder swats or whatever whilst there are others just in it for some easy cash and so on… everyone is different and I respect that. But, and this is my opinion of what I witnessed, to possibly mislead a producer about your capabilities, well, what I do remember from this time was that the other girls were a little hostile to her which was not a good sign either! (Not Niki in particular, from memory, who was resident in the UK, but the other girls who were flown in from the USA West Coast) and Lauren had the habit of wanting to do more racy stuff (which is nice but when you're shooting spanking stuff you rather want to concentrate on that rather than vanilla pussy shots or whatever all the time, right?) As I am waffling on about poor Lauren, I mustn't miss out on Niki who we all know could take a very severe punishment (such a shame she is now retired) but I rather liked this early OTK scene below as she snivelled and wriggled over Headmistress Shanelle's lap beautifully as you'll see!
Click image below to view the exclusive free spanking clip
So why am I bleating on about Lauren so? The work she did was great during her stay – that i won't fault, and she had an amazing stance that looked so vulnerable as you'll see from her slippering scene, and she really HATED the slipper and cane – but it's a pity that she didn't make the final day, in fact, she didn't turn up on set and instead stayed at the hotel at the time. I suppose because I knew how much the girls were being paid, it did kind of make you think sometimes, maybe if she had tried a little harder, maybe she did… I don't know but I was involved with another film in another room and this one may have been the one where she made it to the end and then said she had enough, you can see in the clip I have saved at the end that she is struggling when slippered… if you're into seeing girls crack under pressure, and know that fact, then be aware that this was probably the film that did it for her! I have included some choice images from the film shoot below and the plot of "Private Education" is underneath that!
Niki Flynn & Lauren Legends found themselves in front of the Headmistress in the private girls school they were having to attend. Attitude & correction meant everything to their stern Headmistress which each girl was sadly lacking. After a long lecture she told both of them they would be getting a soundly spanked bare bottom followed by a severe session with the slipper. See both girls being bared spanked & then bent over and thrashed! This schoolgirl quivering bare bottom discipline video is out now for download and you can see a slippering clip of both girls on the HOME PAGE (or click image below to view)
You can see all the selected spanking movies which still makes this one of my favorite sites!
Feedback on anything I write is always welcome, hope you enjoyed my ramblings.
Enjoy the film, it's a good 'un!