As I promised, I will be letting you know how films are sometimes made and the little tricks we employ as well as any interesting points or images that you may not normally see! The below film scene has been shortened a little but it is still over 4 minutes in length and plays instantly so you can check it out if you are not a member of Triple A Spanking (why not?) then here is a chance to see one of the shorter films with Pandora Blake spanked by Miss Bradley. Go take a look at it (I have tried to make the quality as best as I can for Flash but the HD video format I use doesn't compress that well, it's still quite clear but nowhere near the quality that members can download 🙂
Firstly, I must say, as you will have seen from the above movie, what an amazing spankable bottom Pandora has! It was a nice scene to film, in fact, I was the cameraman as the 2nd cam was being used downstairs for an OTK spanking film with Leia-Ann Woods (but that is for another time and another post). Miss Bradley has a rather large booming voice as I'm sure you are aware, so we had to ensure that she couldn't be heard downstairs (lol!). All connecting doors were shut and so we began… as I said, it was an easy scenario, a simple spanking film with a believable reason for further punishment… a lazy girl preferring to stay in bed rather than get up. (Pandora was happy to snuggle under the bed covers as it was a huge snuggly comfy bed). Now I know that Pandora is a very visual actress, she reacts beautifully when spanked and of course is able to ad lib and go with any given situation with ease. (Meaning she is a pleasure to work with!) Now… having just one cam, I wanted to ensure that I could capture both Pandora's facial reactions with her banging her fists onto the bed which I noticed and also the action of her kicking legs and bared red bottom getting a hard spanking from behind. So I decided to film from behind and to the side during the movie, making sure not to shake the cam too much and then when it was over, I moved around so that I could capture a long spanking scene with Pandora's facial reactions (yup, she got spanked twice to make this scene…)
You'll notice this handy trick where we avoided dialog and had Pandora spanked… it was then easy to edit and include as one seamless spanking scene! I liked the result and of course it was my last excuse to see Pandora spanked in her jim-jams… as both she and Leia were looking forward to the Hot Tub where we filmed our last film with them together… but as that movie isn't out just yet, I will let you know when that comes up and of course you will all be the 1st to know nice and early HERE at the SpankingBlogg or my other blog TEEN-Spankings
In case I hadn't already, check out a few scenes from the film and bear in mind what I explained to you above, maybe you'd like to watch the film again 🙂
You might also be interested in the fact I took some HQ images too and this one I thought caught the moment, pandora curled up and her sore warmed bottom fully exposed – you can almost feel the heat coming off it… now that would be a neat internet invention!!!
Click on the thumbnail – full size image is actual size that members get to view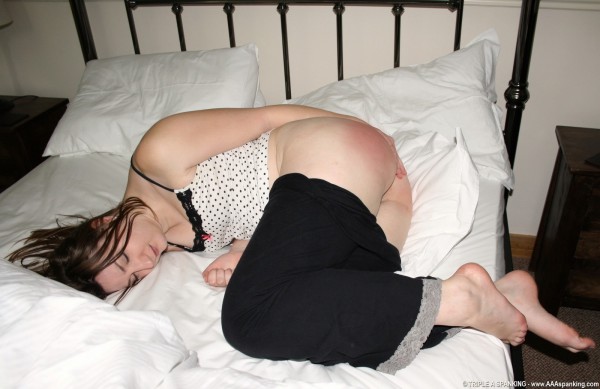 Check out the full site tour pages HERE – & if you want to take advantage of my unique Special Offer, please click on the banner below, this applies to a vastly reduced sign up but we also have an amazing top value 3 and 6 month membership on the main site do don't ignore these options as they are rediculously cheap at the moment considering that the site is being updated 3 times a week and I am currently ensuring that at least one new film appears every week, along with further plans to introduce a special bonus area and upload films in an even higher HD resolution very soon – We are trying our best to bring you some interesting and believable spanking films which are run by spankos, starring real life spankos, made for spankos! I also have plans to go visit Chopper who is a renowned maker of implements and especially canes which we use and I'm hoping to hook up with him sometime in early March (Chopper, I know you read this blog… so see you soon!)
Offer details below: Get it while it's still available!