I make no pretence about the following updates below, all recent and all current at the following sites – these are damned HOT – they've been distracting me from my work and although I do see some of these posted elsewhere, I will of course give you something to look at in the shape of a few clips where I can and believe you me, when you see these, you will want to be punishing these girls yourself, like I wish I was!
I haven't featured PunishedBrats in, oh.. a week? So it's rude of me not to show you what is going on there, I've chosen vivacious Ten – I don't know what it is, but I really love her legs and ass, either she could crush my nuts (the edible kind, I mean) between her thighs or I think she'd be ideal as a face sitter, maybe she does that… I'd gladly want to get smothered between her thighs and gasp for air… but that would be another story. Instead see what happens in this film "Pedantic Strapping"
Headmaster Pierson had to make apologies and promises on behalf of his student, Ten, when she was nearly arrested for hacking into a bank's computer system. He follows through on his promise to punish her with a harsh strapping! & after receiving a painful strapping from Headmaster Pierson, Ten is made to sit on her bare bottom on a hard wooden stool for an added humiliating end to her punishment!
This latest movie from PunishedBrats stars one of my favorites, Lorraine – and I know this must have been from way back and those heinous folk at PB had been keeping it until now, how do I know? She's got long hair, I have to say I preferred her with longer her and she has such a beautiful pouty face, don't you think? better late than never… all good things come to those like us waiting for more movies of Lorraine!
The above are both the most recent updates but I'm sure you won't want to forget their vast archives and some equally cute beauties like Juliet valentina and Uncle Tony below – just click on the image and the movie will play straight away – it's a cracking OTK film, the sort of OTK spankings I like a lot!
 Check out all the recent updates and what's coming at PunishedBrats.com
********************************************
Next up is a great movie from BadTushy and I gotta say their photography is just getting better and better, they use well known models and girls we won't have seen or know little about, now I know very litte about poor Violet in this very latest movie and photo update, but what I do know is that Violet's ass speckles beautifully when Miss Law takes it out on this thieving girl's derriere! Just "Don't fuck with Miss Law"…
Violet was over visiting and Miss Law caught her stealing money from her purse! She was so pissed at her and instead of calling the police she decided to take action herself! She bent over Violet and wore her tight pert ass out with a very nasty long sustained otk spanking! Then she spanked her whilst she stood up, close to tears and quaking with her panties pulled right down and you will see the real pain of this spanking as Violet's beautiful bottom turns a dark shameful red! See some striking images taken from this latest update below:
See all the latest movies unique to BadTushy including poor Violet HERE
Remember I said that well known girls are featured here too, and I have a rare treat for you as I located a movie in my Bad Tushy folder starring a pleading, near tearful Sarah Gregory with Miss Law in a great jailtime punishment – Sarah's wonderful buxom bottom is given a proper pasting as only Miss Law knows how with a heavy strapping – check out the full movie courtesy of my Teen Spanking Tube – this is a really hot movie!
****************************************************
Finally today I have to end on possibly my favorite model currently at Firmhandspanking – yes even ahead of the oh so gorgeous Sam Woodley or Michaela McGowen – and that is the 6 foot stunner Adrienne Black and in this latest film with her they really take advantage of her being so tall with a really striking paddling punishment where the Californian babe is stripped completely naked and made to stretch her slinky arms and stand on tip toe so she can grab the rail of the 4 poster bed! Diminuitive but extremely authoritaian Earl Grey takes charge in this latest humiliating punishment in Adrienne's ongoing "College Discipline" series! If you haven't seen the images and are not a member of FirmhandSpanking – then you are in for a treat – but wait… as usual, I have more – check out a free wmv clip of Adrienne's jiggling bottom I have had made exclusive to readers of this blog as she walks away after her paddling (members can see the full film of course) – this sequence at the end of the film is a stunning bonus and has firmly placed me at maximum crush levels for Adrienne (and of course viewing levels are at maximum "Trouser Arousal" ™ Chief – I thought I should forewarn you!)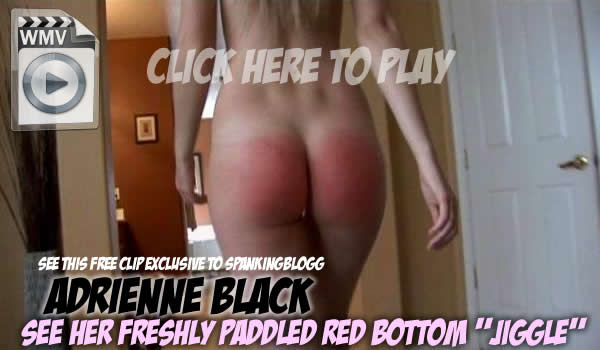 Check out all of Adrienne's movies HERE which are excluisve to this spanking site!