What is going on with this crazy world's weather? I'm not sure if it's the effects of El Nino or whatever it's called shifting and causing more extremes of the weather, but after the devastation of the Australian north east coast yesterday – I see that there is a huge mother of a snowstorm that has buried a third of America and the distant *thud thud thud* of bibles being bashed in houses under huge snowdrifts can still be heard above the howling wind in the great Mid West! So to those of you forced to try and dign out your cars or mop up after severe cyclones I actually feel grateful for once that here in Britain our weather is predictably gray, miserable and damp – no winds, no snow and I can get into my car and drive off without worrying about ice as I consider remortaging my house to fill up the car with a tank of gas (or petrol as we call it in The Motherland).
So enough of my waffle as usual, let's get on with girls in uniforms, and out of them, girls spanking newbies and some surreal spanking updates from Japan.  
Ok, away from little network I have been paying attention to some excellent new stuff all featured below, these are no remastered or outdated movies I know you'd probably get fed up of seeing: So this is all new fresh content from some of my fave spanking producers and I have added a couple of clips where possible – but I'm sure the images and stories from each update will more than give you an idea of what is going on (well, all except CutieSpankee – but more of that delightful madness later – heh heh!)
******************************************************
So to girls in uniform, I really have a thing, as I'm sure do most of you, to see girls like Kat St James in her latest movie update from FirmHandSpanking.com in the latest series of "Corporal Air" and as she protests and denies any wrongdoing in her cute accent, I watch this going weak at the knees as I realise that I'm falling for her – well done to Firm Hand for again getting me hooked and you know with Eric Strickman and his hard hitting unique method of correction, Kat's cute l'il butt does indeed get a good leathering as you'll see in my special free Wmv clip I've made available to you all!
You can see more of Kat and the other amazing girls of FirmHandSpanking – including Samantha Woodley who I see was voted "Spankee of the year, 2010" once more – as well as having one of my faves Like Adrienne Black voted best newcomer… this site is pretty hard to beat right now with the stunning talent bent over egtting thrashed!
***************************************************
Continuing with the Air Stewardess theme, the latest episode from Spanked-in-Uniform is from the "Europe Air" section and their familiar pink uniforms and skirts are usually found on or around their ankles as these naughty flight attendants are always getting a good hard "schpaaannnnking" off Mr Johnson – so let's check in and see what's going on at Europe Air this week!
The latest storyline: On a short domestic flight stewardess Bianca was approached by a schoolgirl who wanted a beer. Bianca gave her the beer but later in the airport decided to ask for her ID and the little madam was not quite of that legal age to drink beer with Europe Air. Bianca took her up to the Head Office, turned her across her knee and spanked her for lying and taking advantage of her good nature. Mr. Johnson arrived and Bianca got a sound OTK spanking as well for not asking the girl's age first before serving her the beer! Images below will show you the "schpaannnking" mayhem that makes this full movie update out now to download!
CLICK HERE TO SEE MORE OF THIS LATEST SERIES UPDATE!
Hey! … if you wanna see a couple of long play preview spanking clips from other sections of this specialist uniform spanking site, then please check out my Teen Spanking Tube  (the direct links to both movies are on the links below) – enjoy!!!
***************************************************
I just spotted that Amber, as promised, has a new innocent looking 1st timer for her to play with and this girl looks delightful as Amber's unique play and spanking punishment ensures this girl takes more than she bargained for and I got you a little clip so you can see for yourself as well as some video images taken directly from Amber's latest movie at AmberSpanks.com – mm mmm!
Check out this fresh piece of ass going by the name of Kamarose! I have cut this early scene below as bookish KR admits to masturbating a lot and that's a good reason for Amber to give her this all natural buxom maiden her first ever spanking!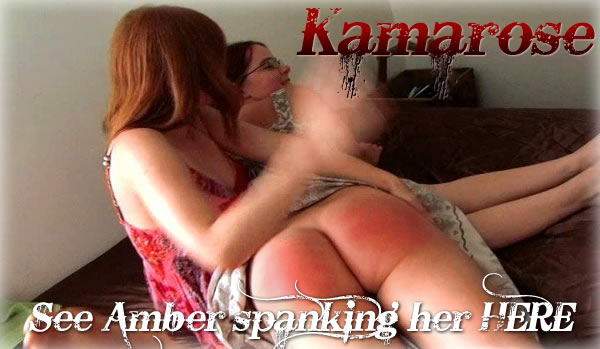 I loved her natural look, soft flesh and her bookworm looks which made me think she was far naughtier than she let on – and I know I was right as I've seen what Amber is capable of bringing out of girls who appear shy at first! & as you'll see from the images below, Amber uses ice cubes to tease Kamarose's nipples and soothes her beautiful behind before inflicting more spankings on her 1st time spanked butt which reddens to perfection! This is a highly erotic spanking that is so typical of Amber who gets the best out of her victims once she has them in her lair!   Unmissable stuff and of course you can take the option of purchasing this site's membership at Amberspanks but there is also the option to purchase both her main spanking sites including SpankAmber for a big reduction and it's worth every darned cent! Maximum Trouser Arousal settings are naturally applied to viewing Amber's sites – so be warned!!!
See this full amazing girlplay and seriously addictive spanking film only from AmberSpanks.com
Amber's sites are on the banners below – check them out – You'll be pleasantly surpsised/aroused! 🙂
I'm so sorry, I was gonna write up about my latest Japanese movies but I have run out of time so promise this will be my first update tomorrow either HERE or at my other main blog TEEN-SPANKINGS – have a good one and don't go blind checking out my latest stuff today :))
Chief