I hate all this organized crap, being told what to do like sheep… "Pay for this, do that… don't miss out or else" nonsense and hate being told I "should" get a Valentine's card for "Er Indoors" when it's obvious it's from me, I thought we were supposed to give them as a secret admirer? So me and the other half haven't bothered, we will still have a nice meal, but at home in front of a roaring fire… bollocks to all that commercial crap!
…& bollocks to Amy Winehouse too! That utter waste of space is at it again messing up her lines, squandering what talent she has left but getting paid an absolute fortune for ruining her gig recently in Dubaii – getting booed by the crowd who turned hostile, but I don't feel sorry for the mainly bankers and ex pats paying little tax… just don't go having sex or spanking sessions on the beach, alright? Check Miss Wino's abysmal rendition of "Rehab" (how apt) below:
******************************************
Grrrr, just looking at Wino-house makes me madder than a mad McVitie bonkers biscuit at the Tea Party held outside in the rain and under the watchful eyes of smiling Puffins at the quiet hospital retreat for the criminally insane on Lundy Island. *gasp*
So before I continue, here are some tears from the beautiful Kailee Robinson, this punishment I remember oh so well and of course you can check out all her whackings similar to this at RealSpankings.com
*************************************************************
OK, I have 2 brand new updates for you today, the first is from my own humble site AAAspanking so I will get you a crafty additional sneak preview clip (including WMV!) and some insider gossip on the film! F/F lovers are in for a treat, as it stars Leia-Ann Woods and Pandora Blake who get thrashed by Miss Bradley in the bathroom! See the images below which are taken from the film:
What you don't see is a toilet to the left of the girls, I very nearly fell over on that as I filmed them (you can see the cam angle goes higher in images 2 and 3) as I clambered up onto the toilet seat I nearly fell over, not sure if Leia caught that or not but I'd have knocked her flying if I had gone… fortunately, no accidents and both girls got a good hard bare bottom spanking as you'd expect from Miss B. The below instant play clip is not found anywhere else (well, except MY Teen spankings Tube HERE where I hosted it) and it's a good bit of banter as Miss B berates the girls when they dare to start answering back (I have to say these 2 naughty girls together are incorrigible… producers take note! heh heh). This was filmed late in the day, I think this might have been before the final Hot Tub scene… it's not the longest of films but you will see both girls bottoms turning instantly red when they are starting to be spanked, a sure sign that they had been busy that day!!!
If you want you can download the Wmv version of this HERE
If you liked that clip then you will also find the latest description and preview clip for this movie on the main tour page now! You might see that it advertises that the site has a current introductory offer, I was so forgetful! I hadn't posted this when we set up the site, I can't say how long it will be available for, but I doubt it will be around for much longer, it's just a nice way of getting people to notice the site but of course blog readers HERE can get my own unique intro offer and that can't be beaten, again, I'm not sure how long this will be around, maybe a week or so, so if you guys really want cheap access to some real EXCLUSIVE stuff then click on the banner below that leads to the cheap sign up page with permenant low rebills (if you want to remain a member for longer) … and I aim to ensure at least 1 film a week appears as well as image updates and other goodies so it shouldn't be too bad once you've got round to viewing the site content and we are planning new ideas all the time like even higher HD format files (probably in MP4 as it blows away other formats for us) and a Bonus features section coming soon.
***********************************************
My second new film preview to start off the week comes from NorthernSpanking and features the amazing Amelia Jane Rutherford with her legs clad in the longest stocking onthe planet… seemingly! I actually felt for Paul and Stephen (well, not really… bastards!) as Amelia's leggy kicking and struggling in her stockings could have kncoked out their teeth if she had connected at some point! There's some nice restraining moves and struggling going on as she is gagged… repeatedly! Then subdued and interrogated… what in the blazes is going on?
See the images below and the description underneath and all will start to become clear! 🙂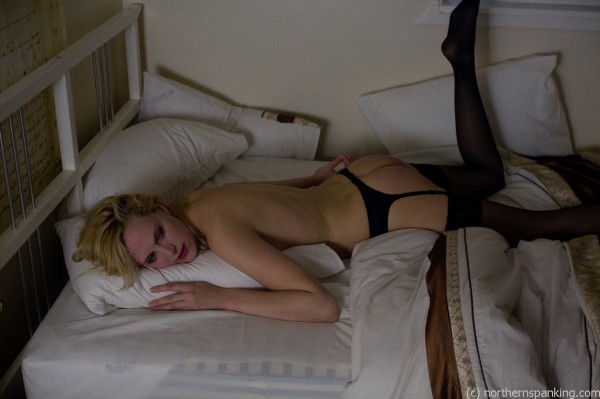 Russian beauty Yelena Markova (play by Amelia) is resting in her hotel room when she is ambushed by British Security agents who want to know all about a certain gentleman she has regular meetings with. It is only when the agents mention a certain Alexei Markovich that Yelena begins to pay attention, and takes their physical threats very seriously indeed!
See this new movie update and loads more starring AJR at NorthernSpanking.com
********************************************
Finally, I wanted to share this old gallery I made in honor of the gorgeous Amber Dawn from AmberSpanks and SpankAmber infamy… see how she taught this really adorable 19 year old pot-head brat Marie the joys of being a submisive web slut! Trouser-rousal-riffic!
A simply stunning movie which I again watched earlier today that made me grin like a big fat Chesire Cat! Amber has a knack of doing that to me 🙂 Enjoy the F/F spankings!
SEE MORE OF AMBER at the following sites below:
(Amber also has a deal on her 2 sites allowing joint sign up & paying $10 less!)
Amber Spanks – Spank Amber – Erotic Spanking