I have a treat for you today as I reminisce and check over some gorgeous spanking movies from the past as well as bring you some brand new updates to keep you good people interested!
The full movie of this infamous film is available HERE to download and it stars one of the sexiest snivelling models I have been privilege to review and see work in person, and that is the very lovely Miss Rebekah Jordan: To those that don't know who she is (have you been living on Mars the last 10 years?) she was a well known fetish and hard core porn actress who started filming as soon as she was 18 until her early retirement after admitting she had pretty much done everything in the porn and fetish industry – then having a child obviously changed all that so it helped her decision to quit while she still had her looks way back in 2005!
Rebekah plays poor Barbara Watford, due to get thrashed by her drunken Uncle!

(I have not heard of her since though I guess she is still happily married and looking after at least one son)…anyhoo, this film was a few in the series she shot with Xerotics around 2003/04 and until it went to FetishFlixx it needed properly re-editing and remastering (to remove the problems of frame rates making it look jagged when Uncle (yes that was me and it was one of my earliest films!) was spanking her cute butt – I still see this now with some spanking producers who haven't sorted out their frame rates or some such nonsense and it is so annoying!
So yes, I had the privilege of spanking and caning her smooth butt (I can still remember how smooth it was even now!!!) Please ignore the daft title of this film, I can't remember what it was originally called but I know she was never named "Barbara Watford" – just one of the minor gripes I always had with those that used to sort out these films and their hopeless "naming" of models, but it's a minor gripe and something I always felt they should have paid more attention to in the past –  but since I haven't worked for them for about 3 years I guess they can do what the hell they like, right?
Barbara is consoled but told to prepare herself for a spanking & caning by Uncle!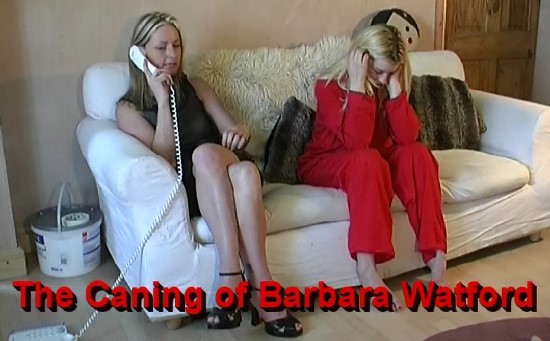 BONUS CLIP – Click HERE to see Barbara's nerves get the better of her!
Due to the limitations of the film & editing equipment used at that time in 2003 and the fact that when it was first produced and placed online, the internet was much slower in those days, so there was no point in putting up a movie with a high bit playback rate to make large screen viewing like watching a DVD etc as that movie file, 6-7 years ago, would have taken half a day to download! Nowadays, of course, with the increasing speeds globally, a simple short 15 minute movie like this is no problem so sit back , relax, get out a big fat cigar as I have a visual treat for you with some latest images and a good spanking clip of Rebekah playing the snivelling "Barbara Watford!"
Click on thumbnails below for the larger screen grabs
Her soft buttocks were carefully stared at in his drunken state then he aimed his hand into that soft inviting flesh and spanked her plump cheeks until he felt her squirm and cry as Barbara started to complain, making the situation worse as the cane was introduced to tell her who was boss in this punishment!

There's a special FREE Movie clip that you can view EXCLUSIVE to this blog!

Barbara is a sneaky minx, trying to pretend that the testing tap he gave her with the cane was painful! She is only making things worse with her lies!!!
The FULL Movie is available HERE to download
Access this and 100s more specialist films at FetishFlixx.com


****************************************************
PunishedBrats have an amazing set of movies starring not only Amber Pixie Wells, but the gorgeous Juliet Valentina, Lily Anna and from what I see, Beverly Bacci takes a bottom role (still every now and then)… I guess from old unseen movies they hadn't used (since she has retired from being a Bottom, or am I mistaken?) – wouldn't that would be godd news indeed after I thought she had retired from being a submissive over a year ago!
You may remember these cracking films with Juliet (topping and of course baring her bottom as well!) Check out all the full movie reviews on the home tour pages!
This looks interesting as we see Juliet give poor Lily Anna a paddling for stealing her clothes. This brat can't behave at school nor at home!
This movie, called "Last Day", has Juliet truly looking the part over Veronica's knee in a bedroom scene! OMG just look at her red rump! So do you all prefer Juliet's brunette look or still hanker after her blonde years?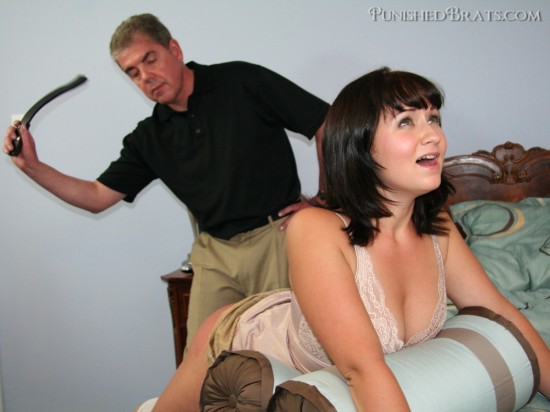 Juliet received an incredibly painful strapping from David for vandalism. Of course David wouldn't be far away from the action!
& finally in the brunette series Juliet ends up over Pixie's knee, you'll see that when doing a company ordered wellness check on Juliet, Pixie determines that she is in need of a red bottom! How delightful, any excuse, and I don't blame her one little bit, eh? Check out some cracking images taken from movies of Juliet in her classic "Blonde years" as well!!! (Trouser Arousal levels WILL be high!)
Now what has had me in a lather was seeing Beverly Bacci back over Veronica's knee, I forgot to ask Mr Pierson if he managed to persuade her to sub again, or if it was an old movie, either way, I was really pleased to see another "Bev movie" – I know it's a tease, but check out some of the images below, I swear Beverly's legs and ass get better every time I look at them… oh my!
Scenes taken from the movie: "Alarming Business"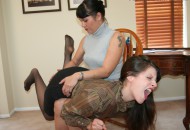 The storyline: Beverly made a careless error setting the security alarm when leaving the office. Her boss Veronica had to make an emergency visit to the building in the middle of the night and is about to show her displeasure with her employee. Imagine Beverly squirming and wriggling over your lap, OMG! I need to go get a cold shower now, and that's without telling you about the movie I just watched again (below) – what is it about us guys and the sight of a girl in a Cheer Leader's Uniform, For the love of God… PunishedBrats  stop getting me so aroused!
Pixie Amber Wells & Sarah Gregory raise the blood pressure of Chief!

Beverly punished pretty Pixie and Sarah in those uniforms!!!
Sarah and Pixie managed to smuggle alcohol along on a cheer team competition. When the girls are found out, Coach Beverly uses a wooden school paddle to make an impression on the law breaking girls.
Check out the home tour pages of PUNISHED BRATS for more free previews including movie clips from all the above! (& they are STILL one of the most consistently cheapest spanking sites with no gimmicks at $17 for a month, with over 4 years of regularly updated content to gawp at!!!)
*******************************************
One of the very latest updates now out at FirmHandSpanking.com stars the gorgeous Adrienne Black – who Firm Hand are rightly proud of her winning the best newcomer in the recent 2010 Awards held at SpankingSpot and I am also proud of that as I nominated her in the first place!
Adrienne once again defies Earl Grey in the latest installment of her College Discipline series and this is an excellent no nonsense spanking that she gets whilst her "Haze Me" panties are pulled down and she is bent over the chair and given a very hard smacking on her form cheeks for not altering her ridiculously short school uniform and chatting for far too long instead on the phone to her boyfriend! Check out some images of the College Discipline series below and I will get a clip of this spanking up later on Teen Spanking Tube!
Another gorgeous spoiled brat of a slinky girl at FirmHandSpanking is Annabelle Vanderwood, she, like Adrienne, often answer back and don't take their discipline without moaning and complaining, making it worse for themselves, but I do love the way they answer back and Annabelle is againin no mood to take much crap off Mr Reed, her appointed Life coach that her parents have hired to sort out her applling attitude. Good news, he's in no mood to take her crap either – "Annabelle – meet The Paddle!"
Annabelle wears a pair of jeans so well, and I can tell you the actual movie she got a right old paddling, that tight bit of denim was no protection at all – of course you can see Annabelle in many other punishments with her jeans down at FirmHandSpanking, panties removed – but I rather liked this punishment with her jeans on, (kind of made it a little more believable) – as we know damn well her next punishment will be without any Denim protection!
Check out all the very latest movies & free previews provided HERE