I've been out watching my nephew do our family proud with another fine ice skating display, I told him if he didn't become an Olympic champ one day then at the very least he'll have a nice life travelling the world in one of those "Dancing on Ice" type shows that are quite popular as he seems keen on staying in this specialist area (and he's got lots of fit girls to choose from too – *sigh* –  if only I hadn't let myself go, eh? haw haw) It was a nice day out, great to meet up with my sis and my eldest nephew who is back from serving in the armed forces… it was a very escapist day for me, a nice change as I have to admit things are not great personally for me at the mo – that's life I guess, I won't prattle on about it as this is after all a spanking blog and not a place to release my personal angst even though some of it is my own doing, other stuff (frustratingly) is beyond my control which really angers me… but life is too short for bitterness and so here I am reporting on an amazing film.

You may have seen it in a few images before elsewhere, if you are not a member, but I wanted to let you know just a little more about this film today… So, I wanted to see a real hard punishment and some tears so I knew exactly where to go and checked into my Girls Boarding School stash and went straight for Micaela's "The tattoo" – her most recent film with what is probably my most favorite model from Sweden (in fact, she is the only one I know from Sweden, lol). Now, she is a real true submissive who just happens to be devastatingly beautiful, tearful and extremely compliant and (as evidence in this film) able to take a hell of a punishment to completion!
"Ideal", I thought… and this film made me forget all my recent woes (don't worry, they aren't related to my life on here or my own personal site…) anyway,  watching Micaela made me realize that although I know Girls Boarding School had at times been slated, partly, I think, judging by the comments you can leave in the members area with "new" guy Michael, this film is a sort of "coming of age" for our portly Swedish Authoratarian as I felt he brought out the best of submissive Micaela with the help of a heavy wooden paddle and a stinging caning! I'm not ashamed to say I found this movie damned arousing, Micaela's tears should be bottled and sold after this performance! One thing that made me stand up and take note was the amazing set of images that accompanied this movie as well as the scene I had cut for you which is playable below – this might not be for everyone, but those that remember the Girls Boarding School of old will be pleasantly surprised as they nail this film and show, to me at least, that they are back! This film is worth the membership package alone – 2 words… "f*cking awesome!"
Oh, and to those that complained about him, they should remember that I am guessing he sourced this most amazing beauty! Indeed! All should be forgiven…

Check out some more high quality images of this film and the scene I cut exclusively for the Teen Spanking Tube and this blog which shows a very tearful reaction from Micaela (you can imagine what happens to her from the stills below!)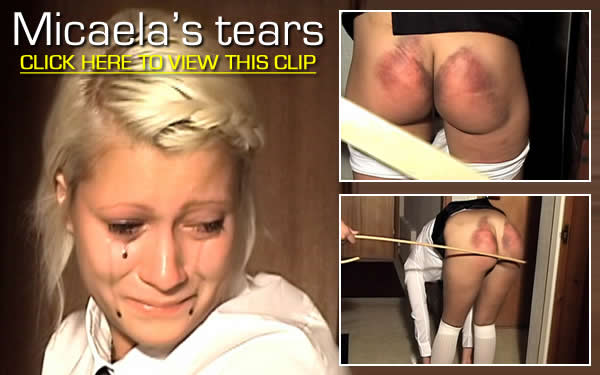 I won't waffle on about the story of this, it's pretty obvious, Micaela is punished for getting a tattoo without permission, in fact, it's forbidden and is discovered underneath her school uniform – the rest, is as described… a full on explicit and severe punishment!
You can view this full movie and some truly excellent movies either from one of the largest archive of top schoolgirls punishments of with girls like Micaela that are simply so easy on the eye, they almost make you feel sorry for them… (I did say "almost!")
CLICK HERE FOR THE EXTENSIVE TOURS & MOVIE REVIEWS