2011 is looking to be an eventful year for many peoples of the world as they assess what their actions to self determination and that of Mother Nature can bring as they/we all cling precariously to this rock hurtling through space called planet Earth. So as we watch the Middle East political landscape starting to change (who will be next, Jordan, Syria, Iran?). Down under in what many of us Brits consider one of our closest nation buddies, the poor folk of North Eastern Australia, already recovering from the worst flooding for 30 years are now suffering with Cyclone Yasi hitting the coastal areas, and to understand how destructive it is:  it's a 300 mile wide swathe of 200 mph winds comparable and probably more severe than Hurricane Katrina that devastated New Orleans over 5 years ago. I feel for the residents of Queensland – and they are told more bad weather systems are inevitable for the next few months! Just how humble do we appear when the full fury of Mother Nature takes hold!
As I write this I hear there are gunshots in Cairo as it gets ugly there in the increasingly more hostile demonstrations – the things we do to each other, I sometimes despair, I get angry, "man's inhumanity to man" – and I could ramble on, I'm sorry, I should have got out my soapbox before carrying on as this is after all a spanking blog and you have come here to escape the depressing news of the above and instead celebrate with me some of the things this wonderful kink of ours can give us back as we escape into a world of some seriously hot spanking and punishment discipline! & I have that for you as my 1st update below has to be one of the HOTTEST movies shot by Ms Law at BadTushy.com in an age and it is an absolute plesasure to introduce this very latest movie as she humiliates her girls in the most explicit and provocative F/F spanking I have seen for some time!
WARNING: The girls discovered the fury of Ms Law is comparable to a Force 5 Cyclone!
Ms Law catches her girls best friend stealing from her pocketbook but instead of calling the cops, she bends her over and spanks her over and over! Everytime she cried Ms Law just smacked her bare ass even harder then more intimately to make it more humiliating for this thieving piece of shit! You will see from some choice images below that this full spanking video is surely one of the hottest films Ms Law has made in quite a while and just look at how red and busted up the ass of this thieving piece of lowlife really got! Ms Law ensures those that cheat & steal get what they fully deserve! Top Karma spankings indeed!
This movie has all the fury and force of a Category 5 Cyclone – CLICK HERE for more!
***********************************************
NEWSFLASH!!! I almost forgot that in Pennsylvania it's "Groundhog Day" today and Punxsutawney Phil (see below) predicts there will be an early Spring, yay!!! I hope so as I plan to be over that way if things go well! So thanks's Phil 🙂
********************************************
Not sure if I had shown you this full movie update from AAAspanking but it's a cracker, literally!!! As Kami took a real hard belting and of course I will share some behind the scenes info on this movie as well as provide you a little clippet near the end of her leathering and believe you me, between takes when we changed cam angles – she told me to whack her as hard as I could, she'd cry "cut" if it was too much – so I did… she told me she REALLY felt she had to be punished and wanted me to bring her to tears – Now anyone that knows the marvellous Kami Robertson will know exactly what I am on about as she wanted to cry… no, she NEEDED to cry, she didn't want to act this out and I rarely do so of course we got the required effect when she felt suitably humiliated and sore! Then she reached the point of no return as I continued to thrash her… it's a great little movie and a believable story – "what would YOU do if your cleaning maid broke one of your irreplaceable family heirlooms?" Indeed!
Click HERE or the image below for my additional short HD clip of Kami's punishment!
Images below are taken from the full length movie called "Broken Glass"

You can see another clip of Miss Robertson's punishment…
and more of her work already shown exclusively at AAAspanking.com 
WARNING: Do NOT spank Kami OTK unless with great self control & cast iron underpants! 

*************************************************
Finally today as promised my focus is now on another great spanking site from Japan and the brand new film just released at Hand-Spanking follows from my last post HERE (which ended up being a review of the site) and this again features the very cute Kurumi with those big doe eyes and a very spankable soft bottom!

Click image below which leads to the current free movie clip in Wmv playback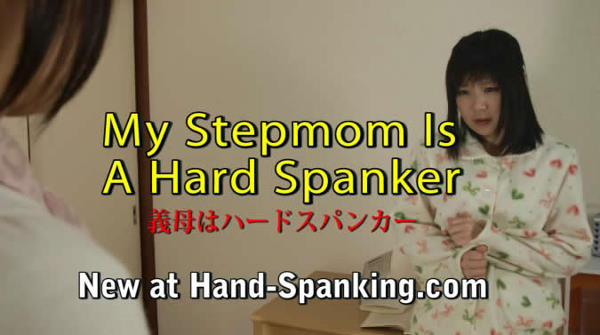 From my last update featuring Kurumi and her Step Mother – The scene gets back to the present time. Kurumi is now given a sound spanking and an enema (members can see this!!!) that she's been afraid of from her strict nasty step mom! I have also added a few images of the spankings below for your added perusal!
MORE movies of Kurumi & other sobbing pyjama clad girls, schoolgirls and daughters HERE