Some memories today and some brand spanking new updates, I'd have featured some other sites too, but unfortunately when I checked their new film updates it contained short 2 minute clips but the intro had no spanking whatsoever so I won't be bothering with that. I won't name the sites but I can tell you, in my opinion, that's pretty piss poor and I can assure you at AAAspanking we'd NEVER do that! In fact when I started to upload a really long movie recently I gave members 2 parts instead of one and also included the image grabs as the first contained the build up (being a 35 minute film or so) – so in the second 8 minute clip there was what we all crave… bare bottom thrashings! Anyway, I'm waffling – but I will always upload movie images with the 1st clip or full film if it's a short sharp shock type film (around 6 minutes or so or less) as I think that is the decent thing to do… and at the first site featured here today, they also do the same with their shorter movies, uploading stills with the movie – that site is FirmHandSpanking and I have a new film with the gorgeous Samantha Woodley and a classic F/F film, one of my faves from last year, that I hadn't featured in the "Houseguest from Hell" series co starring Alison Miller whacking a very bratty Allaura Shane in what I reckon was their best film together! (seriously Allaura looked HOT!)
Talking of HOT: Samantha Woodley, voted "Spankee of the Year for 2010", her latest video and stills show just why Samantha Woodley is number 1! Spanked on jeans and bare, strapped on her hands, then her shorts-covered and bare bottom for over 100 strokes… this is spectacular stuff! See what happens when Sam is found stealing cash in her latest film "Learning Curve."
See the full film of Sam's amazing spanking punishment HERE
As promised, take a peek at one of my fave F/F films from FirmHandSpanking last year with this 2 girl combo that works on every level, they bitch and give each other hell and in the many films that both Alison Miller & Allaura Shane have starred in together, they both switch and give as good as they get! I got you a great clip (courtesy of Teen Spankings Tube) and some video screen images that show off Allaura's poor bruised butt and punishment as she gets an almighty paddling from an evil looking clothes brush that Alison "just happened" to have on her at the time!
Allaura's smart mouthed replies as to why Alison's car wasn't fixed gets her in a whole heap of bare bottom trouble as you'll see from the images and the instant play clip below: The clip contains 10 swats of the brush and then Allaura's facial reactions which are priceless, by about strokes 5 or 6 she isn't so cocky anymore!
Check out the very latest movie updates (incl free clips) from FirmHandSpanking.com
********************************************
Sexy Sarah Gregory has been busy and I have been liking her "Spring Break" series recently and in the 2nd part of this long play series it stars dana Specht and Richard Windsor as her Aunt and Uncle who really show her the meaning of some good guidance when needed! Just click on the images below which lead to full galleries that explain EXACTLY what is going on – Sarah's recent films HERE are really getting good and I like her storylines, you can tell she is really trying to make this site special and for that (I understand this now, of course) she deserves a very special mention!!! Then go check out her site and see the latest movie updates!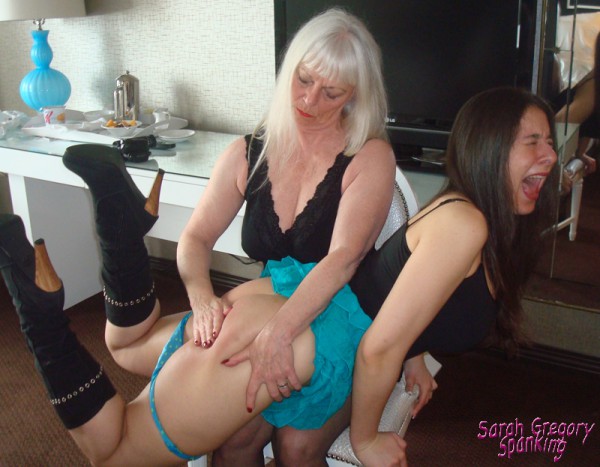 It would be rude of me to also not mention this recent addition which see Sarah play a hooker hired by Erica, a woman fed up with her sexless life and they are about to get it on when Paul comes home to disturb Sarah and his fed up wife… well, this stirs something as he is angry and takes his wife over his knee for a good old fashioned spanking as Sarah is made to watch! Loving the work!!! See the images in the gallery below:
MORE movie additions & updates – please check out SarahGregorySpanking.com
******************************************
Finally today from Japan please enjoy the latest movie updates that are from both CutieSpankee.com and Hand-Spanking.com – both are very different, but the same result shows very cute sobbing girls as you only know too well, snivelling as only these beautiful orientals can! *swoon*
Check out this free WMV clip from Hand-Spanking.com
(Click large image below to play the free preview clip)
Saya is caught hiding by Kurumi, an older tennis club member from school. While practising tennis, her unladylike behavior leads to a severe thrashing on her bottom!
All the latest previews can be seen on the extensive tour pages of Hand Spanking
*********************************************
& this is a naughty if a little perverted film as the teacher lusts after spanking this bad girl, I can understand this, of course, but seeing it on film as the poor girl is thrashed on a weak excuse with her panties down, well… I'm not complaining, just check out some choice images that shows what caught my attention at CutieSpankee.com
You can check out the full tour pages which includes the latest film (currently) with a free preview clip