Warning: the below punishments are very naughty!!! 😀
Beautiful blonde schoolgirl Kelly has been a revelation at SoundPunishment and this naughty punishment sees her not in uniform this time, but in a raunchy outfit as she dared to sneak out and try to come back un noticed at 6am – but young drunken girls think they know it all and they make noises trying to "tip toe" in – we've all been there… and Kelly discovers she's in for a proper thrashing for this latest outrage! There are 2 options to view this special free clip:
CLICK HERE & VIEW THE INSTANT STREAMING VERSION
Or click on the image below and download/view the WMV high resolution clip


"What do you get out of this? You wierdo!" sobs Kelly…
Kelly would try the patience of a saint. But as he is no saint she finds that she is tried, sentenced and condemned to a bare bottom OTK spanking and then a sustained dose of his heavy leather paddle. She is soon sobbing and red raw and wishing she had obeyed the house rules. Check out some sexy screen grabs of Kelly and her long lithe legs and bare bottom spanked before her harder paddling punishment!
Seriously, doesn't Kelly look fantastic? & the way she answers back to Him as he's spanking her… accusing him of getting off on punishing her, I'm hardly surprised, I know I would be!!! You can see tons MORE movies and free previews like the above of Kelly and lots of other naughty girls EXCLUSIVE only to SoundPunishment.com
Now check out the very latest punishment story with UK porn star Masie Dee and she is one very naughty lady! I also liked the fact that maisee has decided to buck the trend and show us what a real woman she is with her full hairy bush unashamedly on display, she's been trimmed, shaven and now she's in her "natural look" and I have to say that it's damned refreshing to see girls with a full compliment of their lady hair! Very retro… lol! Check out this hirsuite madame below!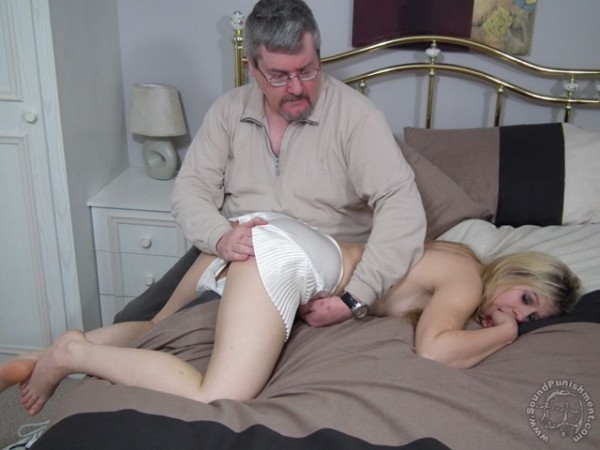 The storyline: Masie is a UK porn star and she has been booked to do a femjoy shoot. Unfortunately she is not in the best of spirits because her boyfriend is off to Afghanistan to fight for Queen and country that morning. She has not been able to 'make up' the argument she had with him before he left that morning because he did not have time to spank her. This guilt makes her break down in the middle of the shoot and our "kindly filmaker" persuades Masie that he could do the spanking as proxy for her boyfriend! Masie agrees and after a hot bottom has been received she soon is back to her randy porno self!
*********************************************
Now it's a fairly common fantasy of most spanko males that enjoy seeing their ladies dress up in school uniform and although they then might look all innocent as if butter wouldn't melt in their mouths or on their unpunished bottoms… in reality, we all hope these girls then act like wanton whores still in their unfiroms so we have an excuse to "punish" them and have our wicked way whilst in the uniform.. well it is for me at least! At Spanking-University.com that is precisely what these ladies get up to… imgine having your girlfriend dressed up then played upon sexually whilst spanking her… imagine no more…check out dusky Lorraine and from my SU archives another cutie to give you an idea of what these pretty but very slutty girls are capable of receiving!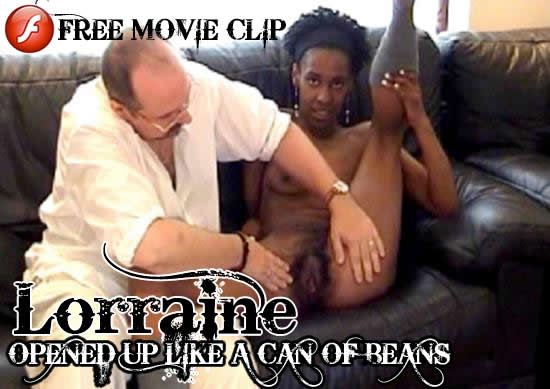 Lorraine's ass and slippery pussy is given a good feel!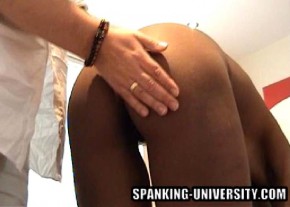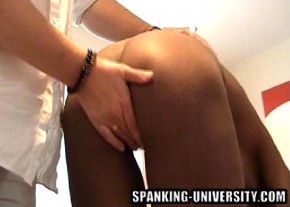 Check out more naughty girls dressed up for spanking & sex at Spanking University

*****************************************
One of the naughtiest females involved with spanking out there in the UK is Sarah, from her own SpankingSarah.com website – often featuring sexual themes, masturbation, blow jobs, punishments both sexy and harsh that are always guaranteed and here we see Sarah switch as she turns on her maid, Holly and gives her a thoroughly humiliating paddling as she gropes the poor quivering girl's soft flesh! See images from this movie below and a direct link to a special preview clip!
Check out all the latest & very naughty spanking previews HERE