Hope you are all well this weekend – Want to know what I was watching today? Firstly, I watched a classic old movie which I hadn't seen in ages but when you take a look at the pictures from it, then I'm sure you'll appreciate why I liked this! The film is taken from Long Play & Classic Movie Specialists CALSTAR – I checked out their tour pages and they've added a ton of long play films since I was last a member so this is one site well worth taking a look at if you're into realistic spankings and proper storylines!
Wow…love the before and after images? Well, when you see what poor Callie take in this old Brit long play classic, she's spanked and caned hard downstairs, and her aching buttocks are finally relieved with some cream, I'm not ashamed to say this movie was rather "Trouser-rousal-riffic" ™ Chief. I've also got you some naughty punishment pics which accompanied this film below! Retro-tastic spankings!
Anyone who has had a membership at this site will realize just how big a long play movie site it is and what you get with your membership is a massive archive of movies, some are in better quality than others, the older ones are starting to look dated by today's high standards but the newer films added reflect this and more than make up for the older films that have, say a 500kbs playback rate which was fine in 2005 but nowadays many want HD quality… but of course what this site had an edge over the HD sites is that this stuff is "vintage" and if you're into seeing a variety of proper long play discipline movies with good storylines then Calstar is a must see!!! 
There's 100's hours of long play movies, if that won't keep you busy downloading, what the hell will? See for yourself more on what they offer on their new look Tour Pages HERE

****************************************************
More rooting around another site's archives and came across this l'il beauty at the SpankPass – this as we all know by now, is a specialist multi spanking movie and image site, it's all they do, and is loved by spanking movie lovers for their vast archives with one set of codes. A bit like this oldie from way back in 2004! How do I know? Well, it stars teenager Debbie Fraser, one of my all time favorite stars, and what's more, I have a great story about Debbie, but I'll let you guys in on that at the end. The bonus in this movie is she stars with the equally wonderful Cat, now sadly retired from "the Scene", but not before she filmed a whole lot of stuff EXCLUSIVE to the Xerotics sites.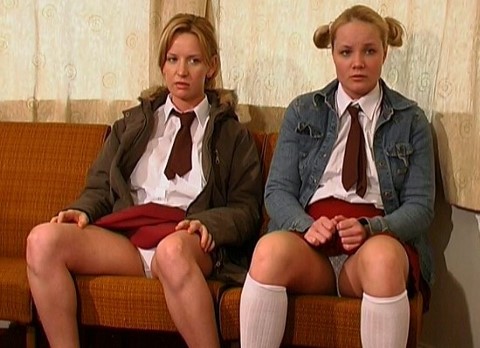 Cat (left) & Debbie with her Princess Leah hair-buns 🙂
So rambling aside, take a look at the images taken from the movie, these girls are hot and I never tire of seeing them punished, love the outdoors bit as well, it was freezing the day that was shot, they couldn't wait to get inside, only it meant a warmed bottom instead, but I think they were past caring by then! Members can of course see more, but enjoy these snippets!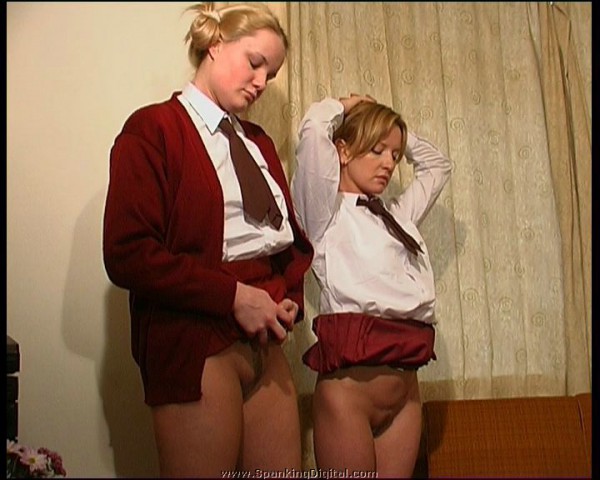 CLICK HERE FOR MORE INFO ON SEEING DEBBIE & CAT IN MORE MOVIES
Chief's snippet of the day: I remember Debbie well becasue I had to go pick her up at Manchester Airport and take her to the filmshoot 2 hours drive away. The poor girls was suffering from a cold but was game and a real trooper… I think she was a little nervous, stuck in the car witha stranger in a foreign country… but she opened up on day 2 of the weekend filmshoot and made some of the most memborable films! I had heard the poor girl got fired when she got back to the states as she viewed herself in a film online at work (oops!) yup, Debbie… your films definitely were NOT worksafe! Debbie: If by chance you are reading this, I certainly hope you are fine! 😀 
************************************************
Finally today one of my fave girls from Holland and I was so taken with watching this great humiliating and severe spanking from REAL-LIFE-SPANKINGS that I sent a clip up on Teen-Spankings Tube – I have made it available for immediate viewing below with the embedded clip here and I have added a free gallery that showcases Angel's very tearful punishment throughout as she sobs and cries beautifully during her discipline and the ultimate in humiliation at the end – sitting on Mike's infamous punishment stool with hard sharp rubber edges making her already sore red bottom sting just a little but more!
Her crime? She failed to pay her bills on time!!! Check images and clip below
See the largest EXCLUSIVE Archive past and present of Angel only from Real Life Spankings