Fresh from our rivetting 1-0 victory last night and dumping sorry Swindon to the bottom of the division, I went out to celebrate last night and had rather too much to drink and ended up in the casino… anyone that knows me, this is a dangerous combination… drunk, happy and gambling with money I shouldn't be gambling with! Heh heh… yeah, I lost a little but it wasn't much and I had some fun and banter for a few hours and even sobered up a little knowing I had to drive back today! I had to update my site this morning with a minging hangover, sadly I can still enjoy and binge drink withthe best but the advancing years soon catch up the next day so it's not something I practice anymore… However, I re-checked the site just now, it hasn't blown up or anything, I think everything is OK… so there are a couple of updates you should be aware of!

A brand new movie went up today and it stars a very cheeky Cindy (aka Donna to others) who I caught watching porn (she was actually watching a clip on the Teen Spanking Tube – lol!). Definitely NOT a worksafe option… and I am certainly NOT impressed!!!
Cindy is the sort of girl you'd expect to be checking out some good online spanking smut rather than doing her boring chores, like working for a living, trying to sort out my accounts and so on… we thought this up on the spur of the moment when I was checking something on my laptop (not the one featured here) and she saw my site and was curious… so I asked her do you look at stuff at home and she said "Oh yeah… all the time!" thus another excuse to get this most troublesome wench to part with her panties, bend over and get a darned good strapping off me. It was towards the end of the day and despite that we upped the tempo, it was filmed in a part of the studio not normally used but I liked the office area so the lighting was sometimes difficult but I think it still stands out (it is just the perfectionist in me when I look back on it always grumbling about doing things better, it's a learning process, eh?). Looking back , I was rather pleased that I had given her a good strapping as she was a real handful (I think she could see the end of the day in sight, lol!) – always answering back with "smart comments" until "playtime" was over and the serious business of the punishment began! If you haven't already, there is a good free strapping clip currently on the HOME PAGE HERE and you can check out some full size video images which are available to download as well for members!
This is what it's about, a good reddened bottom for a really naughty girl that deserved every second of her thrashing! You can of course see more of Cindy and other movies she appears in as well as updates 3 times a week at AAAspanking.com
The other update this week so far was of bubbly fun teenager, Krystal, one of Chopper's girls he brought to my attention… which reminds me, I need to get hold of her again for some more work… anyway, what you'll see from a very small preview below is a girl with a proud firm bottom that can take quite a pounding from Chopper's hand!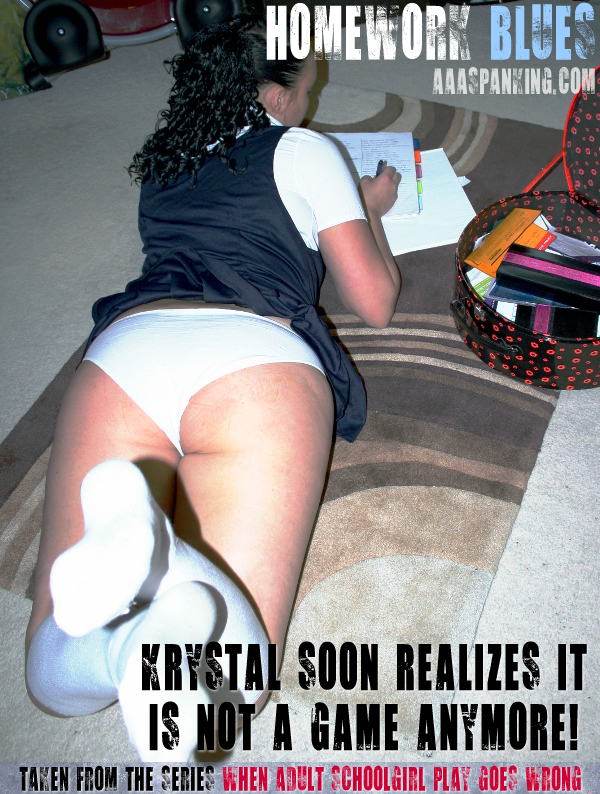 … & in this update Chopper got her to dress up in one of his favorite school uniforms and set her some homework, if she failed to do it… well… hmmm, there would be consequences (surprise… the homework he set was near impossible!) I think Krystal knew this was gonna happen so she was prepared for a good hard intimate hand spanking… & that's EXACTLY what she was going to get as you'll see below!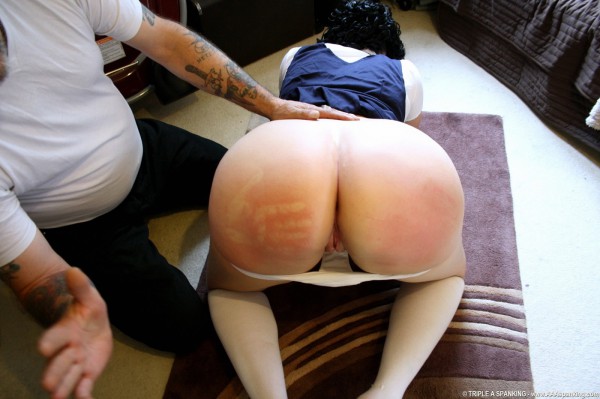 All the thumbnails above lead to the actual full size images and this full series in 2 parts has well over 120 images (there's a bonus set I'll add next week too), there's probably even more so it's worth viewing and isn't advertised on the front pages! So non members, enjoy!
These exclusive updates are now out and you may see that the notice for the "introductory" pricing is starting to be removed as this site is coming up for nearly 2 months old now (already?) so it will be phased out, in that time we have added at least 10 new films, I think, which I think is pretty fair, along with bonus updates and photo sets etc… See MORE here!