Hope you're having a good weekend, think of me whilst I toil in front of my laptop, eh? *sigh*
OK, I have been busy updating my own site as well as having a sneaky peek around the spanking t'internet to bring you what I hope is some real quality stuff today, I try to avoid what other esteemed bloggers are writing about or updating on but we may occassionally overlap which is unavoidable as we pretty much love the same darned stuff! LOL! OK, in keeping with trying to be as original as poss on here, I have the very 1st preview of what is coming out on Monday at AAAspanking! I promise you it's a good 'un! It's an evil little schoolgirl film with me in "laid back" mode as I scold a very argumentative Leia-Ann Woods and then have enough by giving her a cold caning and continuing to rain down strokes with the heavy kooboo rod which soon shuts up her smart alec replies!
If you prefer to watch & download this in original 960×540 WMV screen size Click HERE
As you'll see this film also co stars Irelynn though she is mainly eye candy and more of an aside (a very nice aside, I might add!) as it is about the proper very swift chastisement of a disrespectful pupil on my day off for wearing the wrong skirt amongst other infractions… the scene below is taken a little later in the film and that hand spanking you'll see is the first of the movie 5 minutes in! Leia had already received a fair few swats of the cane… & I continued to thrash her bare bottom afterwards, even with the intervention of Irelynn… it only spurred me on to teach them both "who was running the show!" A good hard compelling film in the short sharp shock type scenario… there's not much build up dialog… within a few minutes Leia is getting a cold caning and the film just continues from there with very few breaks. Anyway, I hope many of you can identify with this! The full film contains severe scenes of caning, if this is not your thing, don't worry, there are plenty of OTK spankings, schoolgirl chastisements, domestic discipline and Girl/Girl movies in the growing archives and loads more still to come 🙂

Below are some scenes no one else has yet, naturally, so enjoy this exclusive preview and the interesting angles underneath the glass table! Wondered how we got that? If you remember the "behind the scenes" gallery you'll see one of the cam guys sprawled out on the floor!!! (see below)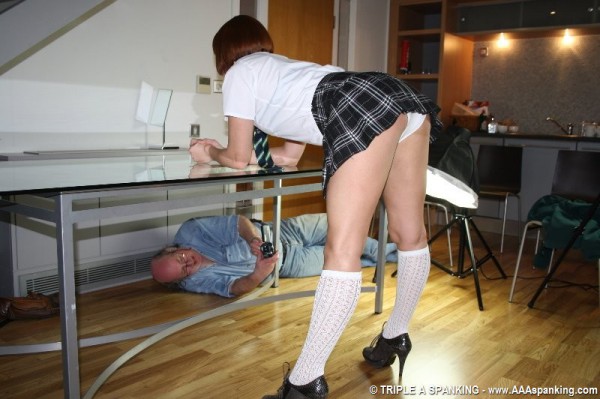 The below images just some of the screen images taken from the full movie which members will be able to download on Monday! & don't forget, we now also upload in the new higher format HD-MP4 1280×720 playback and I have just viewed this film before perparing it for upload to the site and it is "frickin' awesome!!" Leia cold caned on your 50″ TV? 'Tis now possible!
Way to ruin a day's film shoot? Do this sort of film 1st thing in the morning. Imagine… horrible welts and lines that will smart all day every time the bottom is punished, a miserable model for the whole day and so much more! Unless you're in for a one off film and a judicial scene, of course! I think this film was pretty much near the end of the day (naturally) and of course Leia was OK to do the cold caning scenes, in fact she was more than happy to do it as I recall! Leia, if you're lurking… thanks 🙂
I have also held down the membership prices but unsure for how much longer so take advantage now and especially the 3 or 6 month options which are very keenly priced for totally exclusive content with regular updated HD movies! Please also if any of you have ideas or scripts for forthcoming shoots, you can mail me at my Gmail address in my profile at this blog or at the webmaster @ aaaspanking . com address which covers customer support etc.. I am also looking for both tops and new models (you've seen the type of girls we film, if you think you can be a part of Triple A, please do contact me)
All the latest spankings and reviews at Triple A Spanking – AAAspanking.com

Oh, I have to say thanks to the guys at Spreview – love you guys!  
******************************************
 & so to my further round up of some of what I have been greedily watching and there's is some amazing stuff out there! Amber Dawn of SpankAmber has again been busy (and EXTREMELY naughty) and once again blows my mind, this girl and her man, "Daddy", make some of the most consistent and watchable spanking content at her 2 fetish sites around! If ever there was a case for the independent smaller sites to really show the big boys how it's done… then this should be the site to watch! You can also help out Amber pay her tax bill by signing up to her amazing sites SpankAmber or Amberspanks or by checking out the links she provides to some very naughty cam shows on her tweets at her Twitter page HERE, she'll let you know when she's online (yes she does spanking and smut too for you in private!)
See the latest update from SpankAmber (below)
So if you like VERY naughty redheads who are self confessed "pain sluts" then please read on… in her latest film at SpankAmber she is given a spanking and paddling over Daddy's knee before she tries to wriggle out of her punishment grinding her amazing bubble butt in a provocative lap dance that only fuels his lust until she must give him a blow job to completion all the while spanking and paddling her in a variety of positions making Amber tearful at times, but Amber really does get off being submissive to her daddy and laps up all he has to offer at the end with a very naughty grin!
The full movie of naughty Amber available to download HERE
Want to see how Amber plays with her girls? Amber has the cute Stephy on her bed again and dressed this time in a very VERY tight and tiny pair of Daisy Dukes! This is just a sort of intro to what is going on, but it highlights how Amber related to her girls, often getting the best out of shy or insecure girls and the girls that Amber has spanked over the last few years are rarely seen elsewhere, so she really has the market on 1st timers and real girls next door! Stephy's shorts are so tight that Amber has difficulty in removing them… heh heh!
WARNING: CONTAINS SCENES OF GRATUITOUS BUTT JIGGLING & TIGHT DAISY DUKES!
******************************************************
From girls with bubble butts to someone who I feel is overlooked so I have dedicated my first part of the FirmHandSpanking update to Kayla Apple who I have to say, is quite a find! She has the perkiest tightest buns and in this punishment (below) she takes some heavy swats of the paddle from Principal Archer (I am actually liking his work, very strict and tot he point!) for her lewd behavior making out with a boy in the janitor's room when she knew damn well that boys were forbidden on campus! The free clip I have cut for you below shows her facial reactions and the end of the paddling so you do get to see her perky cheeks but I didn't think it fair to spoil it all by showing her oh so cute bottom being thrashed… I think members at Firmhandspanking should enjoy that privilege, but you'll get the idea, I'm sure (and I got a few screen grabs of her bottom as well as the usual excellennt accompanying Hi Res HQ images with each movie update
Here are a couple of Hi res images below which members can view along with the movie update!
Another brat that I have really liked getting a good thrashing is the extremely petite but totally feisty and arrogant Monica Bouget! I can't beleive the way in which she addresses Principal Reed in this Reform School series, has she not seen his work with the notorious Annabelle Vanderwood (who i am hoping will also be coming back soon!!!). Monica's shocking behavior earns her a rather humiliating punishment laid out on the pool table when a simple test and task she is given during her dressing down earns her a red bottom thrashing and some embarrassing walltime!
Firmhandspanking features some of the hottest girls spanked on film
************************************************
Finally today, I am ending with 2 of my most favorite models from Punishedbrats.com and these images do nothing for my blood pressure as the full film updates of Mischa and Lorraine are now up and these most pouty and bratty of girls get just what you'd want to be seeing them given – a damned hard OTK spanking on their once delicious milky white butts! Jeez, I am having a really "hard" time of doing this review today and the following images taken from the very latest updates should explain why these girls are not helping!
Mischa ruined her neighbor's pool party by whipping off her bikini and skinny dipping in front of the guests. Her mom Veronica takes her home for a good hairbrush spanking…
The reminder of this storyline: "Lorraine is full of promises to behave better from now on but she doesn't quite seem to get it when she swears next time she won't drink Veronica's beer, she'll get her own. Will this brat ever learn?"
See these gorgeous brats & some of the naughtiest girls from the Eastern seaboard spanked hard!
****************************************
Have a great weekend, this lot should keep you busy!!! All clips hosted by the Teen Spanking Tube
Check out all the latest additions & bookmark one of the fastest growing spanking resources around!