I couldn't help but have a wry smile when I saw this recent update come out from Sound Punishment as once again, Masie Dee seems to be flavor of the moment, even though she didn't reply to my request to film her late last year (maybe I got the wrong address) I'm in some way kind of glad as she would have been saturating the current spanking market over here in the UK if I had filmed her as well! & that is a shame as she is such an accomplished spanking and porno actress! Take this crazy story that has poor Masie blubbing in the middle of her porn shoot when she admits to her video and photographer that her boyfriend has just left on a tour of duty in Afghanistan (I salute you, young man… it can't be easy leaving Masie behind either!) and Masie admitted to the producer that she had fallen out with her fella and got upset as he hadn't spanked her… of course he agrees to do it for her and film it so her BF can watch it on a DVD! This cheers up a tearful Masie who then gets back to doing what she does best, being a very naughty harlot for the cameras!
See Masie Dee & her refreshingly hairy womanly pussy and tight ass spanked on film HERE
Check out the tour pages which includes a free video preview of Masie and other naughty girls!


********************************************
What happens when Momma Clare's girls overstay their welcome? Yikes… don't they know? Well, when Nena and Nikki overstay you'll see Nena giving us all more of her amazing and hysterical reactions along with redhead Nikki, as usual, taking a hard one for the team! Oh, & I have to say, Clare's dress is really nice, I'm liking the look, Clare! Classy brothel owner, looks good! (love to see you spanked in that!!!)  😀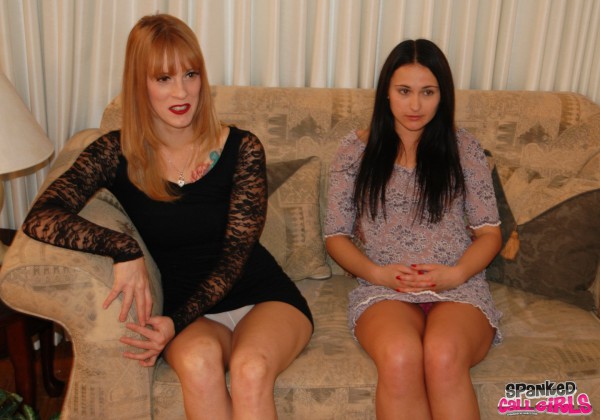 See more of this amazing punishment & the rest of brothel owner Momma Clare's callgirl sluts HERE
***************************************************
Oh, before I movie on I just have to show you how naughty both Alexis (she's smoking!!!) and Ash are at Clare's GirlSpanksGirl as Ash helps Alexis frig her off to a loud climax before Ash is asked to spank Alexis afterwards. I had shown you some images before, well, just check out how naughty these girls get: WARNING: It's non spanking but, hell, these girls are HOT! Just imagine the spankings afterwards!!! Click image below to play this exclusive clip
Check out this erotic spanking movie in full at GirlSpanksGirl.com
Both these sites are of course available via the top value CLARE FONDA PASS!
*******************************************************
Finally another naughty girl is Miss Amber Dawn from San Francisco who really ups the heat at AmberSpanks.com this week when she does what she does so well, getting the most out of her unique forst timers and girls no one else has found to spank and Amber has ateadily made herself essential F/F spanking and naughty making out viewing – seriously hot stuff and it's something Amber knows she does so well! See what I mean with her and latest "capture" Stephy C…
Beautiful Amber gets slap happy with Stephy's gorgeous bubble butt and Stephy feels the burn as her bottom is lightly greased for Amber's hard stinging smacks with her practiced hand! See Amber really get off on spanking Stephy's amazing rump only at AmberSpanks.com
**********************************************
Finally from AAAspanking – someone wrote to me asking what was one of my favorite films shown so far that I had been in and of course there were so many nice memories flooding back but I really liked the film of Jasmine and Kami who were fighting over a boyfriend both had been dating. They had a massive pillowfight in their jim-jams on the bed until I came in to find out what all the noise was about. I remember telling them in our film brief to really play up and they bloody well did!!! A little too much, I feared, as they became really hard to handle until I gave Kami a stern look off cam and she knew I meant business when I said "enough!" (bless) It was a fun film to make and in between the laughter and bottom rubbing there were some deceptively hard punishments. I loved their nightwear, of course, and spanking them both OTK and giving their red bottoms a good hard hairbrush punishment that they both said really stung like hell afterwards was right up there! They also unwittingly made the film last longer (I was in my element and past caring) as they refused to aplogize to each other at the end and so I informed them that I'd be hovering over them with the brush whacking their red bottoms until they both did… thanks to Kami for refusing to apologize so soon – Jasmine wasn't though, heh heh!
See the images taken from this film below and hopefully you'll understand why I really liked making this movie!
This was a good long film and I just realized there's over 100 video screen images but I think some of the ones above kind of show you what it's about! There were also a bonus set of pillowfight HQ images too! (like the one below) So all in all, I'd have to say this was definitely one of my most memorable films I'd been in at AAAspanking – of course there are plenty more films to come and I'm sure you will all be happy at what's coming soon 🙂 (more later this weekend)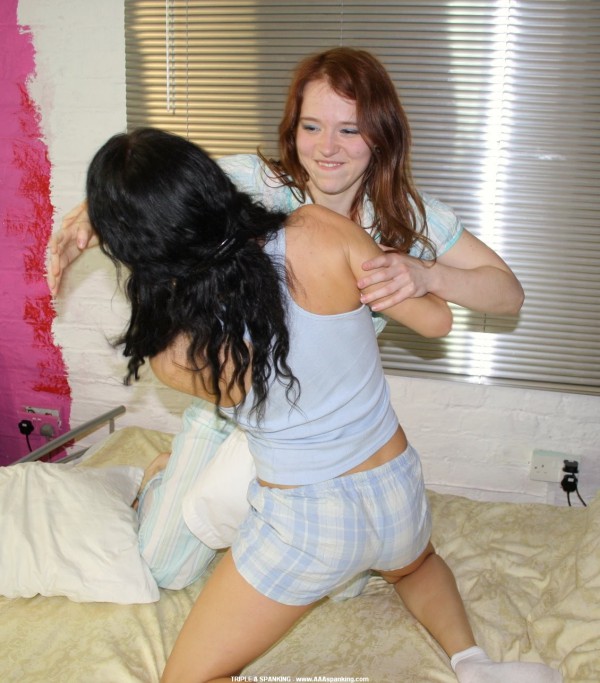 See more of Kami and Jasmine at AAAspanking – FREE tour pages located HERE