It's been a while since I featured any spanking from Japan, so you know that means a F/F spanking-fest… those that don't like cute girl on girl spankings, or real submissive girls pleading and crying from the shame of their spankings, please move onto the next post below (& please check in your brain for a major spanko rewiring… what do you mean you don't like to see highly attractive girls getting spanked?) Ok, kidding… I hope you enjoy what's here today , I have the latest update from Hand-Spanking.com – which only features , yes… hand spankings, no other implements, just spanking and this is of course a F/F site and is now always a place I will feature here or at my other blog. Who doesn't want to see girls spanked OTK in their work clothes in the workplace, cute schoolgirls at home or in the classroom, girls spanked in PJs in their bedrooms or spanked and scolded by aunts & mothers…. it's all here as you'll see when I put together a nice mixed gallery of some spanking images as well as a couple of preview clips! The 1st is from the latest film called "Employee's Revenge".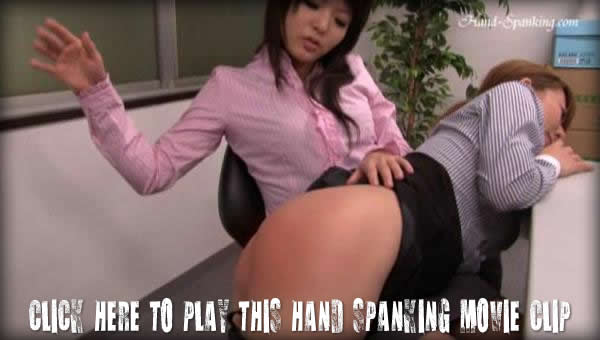 This young employee gets her revenge on her manager by giving her a sound spanking. Squirming on her stronger employee's lap and highly embarrassed, the wicked manager pays the price for her misdeeds as she is made to realize just what a nasty piece of work she had been to her staff! You may remember I featured a nice review of this site not so long ago CLICK HERE for the reminder – well, I have decided to show you some more choice imahes which cover all our favorite niche sections like schoolgirl punishments, bedroom & domestic mother/aunty/daughter type scenarios and of course (like the above), workplace & uniform discipline!
All images courtesy of Hand-Spanking.com

& of course wearing the wrong panties is ALWAYS a spanking offense in this house as you'll see mother scold and drag her daughter (played by very cute Kurumi, one of my favorite models from this site) into the bedroom where no one can hear her shameful cries as she is spanked over the offending polka dot panties and then with her red bottom shamefully exposed in a real humiliating hand spanking she won't forget! Images and short sample clip are below:
Don't forget to check out all the latest updates with full English translations only at Hand-Spanking.com

****************************************************
& from Japan's other famous spanking site (only with use of implements like paddles and straps as well as female hands) is CutieSpankee and the first set is from the latest movie out now for members… it carries on from a previous movie that had the lustful teacher getting her lucky mitts on the prettiest girl in the school… and not once, but twice, this girl is simply stunning, her pristine uniform, the way she pitifully cries (they all do, of course) and the latest film has the poor girl thrashed after school when she forgot to hand in her homework… oh dear, what a shame! Bend over! This is HOT stuff!!!
& remember there are not just schoolgirl punishments, oh no, as you'll all know by now, the girls don't escape the spanking politics at work, or at home either… the image below just shows the type of humiliation bad employees suffer, it of course helps that the girls are impossibly cute and I would find any excuse to spank them too if I could get away with it!!!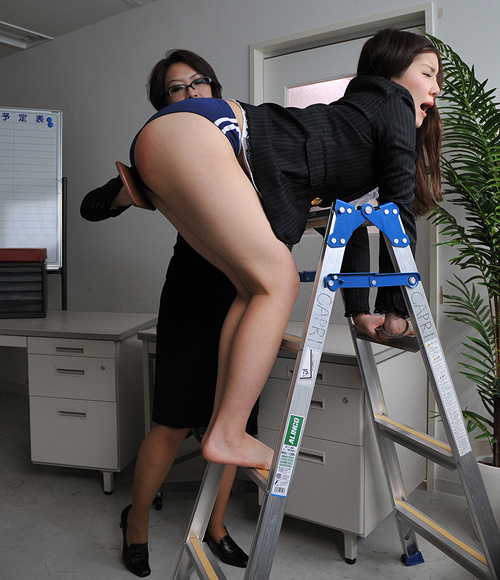 Remember that there are extensive tour pages that show the latest updates and films now out for members to download – all this content is exclusive to CutieSpankee.com

You might also want to check out the various films that I have uploaded to the Teen Spanking Tube (see below), I have listed some of the Japanese movies, many of these are long play and if you haven't seen them, please find time to check them out as some of this stuff is amazing and is precisely what members get to watch (in higher res, of course).
FREE MOVIE 1 – FREE MOVIE 2 – FREE MOVIE 3 – FREE MOVIE 4 – FREE MOVIE 5
(Part of the many movies uploaded to the fastest growing free teen spanking tube network)