Here is something a little special that I'm sure not all of you will have seen or know about so I have prepared a special review of both films featured below from 2 different sites, but both these are very well known and of course contain hard hitting punishment films you'd come to expect! First up from the infamous Czech film makers Lupus Pictures comes my review of a Detention Series at their membership site Lupus-Spanking.com is a film called "Whose Bread you eat!"
So in brief (and with the help of some images I've cut along with a special free preview) you'll get to understand what is happening! This Detention House for Girls in the 1930s has a mysterious benefactor who is not pleased with the levels of continuing ill discipline and makes this clear to the Headmistress. She in turn makes an example of 3 girls who are told to report to the School Medical Infirmary and the girls know that a nasty and embarrassing punishment is sure to follow after they are told to strip and receive a humiliating enema to cleanse them first!
The girls were already crying and sobbing from the ordeal of the humiliating enema but as they were warned, there was a punishment to follow and they were all strapped into the punishment bench, with their legs strapped above them exposing their most intimate private parts and bottoms, the fact that this was in the basement and had no heating made it no better for the naked girls as they shivered in fright anticipating what the exact punishment would be! They didn't need to wait long when the assigned punishment officer arrived with a specially adapted wooden paddle that was designed to cause mazimum pain and red weals of shame on each of the girls bottoms and he beat the girls bottoms with relentless cruel strokes to ensure they would not forget this punishment!
The girls ordeal isn't over yet as a cream concoction is mixed and a caustic agent added to cause even more discomfort to the girls after their paddling, the nasty thick paste is applied all over their private parts and sore welted buttocks as they scream and sob, they are left there for the creal to take effect before being sent upstairs to Headmistress where she places the humiliation punishment placards around their necks to show the other girls that they had been disciplined! All this was to satisfy the mysterious benefactor and of course as you'll see these girls are not the only ones to get this sort of treatment – Only could something like this be thought up from the depressing history of the Czech Republic in the 1930s and the discipline of girls at these infamous "Detention Houses".

There is a special WMV preview clip which you can view or download by clicking on the image below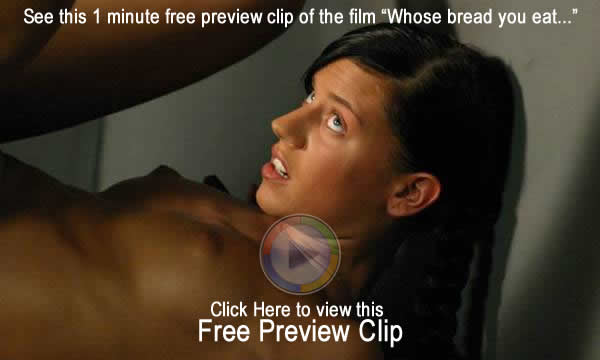 Did I like this film? Yes I did, I actually prefer the films that Lupus make without canings, as there is much more to a severe discipline than that! Not that I don't like their caning scenes, I'd just rather see other ways of disciplining girls and this they do more and more which you can see at their dedicated membership site HERE. This film embraced the underlying theme of humiliation & shame throughout as shown at the end when the girls thought their ordeal was over with the paddling but then had the caustic paste placed on them, ye-ouwch! As always the girls and settings are perfectly cast, the site does have English subtitled movie options and members get various bonus sections now including the popular "Lupus Dreams" section which often contains more sexual themes along with the traditional punishments & I'm sure that is popular from the feedback I got at my other blog when I featured a few of these movies previously. So, in conclusion, if you haven't paid a visit to the new look Lupus Spankings website – take a look and you'll be pleasantly surprised with their free features helping you to decide moreso than I could do here!

************************************************
My second movie featured here today is a pet subject of mine, that of punishing girls for ridiculous tattoos! An old classic featuring a girl called Maria covers this subject as she proudly shows off her new tattoo in private to room mate Sophie, it's a big butterfly on her stomach. Now I have to admit, I'm not a big fan of tattoos, as many of you will know. Now some are OK, I suppose… but if a girl starts to randomly add them like idiotic Amy Wino-house or Cheryl Cole (or is it now Tweedy?) defiling her body with yet more pointless tatts then she can expect no sympathy from me when bent over and I'm holding a Dragon cane… (I wish, lol) but that would be another story!

So Maria foolishly shows off her tacky "tatt" and Headmaster Tom pops by to remind the girls they should be downstairs for lunch only he discovers the tattoo and goes ballistic – girls getting new tattoos whilst at Girls Boarding School are strictly forbidden (bravo!). Now,  I have got you something diiferent, I cut the scene at the end of this movie, basically after most of the paddling (members can of course see this along with a ton of Headmaster Tom punishments) but it shows Maria snivelling and lying on the bed sobbing as she fetches some cream (not caustic paste this time!!!) and applies it to her sore jiggling bottom which is, well.. quite erotic (in my opinion). Image and instant play clip are below all courtesy of Girls-Boarding-School.com
This movie is taken from the vast archives of Girls-Boarding-School.com

Remember that both sites above are part of the VIP Spanking Network
See details of all the sites and the bonus sites you get – click banner below

************************************************
Finally today I thought I'd mention the fact that there is a new section at Spanked-in-Uniform.com (there are a couple actually but I thought I'd cover this and let you discover the other uniform punishment sections when you check out the site!). So the new section I'm showing today is from the Rockford School of Dance.
Two students Chervana and Foxxy Angel who follow our cheerleading course were supposed to have a lesson with Miss Williams but She called in sick. Now instead of doing their excercises the lazy little madams decided to do nothing! Mr Johnson, the Director, saw them and gave them a few stretching and condition excercises. He told them to continue on their own but soon they were sitting on their lazy bums again. The result was that they were taken into the office and they both got a sound spanking over Mr Johnson's knee!
Go check out the new sections and all the regular uniform updates which come thick & fast!
CLICK HERE FOR THE FULL EXTENSIVE TOUR PAGES