I have a hangover from hell… too many bottles of wine, a bottle of Champers and a lock in down the pub meant I was up half the night pissing away half my bodyweight and I haven't replaced it with water yet… hence I have a head from hell, I'm shrivelled up and it's a gorgeous day. I'd normally go to the Bookies (betting shop) today as it's "Grand National" race day, the biggest horse race in the British calendar… I love the queues and the madness of everyone having a punt… doing it online isn't the same so I won't bother this year. (Note to self, "If Ruby Walsh rides a winner I shall be annoyed" as I'd bet on anything he rides nowadays!) Outside, the sunshine is hurting me (I think I'll melt) so I am instead blinking at the screen indoors, behind closed curtains, and have been just goofing about on t'interwebs (as you do sometimes) and I have been really checking out my favorite nonsense like the latest cat pictures and other totally pointless but fun viewing that one can do! Take the infamous "Ceiling Cat" if you have never seen or heard of Ceiling Cat, please grab yourselves an introduction HERE
As you'll see below, I have my own little introduction for Ceiling Cat – this kitty-kat will watch anything… spankings also fall into this all seeing, all knowing feline!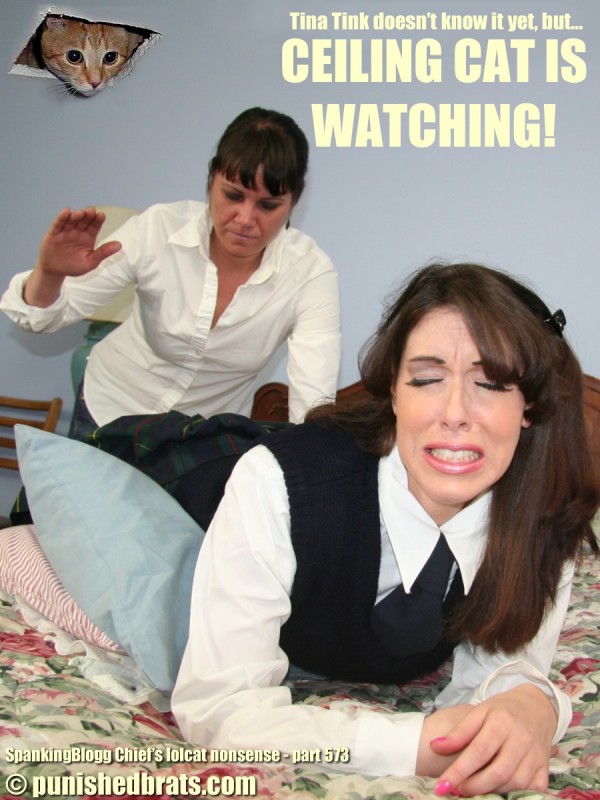 OK, I think you all might have to suffer me on my little cat craze for the next few weeks – heh heh! Thanks to Punishedbrats for providing me with some lazy inspiration today as my fuzzy head gets round to quickly showing you the latest updates from this fine site! As you saw, Tina (who looks absolutely scrummy in this uniform, btw!) is shown above being punished by mother,Veronica… why?  Well, Tina's fed up classmate, Amanda, plotted her revenge on Tina who had made her do all the work on a team project and suggested to Veronica that her daughter could use a good spanking! So much to Tina's dismay, her mom agrees and we (and Ceiling Cat) get to see it all until it's a glowing red! A few choice images from the movie are below:
Another recent movie which is now available to view in full (I just watched it earlier… it's a corker!) stars beautiful Lily Anna getting a much needed hard OTK spanking off David and check out Pixie as she sees the state of Lily Anna very sore red bottom in the aftermath… with the Ceiling Cat approval, this is a movie you must not miss!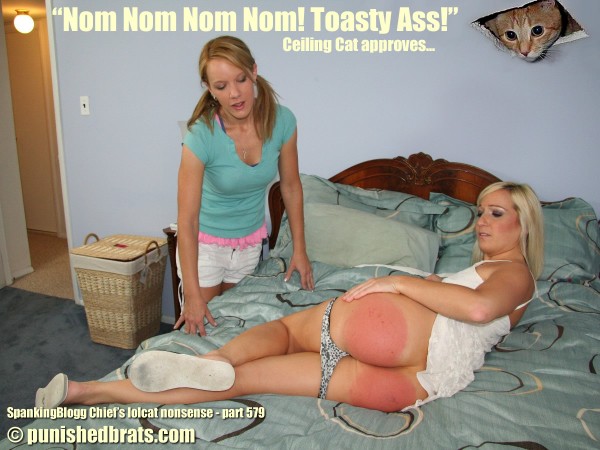 Finally today, I had featured Dia Zerva recently in a really hot sexually charged punishment with Sinn Sage (you can CLICK HERE if you missed it before) well, this minx has shown up at PunishedBrats.com – so it is with great pleasure that she is now getting the treatment, love and respect that David dishes out so well to potty mouthed madams like her! (No Ceiling cat this time… I didn't want him peeking from the wall at Dia's lovely frilly panties and that growing red glow starting to appear from underneath them!)
You can see more of these very latest films with free preview clips on the home page HERE