OK, now I have been arsing about and enjoying trolling t'interwebs for my fave LOLcats and such… well, i vaguely remembered people posting vids on Youtube of cat spanking and paddling… well, I don't know if anyone has posted this on a so called "normal" spanking blog but here are 2 fascinating clips of a cat being paddled and another getting a good hard spanking… I kid you not, and these cats, like many of out female species… actually enjoy this… check it out! WARNING: If you are Ceiling Cat or a feline, this material may be unsuitable viewing!
and of course check out the spanking of this female kitty below! 🙂
************************************************
OK… back to human tushy now which is why most of you are here, I guess 😉
Hmmm, so where do I start today? I have been rooting around in the Spankedcallgirl.com archives again and came across this little beauty for starters, there isn't much of a description on this except that she goes by the name of Lyla, and clare is once again caught perving out on one of her girls, checking out the merchandise and giving her bottom a spanking! I'm not complaining… far from it!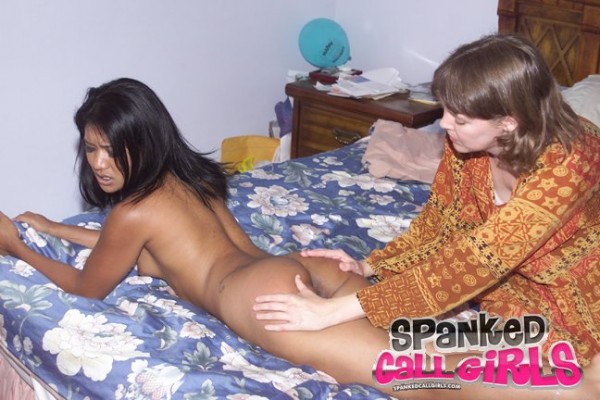 You can see MORE of this amazing chica at Clare's specialist Spankedcallgirls.com website
************************************************
From something old to the very latest full movie update available at Clare's spanking soap opera site that is My Spanking Room Mate and this is one movie I love as it stars the gorgeous Amber Pixie wells, and I remember this must have been filmed the same time as Clare did the hilarious but very good "Lesbian Landlady" – damn, she plays these pervy cougar types so well… too well, in fact! Hmmm *opens new webpage to book a one way ticket to LA!*
As I said, I really liked this movie because it had this wonderful distraction of Clare with Pixie again… check out some images taken that compliment this movie and also a clip I cut in original WMV – you can download that at the link specified below! Enjoy!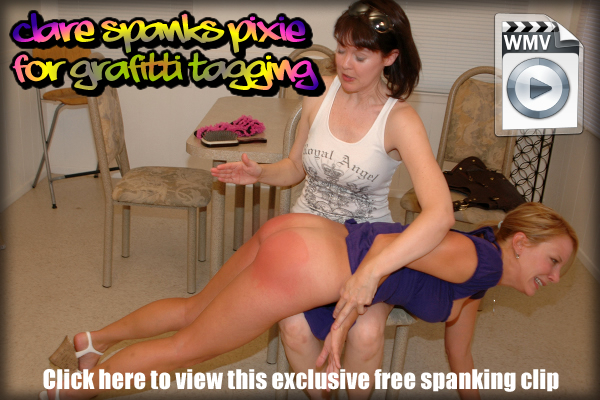 Pixie flirts with her lesbian landlady, Clare… and practically thrusts her cleavage in front of Clare's wandering bulging eyes and hands as she pleads with her to allow her a little leeway with the rent and Clare gives her a $100 after that little show but the little minx is up to her old tricks (buying spray paint to "tag" or place her grafitti on the walls of Clare's apartment!) Needless to say, what you see above is the result of Pixie's behavior as she is dragged in by her ear (which I love and I say let's see more of that!) and placed over Clare's knee for one of the hardest spankings I've seen Clare dish out in a while – beware the lesbian scorned… for she also be proficient with the hairbrush! This red bottom spectacular is episode 76 at the continuing spanking soap opera that is My Spanking Room Mate!
******************************************
Finally from Clare's network today at GirlSpanksGirl in their discipline section is the story of the Strict Aunt! Now I don't go posting images of stuff that is not yet up or available in movie format form so the images below are of Ten's punishment – she is with and watched by her suster mary Jane (who is next) but this is one of Clare's special very lobg play epics… so feel free to revel in the amazing strong toned Ten getting a good whacking off Aunt Alicia Panetierre… who is quite scary!!!
Strict Aunt lives up to its name as ten is yanked in by her ear… given a mouth soaping for her potty mouth and then spanked over Aunty's lap on the bare bottom… mary jane has seen all this and knew she was next!
GirlSpanksGirl contains hard discipline and long play movies like the above!
Remember that this site and the others I've featured from Clare's network above are all available as part of the multi site network, saving you a fortune and also giving you even cheaper options to take longer term memberships – seriously addictive stuff and the option to choose 3, 4 or 5 sites! 🙂
***************************************
Finally today, do you remember the scenes of Sarah Gregory with her friend Whitney? Poor Whitney got the brunt of the last punishment when the girls went out and got drunk… Whitney got such a thrashing off her shamed dad so this is payback time and as you'll see Whitney isn't messing although the sight of 2 very sexy girls isn't doing my blood pressure much good!
Go check out Sarah's fine site for her latest offerings, I shall have to get these to you soon as I haven't downloaded them yet but from the look of it these films are a visual treat… I will see if I can get an exclusive clip too… otherwise I have no hesitation in recommending this site! Some of you may know I mentioned that we will be filming with her when she comes over to the UK in this year June… she's going to be a busy girl, but we are excited to have a chance to be one of the few producers on her brief spanking tour of the UK 🙂
I'll let you know more in due time… and of course I'll also ask in advance for any requests… but please do check out Sarah's site, you know how I try to also champion the independent and us smaller producers!
MORE SARAH GREGORY SPANKING HERE