After my recent successful (and enjoyable review of another Dropseat Production movie – See HERE for that review) – I decided to view the movie at my Spanking Theater and review a film I'd long waited to see as it starred Clare Fonda and Sinn Sage, who filmed this together around 4 years ago and this combination in this full length movie version is damned HOT!
All the films from Dropseat Productions are available at the Spanking Theater

I've split the full film into 4 parts and will also show you where you can buy this as a DVD at the end if you are feeling flush otherwise this has been taken as a cheap download option where I downloaded it for under 6 Bucks! (You can also use your pay per minute options at the Spanking Theater HERE and just choose to download parts of this movie and you'll see some scenes I've split for you to help you decide, how helpful can I be, eh?)
*******************************************
The reason I was excited about this film was because I know just how naughty Clare can be and she uses all her best witty put downs and humiliating verbal chit-chat to a very submissive Miss Sage, who plays her daughter-in-law, called Tammy – who has been caught cheating on her husband by Clare (who plays her Mom-in-law, Sue) – You'll see many spankings, humiliations, temperature takings and panty inspections as well as lazy Tammy being told to call her pissed off Mom-in-law "Mommy"
Sue has photographic evidence of Tammy's filthy lewd behavior of her cheating on her son and decides to treat this trampy wife of his a lesson she'll NEVER forget and drags the lazy slut out bed to confront her withthe evidence she's compiled starting with images of her caught with other men! & so begins the endless humiliating discipline you'll see below – in typical Dropseat "fashion" you'll also see their infamous clothing, little girls dresses and school uniforms used to great effect by this sadistic mother in law…
Tammy will do anything to not allow her husband find out – which suits Sue just fine and she treats her daughter-in-law like a baby little girl, making her call her "Mommy", spanking her, promising her that this is the start of the behavior modification and she makes her wear a revealing school uniform that Tammy thought she was way beyond but this only served to humiliate her more. A great introduction and all images here are only meant to serve as a guide (the actual image quality is impaired as my image grabbing software is simplistic at best!)
I forgot to mention that towards the end of this scene is an amazing drawn out mouthsoaping scene which just shows you how much trouble that Tammy is in and the way that she will be punished like a baby little girl by her "Mommy" (the mouth is cleansed as Sue is aware of just what she has been putting "in there") as the other promised ritualistic punishments are to come! You can see a free clip of this mouthsoaping below:
Scene 2: Temperature taken and spanked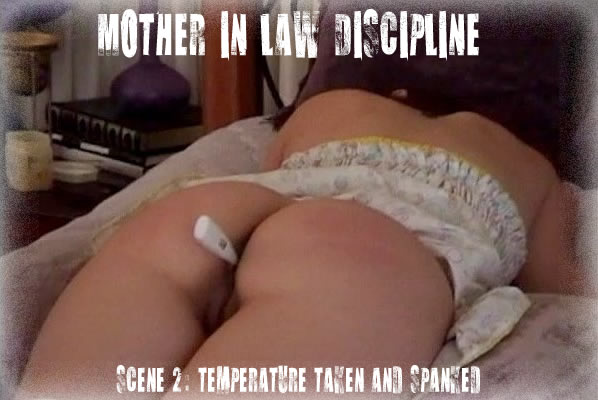 Along with the regular inspections and spankings that "Mommy" had promised was a twice weekly temperature taking, which of course is utterly humiliating… this is a side of a punishment I like, so if you were happy seeing a mouth soaping alongside spankings then this early scene of Tammy having her rectal temperature taken should fit the bill! After this, Tammy must wear that uniform again and make "Mommy" her breakfast… but of course Tammy is no good girl and soon ends up over the knee of Sue for another weepy spanking and more cornertime! Lovers of Sinn's amazing jiggling bubble butt will, like me… be mesmerized… it really is something special!!
Part 3: Little Girl dress & More…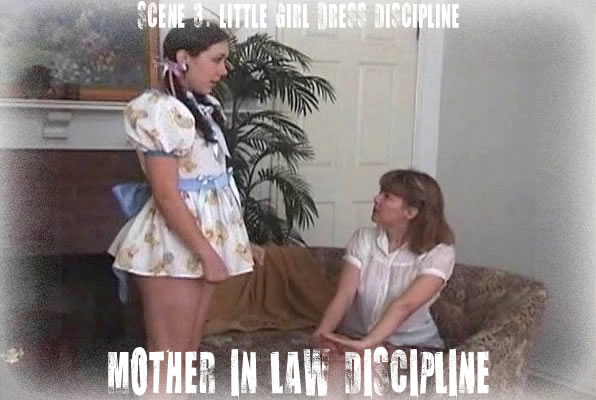 This is where the use of yet more humiliating sissy-wear is used to great effect as "Mommy" makes her daughter-in-law put on the little girl dress and of course she takes her out to the shops where Tammy had a tantrum… no doubt frustrated by trying to comply to her wicked mother-in-law's control over her! This is the scene where panty inspections are carried out and Tammy is made to ask properly if her "Mommy" can inspect her panties… of course, the attitude earns her another spanking and paddling allowing us to see this amazing bare butt thrashed again! The end scenes are awesome… having Tammy shove her face deep into the crotch of Sue as she decides she needs some pleasuring since Tammy's mouth is allegedly so talented!
Final scenes: Punished for Dirty Panties
Tammy is accepting her punishments and is hopeful that these won't go on much longer so she can get her life back on track, however… what she fails to realize when she is on a humbling cleaning exercise of the kitchen, set by Sue… she is summoned for a panty inspection… the dirty marks on her white knickers earns her a final humiliating bare bottom spanking and a paddling until her arse was very sore! "Mommy" wasn't finished with her though, as she wanted her to place her dirty knickers on the mantlepiece then sniff… yes deeply inhale the aroma and continue sniffing so Sue could be sure she'd get the full waft emanating from those white panties! My oh my… what an interesting finale to this 45 minute film!
Conclusion: Once again this film proves that when you get the right characters together and some approriate, humiliating punishments lined up… a girl doesn't have to learn from a very sore red bottom (it helps though)… in the 45 minutes you get to see some real verbal humiliation, mouth soaping, anal temperature taking, panty inspections and of course the various spankings and bare bottom paddlings which are not brutal but they aren't patty cake either and contain lots of slow deliberate removal of knickers and that uniform and dress… supplied for Dropseat Productions by their clothing and DVD store (which is where you could purchase this in DVD format if you so wished)
For clothing and pajama wear as well as the DVDs – visit Bobbies Drops Seats
If you wish to view this movie as a pay per download option or see the other titles from them then just click this link HERE which takes you to their download page. Of course, I didn't say if I liked the movie or not… um… absolutely! Sinn has one of the best bubble butts in the biz and this movie shows if off to perfection!
*********************************************
You can of course see much more of Sinn at her own site if interested
& of course Clare has her own excellent group of sites as you should know full well by now (banners below) and I've recently featured some of her latest updates with some incredibly HOT new girls she's brought in!