I have 2 site updates for you today, so new in fact, one has just been released literally hours ago whilst the other will be released later today and I am bringing you the most exclusive early 1st show images and clips taken from the sites in question… I have also been somewhat distracted by various hoverball cats that have also heard about this as you'll see below… watch out… viewing this post today may invoke Hoverball Cat outrage! (Oh… FYI, I will also be changing many of my sidebar designs & such very soon as other blogs appear to have many of my own personally designed stuff from the past … they're welcome to keep 'em as they're pretty much old news & been around for an age but it's high time I changed my bars with a proper "spring clean" so bear with me as I redesign mine very soon to give the ol' blog a much needed & much more unique banner makeover with less flashing stuff that could induce epilpsy & I hope it won't look so "samey") – but 1st watch out for Hoverball cats!!! Yikes!
OK so where do I start? Well, I have been fortunate enough to grab a 1st show preview of the latest uber bratty model to get the Mystery Spanker treatment, and she goes by the name of Eve… yes "tempting" Eve Blake, is, in my humble opinion one of the most gorgeous model brats so far to get the full Bun Beating Fun treatment and I told our hero so in reply to getting my paws on this 20 minute spanking festival!
Ok, so first of all, I want to show you just how gorgeous this perky model is… even if she did have one hell of a "Potty Mouth" on her when she started not getting her own way! Now as many of you should know by now… The Mystery Spanker lures the girls to a seedy motel location for his "Lingerie Photo & filming Shoot" and it's not long before all of these girls exhibit their brattiest tendencies which of course means that our man's knuckles start to tighten in anticipation of giving these most deserving brats something they should have gotten a long… long time ago! A hard uncompromising bare bottom OTK spanking that leaves these girls, many who have never been spanked before, a blubbering submissive pile on the floor! How the uppity fall… indeed! Check out the images of Eve below as you'll see her arrive and go through the motions of various lingerie poses… looking stunning, I'm sure you will agree.
Ok, so I have established that Eve is indeed a looker and her behavior soon earns her a (what I can imagine) scowl of The Mystery Spanker as he has clearly had enough of her tantrums, demands & belittling his "Shoot" , so he makes her place her arms in the air and she foolishly complies by which time he yanks up her top revealing her very perky tight tits which he gives an obliging tweak to her nipples, yanks down her skirt revealing her trim tuft & Mound of (delightful) Venus then of course takes her over his knee for the start of her spanking with his trademark "ear pull"… Yoink! Check out the scene below!!!
Fans of this site will know what to expect now as her cheeks are patted, prodded and inspected before the full spanking mayhem begins, and boy… does this one kick off as Eve struggles, pleads and begs for him to stop as he begins the delicate act of tanning this very beautiful but extremely bratty young model, still partially restrained by her top, she shouts and screams for the spanking to stop promising that she'll be good and has learnt her lesson but this is only a few minutes in! Varying cam angles captures the action from the side, her facial reactions and also from above as her tight buns are pounded with the relentless and terrifying hand spanking she is taking! There is some respite for Eve eventually as she is made to do some cornertime, but hoping that it is over… Eve tries to tempt him by offering something sexual if he will stop spanking her! Now… she seems far more compliant as you'll see from the images below!
Does Eve manage to tempt him from punishing her ripe red bottom anymore? Will she distract him from his cool refreshing beer that he has poured whilst she shows him what he could have if he wanted? I'm not so sure, are you? I don't think he is called Adam… and she's offering no forbidden fruit that he's interested in… having taken her spanking cherry a little earlier, it is safe to assume that he will want some more of this ravishing blonde's pert warmed bottom and you can see exactly a part of what happens below in my 2nd preview clip from this fantastic new movie which will be available for a full download for lucky members!
You can check out more of this latest fantastic spanking movie only from BunBeatingFun HERE
Don't forget there are also single pay per download options from some seelcted movies taken from this fine site and more will be added soon – these classic films are available with great free previews HERE
************************************************************
Phew! How do I follow that? Well, at AAAspanking.com today a brand new movie has just been released and it features a good hard back to basics punishment of 2 very well known girls together, possibly for the first time, I'm not sure, but Leia-Ann Woods and Irelynn Logeen look great together, and even better tucked up in bed as you'll see…. these 2 sleepy hungover girls infuriate their boss who has kindly hosted them, allowed them to go out  and instead of helping represent him at an important Breakfast Meeting, these 2 dirty stops outs have shamed him into rescheduling the important breakfast meeting and he is going to take it out on these 2 girls hides one way or the other! I told you this movie would be out yesterday, and it is now out IN FULL for members, including a complimentary image file along with the WMV & MP4 HD movie files – click the image below and it will take you to the home page where you can download both options and see for yourselves. Remember – download the files to your PC first and please view the MP4 file with VLAN Payer – it looks superb – go check it out!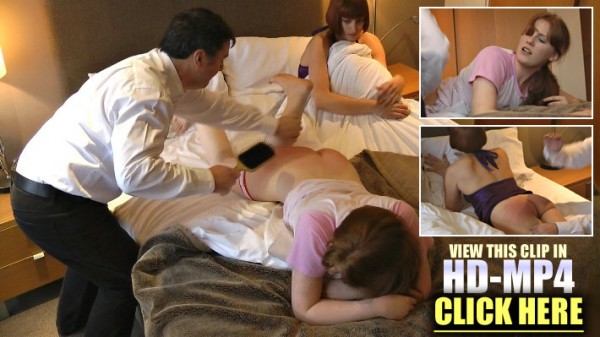 Ok, I have some interesting behind the scenes facts about this film! It's a short sharp shock film… but it would have gone on longer only when I started to use the hairbrush on bratty Irelynn's amazing rump… her buns of steel broke my poor beloved hairbrush… actually she was rather lucky as I had intended to use the strap and cane on her next in this scene as she really was playing up and even though my spankings were getting harder and the hairbrush punishments ever more swiping… something gave and breaking the hairbrush on her tushy, the damn thing splintered and I can imagine the pain that must have caused! If you see the full film you might just see the moment for yourselves & the look on Leia's face said it all… we pretty much stopped soon after when I told her to get back into bed as Irelynn was just about trashed at this moment so needed time to recover! But this meant that she got to keep my trusty companion as a keepsake trophy… R.I.P. my old faithful friend… you can see some behind the scenes images below afterwards of Irelynn's triumph!
Despite the 6-7 minute movie length – it's pretty much all action once the girls realize they are going nowhere and Leia gets it first, not wearing any knickers underneath her tiny nightdress… her round cheeks are easy prey for John's hands as he positions and moves a wriggling Leia around and promises Irelynn she is getting more of this too – I particualrly loved seeing Irelynn and Leia's reactions in this film both during their punishments and when they pouted or looked at the other girl's unfortunate tanning. At the time when I was in character, I couldn't see what the girls were doing, obviously… they seemed quite upset and indignant that I should be there giving them "what for" on that bed… Good! 🙂 Please check out some complimentary screen images taken from the movie, this will give you an idea of what happened throughout. Shhh! Don't tell the girls… but I really enjoyed making this… can you tell?
Love their facial reactions!!! Says it all… I had a look at what is on offer inside the site earlier, to check what I had up available and was quite shocked at how it has grown in the space of a few months already… that'll be the 3 decent updates a week we're doing to get this site well and truly established. I hope that it shows! More shoots are planned already and thanks to Bobbies Drop Seats I'm hoping that their amazing all in one jim-jams arrive in time for the girls – I've already warned them about what they will be punished in… I can't wait, & I'm sure the results of that will look awesome too!
Check out the revamped tour pages with oodles of free previews HERE

Seriously, have a great weekend, the weather here in south west England is incredibly mild and very springlike… we're just popping over to our friendly neighbors for nibbles and lots of wine… a great way to start our weekend. have a good one! Chief