I was looking for something DIFFERENT to review and let you all be aware of, whether it is from the present or the archives of a website… and as I was checking out the latest movies updated at Clare Fonda's SpankedCallgirls.com and I got some gems from the past but first, if you haven't seen this already shown or advertised anywhere else, Clare has a great submissive pairing with her girls Ten and Alicia as "Momma Clare" once again "takes no crap off her hoes" and sorts them out in the seedy hotel room in front of each other! Both girls have alluring, curvacious but very well toned bodies and I remember Ten remarking either on one of her tweets or blog that she loved the strength of her thick thighs… Wowsers! I totally agree!!! I actually find Ten's figure and butt extremely attractive and seeing her alongside the equally built Alicia is a great visual treat for me… as I hope this is for you too!
This movie can now be downloaded HERE for your viewing pleasure
Now I told you I was rummaging around in the archives of this site and to be honest it's not something I have often, but after a few absolute gems that include subjects like humiliation control and punishment by mouth soaping, anal temperature takings, intimate inspections, bottom wipings and the gratuitous use of wearing tampons that I had noticed… you can bet I will be checking out more of this in future… members of course have this whole section to explore at will! I had no idea that Clare was such a delightful pervert! LOL!
One of Amber Pixie Wells earliest films and humiating punishments with Clare was punishment and control by bottom wipings and temperature takings as well as receiving her spanking! Check out a few images taken directly from the old wmv movies below for more proof!
Awww, doesn't she look so innocent in her pigtails as well? 😀 You can see MORE here
Delving into the archives deeper I noticed a gorgeous redhead called Vixen with a beautiful tuft of red fuzz "down there" which immediately got me interested and I downloaded every film and image I could find of her after this 1st series! Why? Well, Clare got Vixen to take a dry enema, of sorts… pushing air up her well greased, prepared asshole then making her fart… poor Vixen was mortified… you may also see that she was wearing a tampon as well, placed there earlier in a further humiliating control exercise. There is spanking too… but I thought some of you might like to see this interesting diversion… with Vixen splayed and shamed… how the hell did I ever miss this?
That's not to mention the movie clip of Vixen made to spank Kacy by Clare… and when Clare disappears for a bit the girls make out… I don't know… there's something about Californian chicks – are they all inherently bi-sexual? I just love their queer-play! So it's another lovely girl/girl scene until Clare comes back!!! I'll go into this in more detail another time as I've done enough of Spankedcallgirls.com today! Just see what else you might be missing below! Yikes!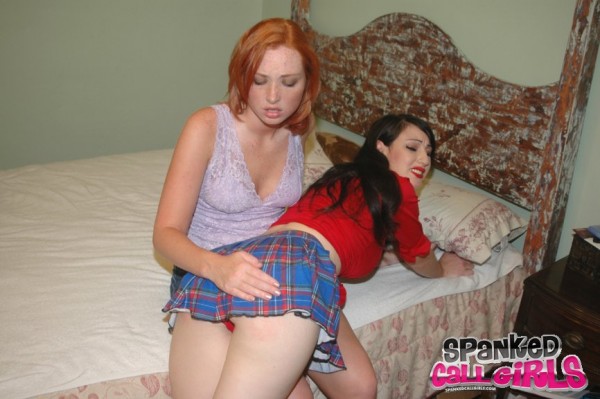 *****************************************************
So from the beautiful "make believe" Californian chicks to the real world of amateur spankings and this is all courtesy of MarkedButts.com as I show you 2 excellent realistic and damned hard spanking films that leave these well built ladies with very sore red bottoms! The quality of the movies vary as amateurs, I guess, send in their movies (this is the appeal of this site, however), but as you'll see, I actually have a couple of movie links which are totally EXCLUSIVE to this blog and they are both about 25 seconds long and feature some real whackings – SO BE PREPARED!!!
The first movie I'm featuring is below:
This is part of the room mate series. Sami, and Kisa are room mates, and instead of having huge blown out fights they sit down and decide that if one of them gets out of line, the other will adminster a bare bottom spanking for their discipline. In this part, Sami receives a hard hairbrushing OTK punishment totally naked and screaming thanks to Kisa's enthusiastic thrashings! I've included a WMV download link for a free clip after the images… WARNING! It's a severe naked butt blistering punishment!
CLICK HERE TO VIEW THIS FREE WMV NUDE SPANKING CLIP
the 2nd movie from MarkedButts that I am featuring here today is another butt jiggling paddling of a girl fresh out of the shower as her still wet bottom is thrashed! See the images and read the description of this and of course, I have that free clip for you to watch and decide too… it features some great facials and a very sore red paddled bottom!
Lily has found out through a friend that Mya has been appearing nude at a local strip club. Appalled that Mya would get involved with such behavior she comes home, finds Mya in the shower and pulls her straight out of the bathroom and into the bedroom for a serious scolding and spanking bent over the bed while she is still fully naked and wet from her shower. Mya may be embarrassed to be spanked without her clothes but Lily feels it is a fitting punishment since she's been taking her clothes off for strangers already! Then she goes to get the wooden paddle and really blisters her butt!
CLICK HERE TO VIEW THIS SEVERE SPANKING & PADDLING CLIP!
See the extensive tour pages showing the latest movie updates & free trailer previews at MarkedButts.com
*************************************
Finally a few archived moments I'm sure you'll let me indulge in again until tomorrow! First up, a classic from Japanese girl girl spanking site CutieSpankee
In the movie clip and the sample images it's a great scene where younger sister, Yuka, stole and ate her older sibling's cake. Listen and watch Yuka cry and plead (rather pointlessly) as she blubs over her angry sister's knee!!!  


Check our my free images from this naughty FF dscipline movie!
CLICK HERE to see this FULL Movie and 100s more at CUTIE SPANKEE
*******************************************
Next indulgence is one girl I haven't featured much of recently, lovely redhead Jessica who has an amazing archive of data spanning back nearly 10 years… I guess Mr Masterston really did film a hell of a lot of data of her, eh? Spanking Teen Jessica – the red headed girl next door we'd ALL love to spank (when no one's looking!)
I have found some classic paddling pic, probably one of the girls best known for taking such a red butt thrashing!
There's plenty more free pics and clips of teen Jessica at her own site – CLICK HERE
****************************************
Finally how could I  forget this lovely red headed beauty since I have once again gone Red-mental tonight!!! Amber Dawn from California! Star and partner with hard working co webmaster Daddy of SpankAmber.com and AmberSpanks.com
There's not much to be said that I haven't already so take a look below at this stunning spanking sensation as she spanks, get spanked by great looking girls and of course spanked, fucked and dominated as loving couple can by her partner, her lucky man "Daddy". Spankalicious!!!