Domestic Discipline lovers of real women, take note, the 2nd part of Jean Bradley's very severe spanking and slippering in her pyjamas, dragged out of bed is now out at AAAspanking – you only need to see the images from my previous post to understand this is a good old fashioned spanking movie – just like Poppa used to dish out! 😉
*****************************************
Ok, I promised less waffle and more reviews and update news, so here goes…. (deep breath)
Punishedbrats have a couple of amazing new films with Pixie both spanking the gorgeous bratty Lorraine and in her own more familiar "bottom" role over the knee of Veronica, images and brief explanations of these 2 films are below:
"Aunt Steps In" – Lorraine has always gotten away with her bad behavior because her Aunt Amber was too close in age to convincingly discipline her. But Amber has decided she needs to be the responsible one and takes the little brat over her knee. This film will suit those who love seeing girls spanked over tight jeans, pretty panties and of course the inevitable beautiful bare red bottom – and all over Aunt Amber's (Pixie) knee! *swoon*
Pixie is an overly enthusiastic perfume salesgirl intent on making her commission this month. She gets a little too aggressive with store shopper Veronica when she sprays her with a sample despite her protests. Pixie is soon the one protesting when she finds herself over Veronica's knee! (edit: I just watched this full movie now available and can HIGHLY recommend this one – Pixie's wriggling and red bottom are legendary!)
Want more? Click the banner for all the latest information & free previews

***********************************************
Beautiful and bratty Sarah Gregory has been a busy bee recently and you can see MORE of her very latest 2 films below, these are a few images taken that show what happens in her naughty punishment films! & the very latest shows a familiar theme… oversleeping! Tut tut… is the whole world becoming so damned lazy? You'll see Mom, Chelsea, drag Sarah out of her bed & over her knee for a good hard red bottom spanking and strapping to wake the lazy mare up!
Sarah's site HERE specializes in many domestic discipline scenes, especially the Mother/daughter roles and who better to choose in this rcent film than renowned stern disciplinarian than Cassnadra Park? I've always admired her work and seeing her chastise and spank sarah so well was no surprise, but the quality of the movie was… check out these images which accompany the full size movie now available for members…
Sarah's mom comes home early from vacation to find not only her own bed is a mess, but there are condoms in it too. At first Sarah lies about the fact that she used her mom's bed for sex, but once she is getting a good spanking, she is quick to tell the truth and plead for forgiveness.
*********************************************
I'm not letting up with the hot spanking releases as FirmHandSpanking once again up the ante with my favorite newcomer last year, Adrienne Black – words defy me so take a look at these amazing preview images instead of awesome Adrienne's latest punishment!
The above scene only shows the type of typically bratty behavior and backchat that Adrienne brings the inevitable punishment on herself… thankfully for all of us who love seeing her disciplined on her bare bottom!!!
For more free previews and the latest girls being punished (including a fantastic new movie with samantha Woodley!!!) go check out Firmhandspanking's home page
*************************************************
I haven't done this in a while but I do feel that the Trouser Arousal alert should be brought back as I have just realized how hot all these spanking updates are today and the next one from Japan is doing the trouser cloth no good at all as one of the hottest films to come from CutieSpankee in ages sees a girl recall the days when she was thrashed across her desk by Miss and secretly got off on her often severe and stern punishments! the promo clip and some special images are below – this is seriously HOT!
*********************************************
& finally today staying in uniform over in Holland the "schpannkings" go on for these very dangerously cute girls – there are now 7 discipline sections of uniform punishments… I'm sure you know, the new ones feature "Army cadets" & "dance/cheer girl training" whilst we have the more established themes of nurses (my favorite), airline stewardesses, police officers, schoolgirls and maid training! See 2 latest updates from the following: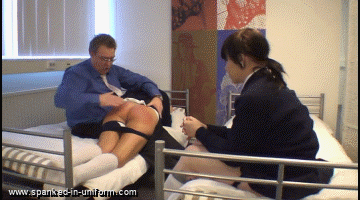 Schoolgirls wearing the wrong knickers are always found out in this school when the headmaster insists on personally checking out the girls underwear… So these girls should have know better when Foxxy Angel and Chervana were called to the Headmaster's office for a random knicker inspection and they were both wearing highly inappropriate sexy knickers. The Headmaster scolded them and smacked their legs. As he had to run an errand, he told them that they would be properly spanked in their dorm room before bedtime. That night they were both taken over the knee and they got a sound spanking wearing the proper regulation school knickers.
Below are a few more images taken from more of the very latest various sections of Spanked-in-Uniform.com – check out the various stories and images that show you precisely just what happens to naughty girls in Holland!
I shall be updating my other blogs with some equally hot updates or favorite films viewed recently – and of course the new style barebottom.biz I updated earlier today (well, it doesn't look any different right now but the style of content is!) with a good retro style spanking film I have always adored! You can see which one HERE
Have a great weekend, I have a movie review to come courtesy of Dropseat Productions & news from Bobbie's Dropseats soon (no doubt it'll be up before Sunday)
Regards, Chief.