So! It's another bank holiday for us today… thank you Prince William and his new wife, Kate (or Princess Catherine or whatever they will call her afterwards). "Er indoors" was already getting excited about the wedding early on and went off to her lady friends so they could enjoy the day… she had been glued to the fawning, cringeworthy presenters droning on about all sorts of tedious shite … what is it about reporters that are "Royal Watchers" – are they deliberately born with that brown tongue? I used to rate Julie Etchingham as a top Sky news presenter… also very easy on the eye, I might add… but her blind ambition had led her to take the covetted "News at 10" slot (nothing wrong with that, of course) on the ITV network in the UK and now this fawning over the wedding, as I type this I'm struggling to keep down my coffee as that bloody woman has really started to annoy me – and on the other side? Bloody Fearne Cotton arse licking (hmm, I'd pay to see that, lol) with the "right on" crowd – now if ever there were 2 females in DIRE NEED of a damned hard, humiliating bare bottom spanking – they are the gals to receive it… and I'd LOVE that to be reported on News at 10 and on the BBC!!!
OK…OK… guess who watched the wedding?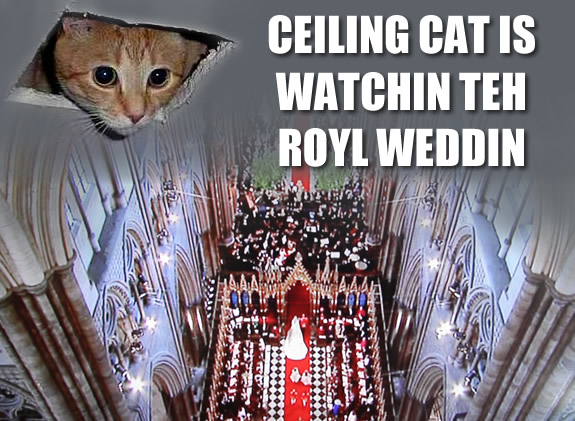 I'm a hopeless romantic, really… it was quite a moving service… as ceiling cat was able to confirm!
OK, I have gotten involved with the celebrations today, too. Check out The Chief hiding in this mosaic of the Royal Couple, click on the image below & you'll see me, sadly I wasn't placed on Kate's boob, but I'm lurking 🙂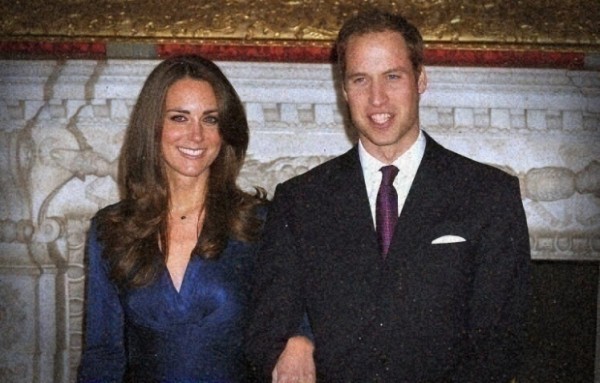 In case you were wondering what I was doing… I was spanking Kami Robertson 🙂
*************************************************
OK, enough of this frippery, I have a blog to write up and I'm off to a film shoot tomorrow so I won't be writing here on Saturday but will try to get you some behind the scenes images from the latest filmshoot when I can over the holiday period. So in the meantiome, check out what's HOT elsewhere as I take you around the spanking internet…
Starting today at Punishedbrats.com – the lovely new girl Joelle (who debuted in her Pot Bust movie early this month) now features in her 2nd film out in full and it's another red bottom corker as Miss Chris caught her niece, Joelle, about to strip off and perform on a webcam for a naughty sexy co-eds website…. the scantily clad hussy was dragged away for a sound hairbrushing punishment and I bet her webcam fans would have loved to have seen Joelle's glowing red bottom after Miss Chris was done giving her that hard stinging spanking as you'll see below, Joelle has an amazing red glowing bottom afterwards!
You can also see a free movie preview of Joelle's "Webcam girl" movie HERE
****************************************
Another extremely sexy and alluring girl to play in front of webcams is the beautiful Amber Dawn from SpankAmber.com and as you'll see from her latest release, a sort of maintenance spanking in the kitchen….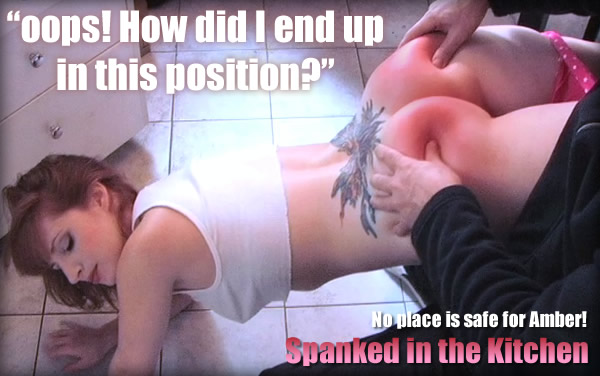 Daddy grabs her and takes her over his knee for a lingering domestic spanking that only real couples on film can get away with! Amber smoulders and cheeks to the camera (ever the beautiful attention whore she is) and Daddy gets to "grapple" with her meaty bubble butt buns after oiling them as Amber jiggles her cheeks as only she can! I bet Daddy had "wood!" – I know I would have if presented with that amazing sight as you'll see below! *swoon*
All Amber's movies are available in 2 formats, their preferred HD quality Quicktime format (playable on the free multi platform Videolan Player, of course and I guess perfect for iPads) and for lazy Windows type users of which I am one (but I view the QT formats!) in still the most used WMV format as well!
See what Amber is up to at both her sites HERE (it's all good, especially with a special deal when you take up an option to both sites!)
*************************************************************
I'm not going to be cheesy and just show Brit stuff today (in fact I haven't so far) so how far removed could I get withthe latest amateur offering from Kyle Johnson and his real life girlfriend, Kat St. James (he's a lucky man). He catches Kat making out in a steamy session with her "friend" C.J. and decides that these 2 naughty hussies need teaching a lesson the only way he knows how to in the latest installment of what has become a popular series, "Slumber Party Blues" this is part 3: "Caught in the Act!" Marked Butts presents the third installment to the popular series. Kat and C.J. are having a slumber party and decide to play Truth or Dare and as you'll see it got out of hand…
You can see more free movie previews of Kat & Kyle's work on this specialist amateur spanking site HERE
*******************************************************
Now, in the Royal Orange Netherlands… that doesn't stop naughty girls parading themselves in the buff, especially with all the fine weather we've been having recently, but it's no excuse to sunbathe naked in Mike's back yard… for goodness sake, the neighbors might see (what's the address???)
Chervana is one of my favorite Dutch girlies that Mike has been using over the last year – so when I watched this film and saw her sunbathing completely in the buff, then get that embarrassing ear pull to be led inside for a nude leather paddle punishment… well, I thought you just HAD to know about it too! She's gorgeous… and as well as her jiggling red bottom, she's got that "craaaazsheee" Dutch accent that I love listening to when she speaks English – see Chervana's "schpannnnking" below.
As an added humiliation, after Mike has finished paddling Chervana's behind… he makes her continue lying out in the sun for a while with her very obvious red bottom on full display to her neighbors and he lays the black leather paddle to the side so make it even more obvious what had happened! A nice touch!
You can see this and the many other punishments of Chervana at Real-Life-Spankings.com
Or if you prefer uniform punishments – check out Chervana's other movies HERE
************************************************
Finally some very recent updates and news of what's happening at Sarah Gregory's site HERE!
I just watched the full movie of "Mother spanks" with the excellent Cassandra Park who really scolds daughter Sarah in this movie, and it's hardly surprising since Sarah's mom comes home early from vacation to find not only her own bed is a mess, but there are condoms in it too. Now of course, sarah is mortified that's she'd been found out & tries to lie about the fact that she used her mom's bed for sex, but once she is getting a good spanking, she is quick to tell the truth and plead for forgiveness! Hmmm… such a naughty naughty girl! I can tell you Sarah got a real whacking in this film!!! (some images accompanying the full movie are below)
If you loved this (and it's a good un as I said) you'll love Sarah and Chelsea together again and also the return of her working with Richard Windsor, who I always love seeing (he's none too impressed with the mess she's left and cost of the snacks at the hotel in "Hotel Blues") … oh, and, you can never have enough Brits around sorting out these American girls! 😉 Seeing these updates is making my mouth water at what we can get up to with Sarah when she comes over to the UK and we get to film her! I can't wait!!!
Richard takes matters into his own hands HERE in "Hotel Blues"
Chelsea just knows how to deal with lazy oversleepers like Sarah – HERE
************************************************************
Have a great weekend everyone, I'll let you know what happens at our film shoot tomorrow as soon as poss. Have fun. Now I'm off to a Royal Wedding street party! How delightfully quaint, looking forward to it! 🙂