I had the pleasure (& it was) of working with and alongside Sara a couple of times… and I know that she reads this blog from time to time so when she does, "Yes… I'm still interested in getting you to appear with us at AAAspanking if you'd like!" (Get in touch with me about a future date that is acceptable to us both!)
Sara – in 2 great domestic discipline movies (below) from SpankingDigital.com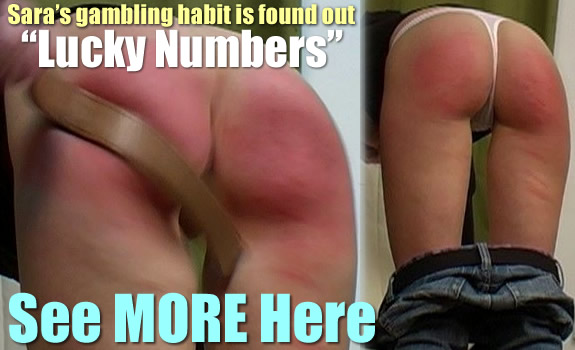 *******************************************
However today I just wanted to remind you of this film that I reckon must have come close to breaking poor Sara as it was near the end of that particular film shoot shown below, and you'll see the heavy welted and weal marks of many a hard leather strap and cane that had already taken its toll before this schoolgirl movie. As I remember that was the shoot of the infamous Cellar scene (what is it with Austrians and cellars? OK, bad joke…sorry) – Now that movie has been discussed in detail before and for those who had been living on Mars until recently, I'll try find a gallery that shows this off and some ways of viewing or locating it either as part of a membership or a pay per download/keep deal that I remember (more for me to hunt down after I post this 1st part, then!)
So without further ado, check this scene which I uploaded c/o Teen Spanking Tube – and check out the thickness of that cane… ow ow ouch!
I have got some choice images taken from Spankedschoolgirl.com – where I located this movie, if you've missed this one and are a member or would like to know more, I found it in the movie archive section… go check it out!!!
Check out MORE of Sara's fine movie at SpankedSchoolgirl.com
****************************************
As promised here are a few links of some other Sara movies. I don't have galleries for them all, but there are a few free movie previews available where i could find them.
The infamous cellar movie is part of a Triple package of films to download at NaughtyBottom.com – make no mistake, this and the other 2 movies featured (full explanation on the image link below) are well worth every cent if you've never viewed them.
There was another seperate film filmed next to the cellar in the cold dusty basement… another unsung classic that I loved and this too is available as a special one off purchase, I know this definitely has a free preview clip, so it's well worth a peek anyway! (You may have already seen this in my fave listing of videos which I will be changing again today)
& of course Cane Master, which I really liked for obvious reasons… if you see who is in it 😉
All the above films, as far as I can remember, are also mainly part of SpankingOnline although I know that the Piano Lesson is also part of SpankedSchoolgirl, obviously if you spend time on the tour pages you will see for yourselves where the films are 😉
OK, that's got me in the mood to watch some more films of Sara I have just featured now… I promise you if you see any of the films above, you will not be disappointed… unless you want to see softcore spanking movies with patty cake chastisement… otherwise watch a girl able to take quite a thrashing – it's an awesome sight!!!
*******************************
In fact… in the spirit of many bloggers doing interviews and such nowadays… when I next hear from Sara, I am going to do a grand interview and have my own little "exclusive"… I'm sure Sara won't mind! I'm looking forward to posing some interesting questions, if you have any that you'd like answered, please do leave them here and I'll try get Sara to answer them in due course!
I apologize for not writing more but believe you me, I am currently up to my neck in assisting with issues elsewhere but I hope to resume a better more regular posting service soon enough!
Regards, Chief.