I have decided to start doing these more often and today, I hope you welcome this review in my own style for a website that I'm sure we have all have heard about, seen advertised on various networks, banners and specialist blogs… but I feel in some cases the site has been totally misunderstood… especially by me!!!
That was until I contacted the good folk at SpankingServer and got a prompt response (which I was impressed with) for me to properly review the site and see how it works! The reason was that I had promoted it before but wondered why such a fine site never got any sales from me this past year when I used to send them a load, I was perplexed and to be honest, a little upset as I love this site and what they do and thought people hated it or at least shunned it… However, I have seen the error of my ways as it was ME who had ignored the way they operate… So here is my definitive guide and review as to how you should approach this wonderful site… I have seen the light and want to share with you how to get the MOST from this network – & it really is very simple!
So excuse this old man's ignorance, but I'm sure there are others who felt a little overawed by the site's welcome page when they 1st came upon it and got confused – but worry not, as Chief here will explain in detail how it works, helping you to make the right decisions!
First I will describe what you get in the main members area, the type of punishments and girls you'd expect to see. This is in addition to the excellent FREE page area (click on the "FREE" icon on their home page and it leads to a gallery of 135 images and a chance to download some sample clips)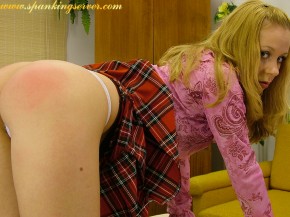 Before I continue, there is also an "OFFER" button, this isn't a link to a special offer or anything, it just tells you what they offer, for example, all the video clips are in REAL .rm format – now a few years ago, I would have been put off by this prospect, as like a majority of people, I'm a lazy Windows user and have been used to Windows Media Player and .wmv format… however REAL and plenty of other multi media players/formats are interchangeable and the free version of RealPlayer is in fact one of the best, it plays virtually anything nowadays… and guess what, guess which player I hate the most? Windows Media… Microsoft, take note! So in my long rambling, I'm saying that Real Player format is NOT an issue anymore! All their most recent clips now play at 1000kbs , older ones at 700kbs. It's still a little low but luckily will still look good on your larger screens… however, this is something I hope that – with technology improving and many producers now use 1280×720 screen resolution in HD, maybe we can expect something like that in the clips packages and members area soon!
Click on image above and use this as a reference – this should be your opening page for SpankingServer.com
This is a website that has carefully built up an amazing selection of movie clips and a vast image gallery of some of the most beautiful girls to ever have been spanked or punished by Peter Schober's wonderful network! Below are just a small sample of the amazing girls that are on view here!
There is of course a "GIRLS" section on the home page which also lets you review the models, I took the above images from the gallery section inside the member area but I think you get the idea… in the free section outside, the girls are all named for helpful reference. The site makes no idle boast about the images… at present count, there are 271 pages of galleries, each page contains 50 so that's over 13,500 images to download!
However, like many including myself, images are great, but we all want movies… and the clips here are simple and to the point! No big dialog, no huge build up… yes, most of these girls are East European in descent, mainly from Hungary, Slovakia or the Czech Republic from what I can make out… and luckily it's pretty easy to see what happens as Peter rarely speaks English (apart from when he had English models like Pandora Blake and Amy Hunter over a few years back… and they only had praise for his work, of course). Actually, while I am at it, you can see a clip of Pandora & Peter over breakfast in an interesting OTK scene … a rare moment of him speaking English too!!! 🙂
Now if you join and become a member of SpankingServer, then this is what you can expect: There is a permanent archive in 5 sections of movie archives, each containing 28 clips of varying lengths of no less than 3-5 minutes each on average. These never change and I would assume in time will be added to as previous reviews had counted less (3 sections and so on) and even their site maintains there are less than available, so that's a BONUS as far as I'm concerned. By my calculation that gives you around a minimum of 7 hours of archived content to download and this is mainly pure punishment stuff, no messing about… straight to the action!
There is also a movie full length movie that rotate every few months from Pain4Fem – currently it is the infamous "The Spy" starring Niki Flynn and there are options to download it in original HQ version, or with subtitles (since most of this is in German) and the accompanying image set – example below:
So… What punishments are there?
SpankingServer have become known for their amazing instruments and devices, almost all the girls at some point are strapped into or to any of a number of wooden benches, upright suspensions, chained, tied and restrained to T Scaffolds, Stocks, Racks, Benches, Medical Examination Benches and the 2 that stick out in my mind, the infamous Gyno Chairs for the various pussy strappings and the Head Stock that has the girl placed head down, with her bottom stuck up and exposed, I've seen anal punishments with the cane with this method… which HAS to hurt! See some example images below:
Now the types of punishment you can also expect vary in intensity and variety! Personally I'd like to see some more OTK spanking scenes, the ones that are there are very good and Peter knows how to spank a bratty girl across his lap! Some of the scenes that are available are excellent though. Like the image below, I think these get the point across quite well, don't you?
There are the scenes where the girls are restrained and either whipped, caned or strapped with a paddle. Seeing girls thrashed across their bare backs or on their breasts is not my thing but I fully understand that for others this might be a highly attractive proposition. Either way, I do like to see the results and the yelps and tearful looks show that these punishments are very real! Remember that I mentioned the girls were stunning and mainly sourced from Eastern Europe, well, I have seen many of these girls appear as mainstream porn stars (it's usually the Hungarian girls from what I've seen and understand, though I could be wrong and would be happy to be corrected), so it's hardly surprising that they are so beautiful, and what's more, many of these girls will have appeared here before anywhere else!
A few more images below show you the varying disciplines that you'd expect to see and then I need to tell you part 2 of how a membership to SpankingServer works!
Each week starting Friday, there are a new set of clips uploaded, so in effect the site is updated once a week, but all at once. 10 Clips are added and are the usual varying lengths or 3-5 minutes. However, these clips only remain for one week at a time (so download and keep these to play back on your computer, of course) and are then replaced with a new set for the following week and so on… they aren't kept in the archives and so you get a rotating sort of membership. now for recurring memberships (which have reduced pricing) or memberships where you choose a longer term these revolving clips work out at surprisingly good value! It's unlike a lot of membership sites so bear this in mind but I understand now that this isn't all that is on offer as if you don't want to be a member like this then you also have the option of chooisng a one off payment to download clip packages (see the top of this review for the HOME PAGE and click on "CLIP PACKAGES" and this will take you to the alternative way of viewing content from SpankingServer and this is via the option of the Spanking Video Club.
On this page you will see 2 obvious options… "SORT BY TYPE OF CLIPS" and the other option of "SORT BY MODELS" so if you click either page then you are presented with the various punishment types such as OTK or Pussy Strapping, Whipping and so on, within this sub section you can choose exactly which type of clip package you'd like to view and download… just choose the clip package and then the payment option to download this section and that's it!
So… if the images below are to your liking….
Then head to the "Pussy Strapping" section… or you might prefer this option below!
…then you'd head to the preferred OTK/spanking clips packages… and so on!
Now as I said, there is also the useful Model clips Package, and, for example… in the spanking images just above left, I featured one of an absolute corker of a girl called Sandra Sanchez… well, if you only want to download her movie packages (and I recommend that you do as she does come with a guaranteed "SEVERE Trouser Arousal Warning!") then go to the models link, locate Sandra… & choose which package you'd like to view… the below images were taken from the main SpankingServer site… but of course here you'd be dealing with her movies… only!
I could also tell you that the girls are often given the opportunity to switch and although not as severe, seeing beautiful women spank and punish each other with all the toys that are on offer at this site is a very alluring proposition… as well as Peter's ever present and attractive blonde Dominant Assistant (who I don't have a name for but will gladly change this if I have it – I should have asked first before completing this review so if anyone can assist, then I'd be more than happy to amend it).
Finally, the all important costings and conclusion:
Thanks to the continued weakness of the US Dollar against the Euro & UK Sterling, all us poor European producers are at a distinct disadvantage and suffering with higher costs against our American counterparts. I just saw that the spot rate at the time of writing against Sterling was well over $1.65 for one of the Queen's British Pounds and our currency is rubbish at the moment against the rest of the world… except the US Dollar. However, the US Dollar still continues to flap weakly against other currencies and Spanking Server have their prices in Euros. Currently, a join up to the site costs 23.99 Euros or around $34 for a month. But remember just what you get and these girls are seen no where else!!!
Would I recommend this site? Absolutely! Now that I get how this site works, I will be featuring more of their updates once a week from now on where possible, this is one site you shouldn't ignore! Try out the various ways to view it, help support sites like this to continue producing content that we all would like to see more of!
Who wouldn't like this site? Anyone who is confused and hasn't read my (hopefully) informative review 🙂
Lastly, For your info: The various clip packages cost less but you get less (obviously) and you'd need to check their pricing depending on the size of them  – and in both cases you go to the link that says "Purchase your ticket to download these clips" but as I said, these options should not be ignored either as they offer you a cheaper way though overall i'd still choose the site membership but that is the choice we have and if you just want to view one specific genre or girl that you have always wanted to see from the SpankingServer website, then this option is available! This is what I didn't get before… and of course, if you liked what you see from this review, then please do go check out their site in more detail HERE
Regards, Chief.