Sorry for not posting sooner, but I had been as busy as Ceiling Cat (below) watching others so I thought this post today would just focus on Triple A Spanking with what's just out, what's about to be finished and what's coming out at the end of this week… it's all go as usual and there are some 1st previews here, as you'd expect & it's a pretty exciting week, update wise.

Ceiling Cat is watching what you see on the interwebs…
Yesterday there was a brand new naughty story with stubborn Irelynn and a determined Leia who ensured that this naughty minx would learn a valuable lesson in kitchen hygiene as Irelynn thought it amusing to play with grapes in "Grapes of Wrath"… no not the famous John Steinbeck novel about the Great Depression & those poor folk who trudged from Oklahoma to California for work in the 1930s… just a light hearted look at the consequences of Miss Logeen defying a very stern Leia… images below are reduced in size, but these are a small sample of what to expect right now for members.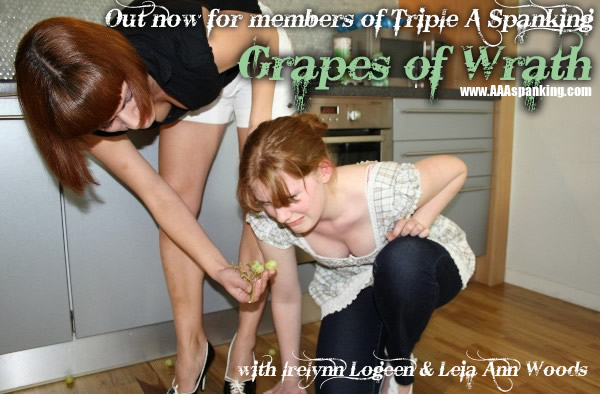 Irelynn plays the brat so well, don't you think? You should see her when she doesn't get her own way… or miss out on Pizza!!! These images are reduced size (below) but members can easily download the full zipped files now out and peruse through them at their… leisure!
Pouty Irelynn is told to remove her jeans so she can receive a proper spanking!
You can see MORE of Irelynn & Leia in their latest update HERE
Meanwhile, the popular "grown up" feel of the "Lazy Wife" starring a lazy Jean Bradley, getting a much deserved hard hand spanking and slippering off irate hubby Paul, concludes tomorrow with the full file HD-MP4 movie file alongside the regular Wmv file which is out in all parts… We've had some nice feedback on the support mails about the quality of the new style MP4 films and as I promised previously we are backdating all the older films so that they get this treatment too. Please bare/bear (I never quite get this one, bare… brr and bear grrr!) with us as anyone who knows about rendering movie data, it can take an age (or overnight) just to get the data sorted so it can be edited… but all new movies will come out in this additional format and have been since the beginning of March (and we have since started upping the bit rates on the Wmv files too as they started looking far more inferior against the MP4 files… so all the new stuff is looking clearer than ever…
Jean thrashed on the bed by irate hubby Paul! Movie out in FULL on Wednesday.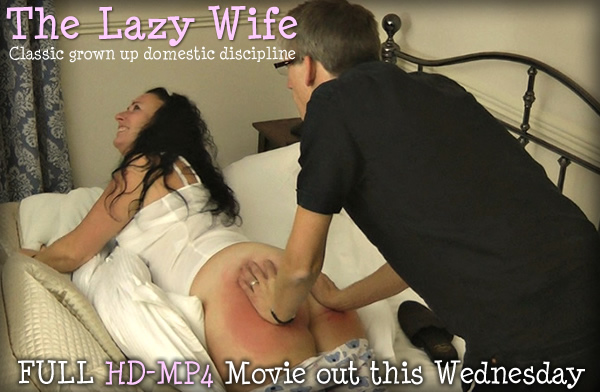 & finally at the end of this week (Good Friday) – and it WILL be with this new film. Check out this sneak preview of a short sharp shock film, it all comes out with full size screen grabs, & the full MP4-HD file as well… of "Leia versus… the bath Brush". Actually it's called "Rude awakening" and there can only be one winner… and this really nasty instrument we've got in our arsenal now is something the girls have come to dread… and for good reason, it stings like buggery, so I am led to believe (ahem!)
So plenty of goodness for you all to enjoy! I'm off out in the sun for a little bit, I need my Vitamin D supplement as nature intended – this fine Spring weather we're experiencing over here in England is most unbecoming… so I'm going to make the most of it – as it certainly won't last!!! 🙂