Hi everyone, I have been away a couple of days so have mercifully given you a break from the LOL cats, the informative spanking updates and my poor sense of humor, but sadly these things never last, eh? … So I'm back, even though I have a splitting headache today for some reason, I think it's the excessive caffeine I require in my copious cups of coffee that I need to just get up in the mornings! I am typing quietly and have just had to reach for the Paracetamol as I had just edited and cut a great paddling scene of my first update from the Corporal Air series of gorgeous Kat St James at FirmHandSpanking.com – I'm aware that this series has been out awhile but I've placed her last 2 appearances together with a great short clip of her bottom whacked with that huge wooden paddle! I've had to turn the volume down… "shhhh!"
This paddling, receiving 12 hard swats followed Kat's strapping on the Pool Table!
Images below are taken from the Corporal Air series where Kat is punished for stealing food and beverages on the flight! Kat can take quite a sound punishment as you all know so this was carefully thought out by Eric to ensure that her bottom stung like hell, first strapping her, spanking her hard then once her bottom was burning, the paddle was applied and by the end she had no choice but to hold her sore cheeks and rub them hoping the burning shame would disappear quickly! (it didn't, fortunately)
You can see many more of Kat's films HERE at Firmhandspanking.com
*********************************************
Sticking with the lovely Miss St James, I thought I'd feature a recent new film uploaded in full and in a better quality from the amateur specialist site, MarkedButts.com which covered a good hard F/F domestic discipline scene where she is spanked by her sister for stealing from Lily's purse and is punished just like Mom & Dad would do, with the hairbrush and leather strap! A nice nasty twist!
The below freeplay clip is a lower quality version of what members can see!
Of course, Kat features quite a lot at this site – You can see MORE of her films with Lily and also across the lap of her real life boyfriend Kyle HERE at MarkedButts.com
*************************************************
Clare Fonda continues to grab some attention seeking girls, and as has been reported by me and others… one of her recent additions was the gorgeous former Penthouse Pet of some note… the simply uber delicious Veronica Ricci who makes me want to up sticks and move out to L.A. to stalk this beauty … NOW! 🙂 I have some amazing galleries below taken from Clare's site SpankedSweeties that describe more about her latest additions including blonde bombshell Ash Hollywood, another stunner who has an ass to die for and I have no qualms in issuing the TROUSER AROUSAL Alert for these girls below, be careful… you have been warned, click on the images below for the girls galleries!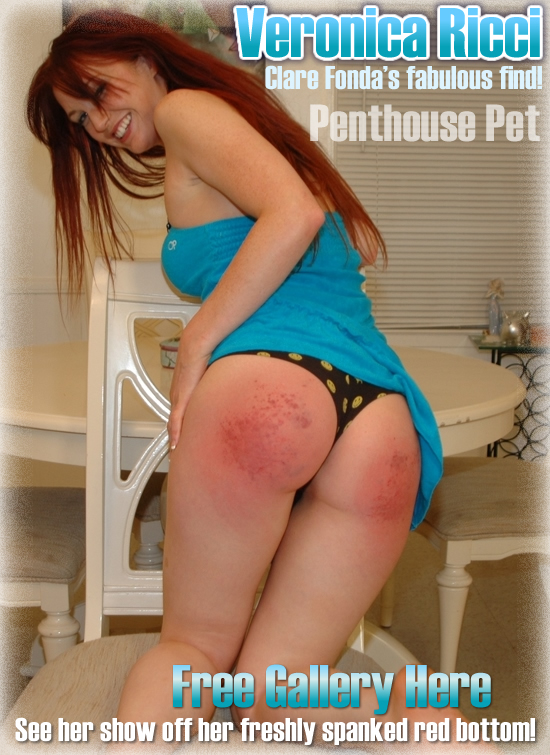 Remember that this site concentrates on the girls upbringing, real life events, interviews, and re enacts their stories & fantasies as well as showcasing such fantastic new beauties to the spanking scene as these 2 beauties featured above!
& in case you've been living on Mars then the links below also highlight some other recent new additions that started here at this site!
Lynn Leona – Alexis Grace – Mary Jane
Spanked sweeties is part of Clare Fonda's Multi Site Pass
*************************************
My next update is a special feature of another relative newcomer to the spanking scene in the USA and comes courtesy of Sarah Gregory's great site HERE. Do you remember Emma Harper? (pictured left) Here's a brief reminder of this pajama bedtime  film that I really liked: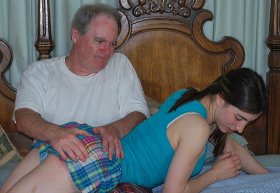 Both girls were over at Sarah's for a sleepover but they kept on disturbing Sarah's dad with their noisy antics until on the 3rd time he had enough… spanking his naughty daughter in front of Emma then spanking her before having BOTH girls side by side, shamefully thrashed together! It was a really hot movie (some extra scenes below… so it was really great to see at Sarah's site there's a NEW movie featuring Emma completely in the buff spanked by Sarah… AWESOME!
So as I said, there's a new film (out in full) which has Sarah spanking Emma and once again, the sight of Emma's very red bum is worth the site membership fee alone as a bonus to the equally gorgeous Sarah, who of course, is the main star of this site (naturally!)
What should girlfriend Sarah do with a naughty flirt like Emma who had ruined their night out? Emma looks very sorry but it's a little too late for that as Sarah has other plans for Emma… "if she wants to play with fire, then fine…" what you'll see is Sarah get her girl over her knee for some warm up punishment spanking before Sarah can't wait to gently pull down Emma's panties revealing her already red throbbing bottom as she continues to tan this naughty missie's tushy! Sarah by now is turned on at the sight of Emma's "red distressed cheeks" and orders Emma to completely strip off as she feels her girl wriggle once again in the buff over over lap before deciding to strap Emma on the sofa, knees parted, legs apart… her bottom stuck high in the air leaving Sarah in no doubt as to the wonderful sight of Emma's exposed privates and rosy red cheeks of shame! See for yourself the very trim Emma's punishment and sarah looking fantastic as the pissed off girlfriend in her little black dress. This is a great film and comes with a whole load of images of which the ones below are a tiny part! Enjoy!!
You can see MORE of this great film and all of Sarah's other naughty spanking episodes HERE
***********************************
Hope you enjoyed this update and don't go too far as I have news of a NEW Exclusive Kami Robertson film coming very soon to my own little site…. all I will say is that she is caned totally naked for calling me a pervert! (How dare she tell such fibs!)