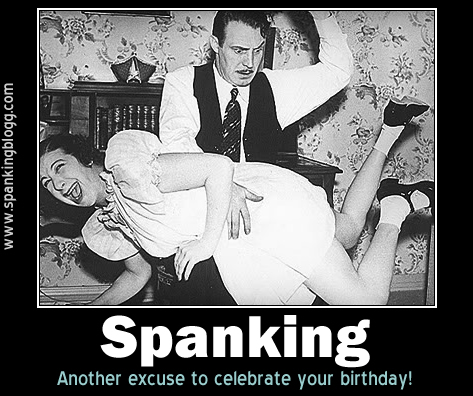 After yesterday's serious interview – & my impending uneventful birthday tomorrow *yawn* I thought I'd trawl through some of my archives to bring you something a little different and then realized I hadn't promoted Bryanna and Lance's site in an age (something I'm gonna have to change as I love their work!) – I'm talking about the site Spanking Bare Butts and although they sometimes source in content, which is actually pretty good… I really love their own stuff (especially when they work together). I was going to post an image of a confederate flag, seeing as they are from the deep south, but apart from my own ignorance of the Civil War, I wasn't sure if it was still considered offensive to certain sections of the community (although the north won…) so, before I start to get bogged down in some pseudo political mumbo-jumbo of my own making, I only wanted to note that I rather liked the drawl of Bryanna's accent, not to mention her ever so cute tushy… (to my English ears her accent sounds inviting) – so here I have a couple of birthday spankings that appeared on their site from the last couple of years as Bryanna got given her special anniversary punishment… hmm, now 'tis a pity I got to wait until September for my next birthday bashing  but I'm sure there'll be plenty more excuses to bare her magnificent behind for a good hard spanking til then! 🙂
This was the punishment that Bryanna was given for her 25th! Lance ordered that for her 25 years she get 25 swats off that nasty looking heavy wooden paddle… and yes, it did hurt!
& then there is her 26th from late last year which I ..um… quite liked! 😉
& below is the last time Bryanna got another paddling, this time over Lance's knee as a rather wicked looking flappy paddle really reddens her bottom in no time at all, and she has 26 of these across her tender cheeks! Images and special full short movie are available below:
OK, so you got a taste for what SpankingBareButts is about but this has only scratched the surface of their amazing stuff, I loved this movie below, it was another short but to the point film of Bryanna's cute trim butt cheeks spanked in the bath and from the images you'll see that they reddened again very quickly with the added warmth of the bath water! Oh my!
Of course there's hot F/F action too as you'll see with a girl I first featured way back at one of Clare Fonda's sites (Spanked Sweeties) starring the amazing Candle Boxx, below you'll see that she is given a weekly bare bottom punishment across her plump cheeks by a lecherous Miss Kimberly who clearly enjoys dishing out this punishment as much as I did watching it!
OK, I decided to show one final domestic discipline scene between partners Lance and Bryanna (maybe because I can't get enough of their accents… heh heh) – and it's a great little movie showing us what couples can argue about and bicker over… in this case Bryanna tried to wear a slutty little short clinging dress out without panties underneath, leaving nothing to the imagination… Lance was having none of this, of course… and with the help of a good paddling, a tearful Bryanna takes her punishment! You'll notice that there are lots and lots of paddling and OTK spankings so if this is your thing, SpankingBareButts is definitely worth checking out! Enjoy the scenes and free clip I have for you below!
Check out MORE of Bryanna & co at the extensive tour pages with a ton more previews!