Edit:  before you read this post today, I wanted to inform you that it has been a bloody nightmare for me, an old draft from a month back with the cats, then adding to it today and losing a huge part of what I had written despite thinking I'd carefully saved the draft, in fact I hadn't and lost the best part of an hour I'd been typing and adding images etc… I have torn my hair out over this and wasted yet more time so I hope you understand the love and care that goes into making a post like this. I know you may not think it's much, but it was frustrating as hell to write but I'm just glad it's up now – I had to rush the end and lost most of my train of thought which is so annoying… so please try to enjoy and any nice comments are always appreciated – or constructive ones too (yeh, I know, save drafts every few minutes, I usually do but got carried away… oops)
**************************************
Today's Spanking Topic: Cat Spankings, Stewardesses & Other "Serious" News
OK, now I have been arsing about and enjoying trolling t'interwebs for my fave LOLcats and such… well, I vaguely remembered people posting vids on Youtube of cat spanking and paddling… well, I don't know if anyone has posted this on a so called "normal" spanking blog but here are 2 fascinating clips of a cat being paddled and another getting a good hard spanking… I kid you not, and these cats, like many of our female species… actually enjoy this… check it out!
WARNING: If you are Ceiling Cat or a feline, this material may be unsuitable viewing!
and of course check out the spanking of this female kitty below! 🙂
************************************************
OK… back to human tushy now which is why most of you are here, I guess 😉
Well, since I started this post and kept it as a draft, I don't think it ever got published so perhaps the below post from Clare Fonda's site (yes I know I updated you with the latest news on her sites last time) however… the below post featured an old archive when I had been rooting around in the Spankedcallgirl.com archives again and came across this little beauty! There isn't much of a description on this except that she goes by the name of Lyla, and Clare was once again caught perving out on one of her girls, checking out the merchandise and giving her bottom a spanking! I'm not complaining… far from it! Give me more Miss Fonda… give me more, I say!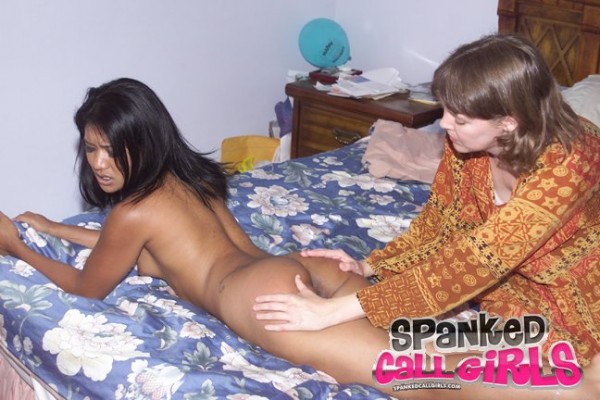 You can see MORE of this amazing chica at Clare's specialist Spankedcallgirls.com website
************************************************
From something old to the very latest full movie updates now available at FirmHandSpanking.com as there is a return for Carey Brooks, who has an amazing secretarial look and a body to die for and just looks so so spankable, as well as another episode of OTK Air with bubbly Kat St James who was born to wear that uniform… I gotta say, I'm looking forward to the new series called Pan Am coming this Fall (I can't wait!) about the halcyon days of when air stewardesses were oh so glamorous and virtually stars in their own right! Sneak trailer preview of what ABC will be showing and I'm hoping that either Channel 4 or Sky in the UK will take this up, I'm sure they will!
& so onto kat St James at OTK Air.
Corporal Air is a fun airline, but not when things go wrong. Flight attendant Katherine St James drinks alcohol on duty and a trolley runs down the aisle on her plane! Eric Strickman has to spank her bare bottom, followed by 45 with a wooden spoon: "That hurts!" she yelps.
I swear you will fall in love with Carey's cute pert bottom, take a look at her perfectly shaped cheeks… OMG!
Carey Books has a booty designed for spanking! Full cheeked, bouncing and bare, she's due 50 swats with a stinging leather paddle in The Office. Her offense? No virus software on a vital business computer. From creamy white to deep red takes minutes, ensuring she's sore as hell!
Their description is perfect, I viewed this film previous to this write up and it's awesome, her first full bare bottom punishment and I hope (well, I KNOW) there will be many more coming – all this and MORE at FirmhandSpanking.com
********************************************
Right, as I was on a theme (briefly) of stunning air stewardesses, I have never forgotten this clever piece of advertising which celebrated the 25 years of Virgin Atlantic a few years back… I'm an 80's guy anyway… so loved the sound track… LOL! Still, the advert below reminded me of something Mike at Spanked-in-Uniform has on his site… was he influenced by this commercial or the perception of airline stewardesses? I'd like to think so!
So to briefly celebrate this fact, check out some typical images taken from the airline stewardesss spanking section of this Uniform niche site – if you're not into air stewardesses (or flight attendents as some like to call them nowadays) then fear not… there's plenty more excuses to see girls in various specific uniforms thrashed for our viewing pleasure!
The girls of Europe Air have a unique contract that means their misdemeanors are punishable like below!
See can see more of these girls and all the other episode previews at Spanked-in-Uniform.com
***************************************************
There are some amazing new movies out right now at English-Spankers.com – a site I am really starting to fully appreciate and here's 2 contrasting films, one with very popular spanking model, Clover, who takes a birching… Mr Stern even had it soaked properly… for those in any doubt as to the stinging qualities of the birch, go to any spanking model's blig and enquire… those who've had it will tell you it is the ultimate CP sanction NEVER to be taken lightly! See the red marks and glowing damage done on Clover's cheeks below!
& from Clover, to a girl I've not seen before called Holly, I think it was her first time in front of a camera and this buxom lass didn't disappoint at all in a familiar storyline where Mr Stern catches his secretary (Holly) looking at spanking porn on the company laptop… "hmmm, interested in that sort of thing, are we , Holly?" What follows is a good OTK spanking and a great scene of Holly stood up, privates on full display as she is made to hoist up her skirt and receive the strap, then bent over so he can get a better purchase at thrashing her lovely behind and admire the view of her quivering cheeks!
Check out the FREE preview Clips of these films & all the latest updates HERE

********************************************
& finally today (this part of the post I had to completely restart from scratch, dammit!) are a couple of old faves of mine from AAAspanking when I was thinking about 2 things… our first shoot location way back and the first time I had filmed with Pandora & Leia-Ann (which you'll see below) and also why a certain film has become very popular on some Tube sites that I posted this to… though surprised, I replayed the film myself and loved it! (I actually don't like seeing myself on cam and will normally let the girls take center stage, you don't want to be seeing my ugly mug all the time!!!) So it's an excuse to throw some more screen images from these 2 movies, recall a little extra and let you know where you can view them (I'm losing the plot now as I ad lib from what I'd orginally written so time for some images!!!)
Pandora & Leia have a week of punishments for getting caught setting fire to their local corner shop! Luckily the fire was put out before much damage but Paul had promised the shopkeeper to keep this between themselves as he is in charge of the girls & has told the shopkeeper that he will pay for the damages & take it out on both girls bottoms for a week! The girls go through some lengthy spankings all week before they go to school & we see one of the punishment sessions that both girls are having to endure. However, they don't appear to be learning their lesson as they cheek & answer back to him despite having their bottoms spanked until both girls can barely sit down.

In my original post I said something about a big "shout out" to the girls for coming up at such short notice after my previous no shows on Day One, Pandora got up early so had a long day and Leia could be forgiven for not wanting to come after I had learnt that she had literally just split up with her partner that day… but fair play to the girls and thanks to Paul from Northern Spanking who helped us out & put up with me for those few days! That sort of kindness and help is something I won't ever forget and gives me hope since there are so many shitty people out there at the mo that I have suffered very badly from… they know who they are! Oh, & I won't ever forget that either!
& moving onto lighter things (I'm rambling now!) the final images taken from our little surprise hit which contained lots of banter and of course lots of good hard strapping and caning on a bad girl's bare backside!
Cindy was bored at work but instead of finishing off the accounts she started surfing for some online spanking material. The office she worked in had a culture of spanking with her boss often dishing out some humiliating punishments, however Cindy would have wished she had been just a little more discreet as the noise of the spankings she was watching attracted the attention of Mr Osborne, her pervy boss! He had heard the tell tale noises of bare cheeks being smacked & was immediately suspicious when Cindy tried to hide what she'd been watching! She was soon stood up & made to remove her panties as he berated her for using his time that he paid her for to look at such online smut! She was given a taste of what she had been watching, bent over spanked with her bottom jiggling in pain, this was followed by a hard strapping & caning of her swollen cheeks for daring to abuse his trust, time & money employing her.
You can see a special FREE instant play clip HERE (taken from Teen spanking Tube)
OK, I better stop there…but do please check out what is available from the extensive tour pages of AAAspanking.com – this site has come a long way since its launch earlier this year already!

Back soon with yet more updates and a review or 2!
Chief.