Well, here we are again, a weekend has loomed large and as I wonder about what to write about this fine evening here in England… wishing I'd actually be outside right now but I owe it to you, my friends to provide you with some inside knowledge on a new movie and of course some damned fined spankings currently viewed by me and my square eyes!
Friday night means that there's usually a new film uploaded at AAAspanking and lo and behold, there it is… Emma Brown makes a very welcome return to filming online and in such a tight naughty cheer girl outfit too in this F/F schoolgirl scenario punishment! I actually liked the story of this movie, you can read the full description on the home page, alongside a free hairbrush discipline clip right now. But the punishment angle was good… imagine being brought up in front of the Headmistress for spiking the other cheer teams snacks and food with "hash cakes" and chocolate laxatives… now imagine the bedlam that caused… LOL, we were having fun coming up with this story! I love the "what ifs…" what if that really had happened somehwere, imagine the shame, the tears, the near riots as the girls… ah, it doesn't bear thinking about, does it? * heh heh *
Emma Brown as cheerleader Nicky awaits her punishment from her Headmistress
Below are the first released screen images of this 15 minute film and you will see some interesting spanking positions and use of a really stingy hairbrush, apparently, this was one of the replacement brushes (I bought 3 new ones… just in case after Irelynn destroyed my favorite last time) and Emma said it really "stung like buggery"… I was encouraged by that, as I was elsewhere doing a photoshoot… and I can confirm that the noises and "thwacks" certainly bear testament to her claims. You'll notice that the end scenes also had her photographed as these were to be sent to the other principals of the participating schools and cheer teams that this foolish but well meaning girl had so ruined in many horrible ways!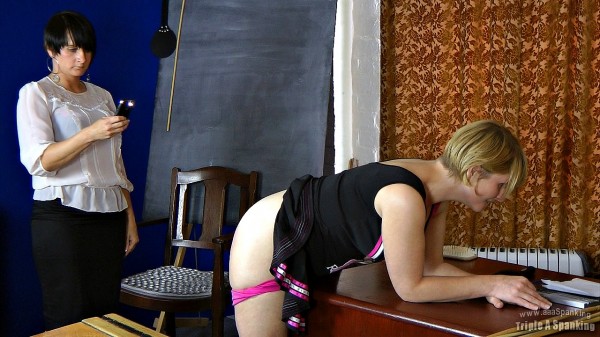 You can only see this brand new Cheer girl Punishment Movie HERE

**********************************************
Seeing Emma looking rather buxom here reminded me of Maggie from Girls Boarding School and she was always one of the highest rated girls for taking some of the most severe punishments, these images of her taking a belting only prove that… the actual film her ass was welted even more as these would have been the high end glossy images taken afterwards… but you definitely get to see what I mean… anyway, admire and behold Maggie.
When Maggie cried, you knew that she had been punished properly, it's still the site that I come to for those authentic and nasty punishments that bad girls require from time to time… Headmaster Tom – a legend! 🙂
See all the latest updates at the unique Girls Boarding School HERE
*************************************************
Thinking of painful and deserving punishments alongside unique and I put together a collection of captivating images from SpankingServer.com featuring one of my fave subjects… pussy strappings! There's a pussy strapping clip out this week at SpankingServer, but you can check out some from the archives and what you may have missed recently (below) – then resolve NOT to miss any more and check out the girls or the sites (remember my review on how to watch this site? I'll post it at the bottom again in case you missed it!)
"Pussy Strappings Ahoy!"  … "and in I go…" 😀
CHECK OUT THE LATEST WEEK's UPDATES & PUNISHMENT CLIPS HERE
If you missed my review of Spanking Server before – Check it out HERE as it has proved quite useful in helping you all to choose and how to view this wonderful site properly!
**************************************************
Finally, how about a stunning end with another round of Japanese girl spankings and this one, ladies and gents is HOT! My favorite girl on this site switches more than an AC/DC still play concerts… this girl, called Azuki, is something else and in this movie (in that oh so cute stunning school uniform) she plays with herself with a crop imagining the sting and feel of a spanking she desperately needs… so in steps the maid and the rest is a damned hot excuse of a movie that earns another excruciating "Trouser Arousal" high rating… so be careful… images and a FREE WMV clip are below for your delectation!
CLICK HERE TO DOWNLOAD & PLAY THIS FREE SPANKING CLIP
I just love the heat bumps appearing either side of her panties, and of course, Azuki is stunningly beautiful, like all the images at this site, it is consistently amongst the best around, a perfect compliment to their films! Check out more of Japan's Cutie Spankee site HERE
& with that I bid you a brief fond farewell for now… back soon, as always.
Chief