Just over a year ago, we were all moaning about one of Iceland's unpronounceable pesky volcanoes spewing out loads of ash that grounded most flights across Europe and the Atlantic for about a week… so as another of their bloody volcanoes erupts and the ash is due to approach the northern shores of Scotland any second… I'm wondering if we are going to suffer the same nonsense and disruption as last year… this time it concerns me closer to home as my missus is away and is due back this week so we'll see! *sigh*
Anyway, you don't want to read me ranting about Icelandic volcanoes… you want news and updates of the hottest spankings around to rival the molten magma… and I shall try my best and today I start with AAAspanking and the promised HOT punishment update that stars Leia-Ann Woods who got a hell of a spanking, OTK leather paddling and one of the severest hairbrushings I've seen her take on her bare bottom! This is one short film I am really proud to have been involved in and you can see how we have developed from our stumbling beginnings when we started filming last September… this was far better and the punishment just right with some interesting cam angles! Enough of my waffle, take a look at this clip below of a hairbrush punishment and you'll see what I mean.
Leia had been in trouble before for wearing the wrong type of knickers underneath her school skirt. She was finishing her education at a posh all girls private school paid by her uncle who only insisted that she stay the weekends at his city apartment near to the school so he could keep an eye on her behavior and continuing education. So once again it came as a nasty surprise for him to receive reports that she had been flouting regulation knicker rules & a snap inspection when she got home confirmed his worst fears! Determined to finally shame and change her ways, uncle John puts his neice through some of the hardest punishments he had ever dished out including a hard OTK spanking & leather paddling which had Leia near to tears but he kept the best 'til last, a hard pounding hairbrush punishment with Leia's bottom painfully exposed, hearing her gasp out in sheer embarrassment & pain at his unexpected ferocious onslaught on her quivering cheeks!
CHECK OUT ANOTHER CLIP IN WMV OF LEIA SPANKED OTK – CLICK HERE

*************************************************
I feel I should mention a couple of stunning updates from FirmHandSpanking.com as they star 2 of my fave American spanking actresses, Michaela McGowen and Samantha Woodley… as well as a great contrast from English rose, Amelia Jane Rutherford, as her recent series there is again updated with the next installment and I will start with Amelia. I haven't checked the images that others may have already shown since I have been tardy, so please check out a few choice images of mine that I appreciated that accompany this movie – I hope you appreciate these too!
Amelia Rutherford always produces original, entertaining content, devising and directing her videos for Firm Hand. Her Definitive Guide has her legs kicking and voice going ever higher as she endures 48 with a wooden brush, kneeling on the bed. Doctor Zaegler does the honors!
& of course, as promised below are the latest movie scene updates and a full image set that you can a see a small part of here. Sam has done many scenes in the bath and this one with Eric Strickman is a cracker as he returns home to find she is lazing in the bath instead of being at work… she'd dragged out and given a wet bottom spanking that has her kicking and screaming… ever been spanked hard on a bare wet bottom? Yup, this is a HOT update and Samantha looks incredible as always!!!
& finally from this site the lovely Michaela McGowen in her ongoing College Discipline series! You can see the free preview clip currently showing on the home tour page and some images I have for you below: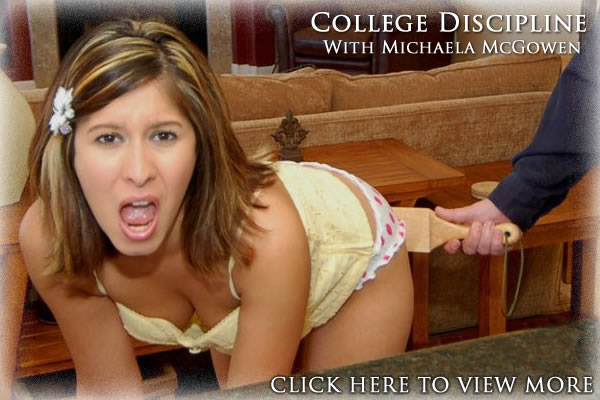 Study, don't text, is the rule! Hottie Michaela McGowen bends over for 10 tough swats with a wooden paddle by her tutor in College Discipline. The sharp crack of wood on those jiggling booty cheeks in tight shorts, then thin panties, is enhanced by unmissable "Reaction Cam" replays of Michaela's expressive beautiful face!
*********************************************
I highlighted the latest update from Japan recently but let's not forget that there is another amazing and important website that has some of the best girl/girl photography I've seen – that is Hand-Spanking.com – Seems the Japanese know how to get the best from their beautiful girls and in this film 2 friends become rivals and a battle of wills takes place on the bed as they argue and suddenly one girl is subdued and she is being spanked then her knickers removed and her smouldering soft cheeks are spanked as her truimphant friend has her placed over her legs on the bed and taught a painful lesson of how to avoid defeat. Of course the submissive beauty hollers and snivels as only the girls from Japan (we all know) can whine so convincingly! I've got you a preview clip, if you haven't seen this from Hand-Spanking.com already with some intimate spanking images that are a small part of the accompanying photo set that comes with all their movies!
Check out the extensive tour pages that contains lots of preview clips and pics HERE!
******************************************************
An amazing set from BadTushy.com and a quick WMV preview clip should help you decide just how hot this latest naughty spanking update is! Why do I like BT so much? Well…in between the real proper nasty spankings and real verbal humiliation and chastisement of Miss Law (and even Francesca Le who is getting better at disciplining girls whilst looking HOT!) … there's a the plentiful movies of beautiful babes just doing their thing here, with no other excuse other than to tease and arouse my poor stretched Trouser regions and I'm sure many others too as these girls often wear the sexiest, most skimpily dressed outfits, naughty sexy panties, daisy duke shorts and of course damned fine tushy and butt grabbing, pussy play and making out in between the girls often playful and far from brutal spankings… it's a pleasant distraction and of course is highly sexual catering to us chaps (and horny ladies) who like to see 2 beautiful girls get it on and play with each other in this way! … This latest sexy update does nothing for the stitching in my poor aching groinal area… so beware! 🙂
Enjoy this exclusive FREE preview clip below…
Check out all the varied spanking movie previews at BadTushy.com – Click HERE for more!

**********************************
… & with that shameless excuse to see girls making out and playing with their spanked bottoms, I bid you good night (until tomorrow). I have just heard that Barack Obama is flying out of Ireland in Air Force One on his way to beat the impending closures of some airports so has left early… oh well, he could do worse than be stuck in London when he arrives 🙂