As I start this post I just see on the news that Osama Bin Laden had been shot dead earlier today by US Special Forces where he was hiding out in his luxury apartment in Pakistan.
I won't get out my soapbox or witter on for long on this subject but feel I have to have my 2 Cents anyway as this is, of course, a spanking blog but it would be rude of me not to comment as it's such a big piece of global news after all… First of all, watch out for the possible backlash & reprisals from those upset that this murdering piece of trash got what was coming to him after 9/11 – I still remember watching that 2nd plane crash into the World Trade Center live on TV nearly 10 years ago slaughtering people of every faith and denomination. So what do I personally feel? I don't feel at all bad in seeing this monster no longer able to draw breath and experience the miracle that is life… If there really is an afterlife or another plane of existence and there is judgement on what we had done after being "self aware" then I am sure this excuse of a human being , like so many other hate mongers and despots before him, might just face some sort of eternal damnation, preferably with metaphorical hot pokers up their existential arses! & so onto lighter matters…. my spanking round up (yay!)
****************************************
Here's a site I don't often highlight, but I really should as they are producing better stuff and of course their girls are unique to their network, so from Spanking Experience check out a couple of recent films that I liked, I hope you do too!
Erica was caught drinking yet again and this time her punishment would be severe and humiliating as she was first spanked over the bed, then as her bottom was stinging she was cuffed to the posts and given a strapping and cropping as she struggled and cried into the sheets!
These girls are watching porn on the laptop and have thought about making some cash from webcam sex too… that is until they are caught and both of them face a rather embarrassing naked show in front of each other as their pert bottoms are given a good hard thrashing to teach them an important moral lesson! These movies are taken from Spanking-Experience.com and there is an very extensive tour page section where you can review these movies. This site is also available from just $12.95 – so WELL worth checking it out for that interesting money saving option 🙂
******************************************************
Back in the USA, Clare's spanking soap opera website continues to earn rave reviews and the last couple of episodes at My Spanking Roommate show a back to basics with some of the most popular stars of this website! In the latest episode, we see the welcome return of Madison Martin! Madison decides to skip work and stay in a nearby hotel room. But Mr Phillips, Harmony's boss, shows up to the room with a note from Harmony (who is Madison's boss). Madison reads how she will either be spanked by Mr. Phillips, or fired. LOL… what a choice! She chooses the spanking… & it's a hard one! Yeowch!
The previous episode stars the fantastic duo of Kailee Robinson & Chloe Elise
(images and description are below)
Chloe catches Kailee sneaking through her desk and snaps a photo of her. She threatens to show the photo to everyone unless Kailee agrees to submit to a very painful hairbrush spanking over her knee. Reluctantly, Kailee agrees… & from the images above you'll see what happened. This is a great F/F movie (as viewed by Chief).
Finally I thought I'd feature a rare classic from the episode archives of this wonderful site and it starred Audrey Knight… a girl i can never get enough of seeing over anyone's knee with her bare bottom getting a good hard spanking, we all know she loves to dish it out, but of course she proves that she can take it too! *MMM*
Lawyer Audrey Knight pays a visit to Mr. Ford to get money from him for his spanking of Alanah Rae. Unfortunately for her, she has a clause to waive all claims – and she is spanked by Mr. Ford until she signs the clause! To see Audrey, Chloe, Kailee, Madison and umpteen other girls in this spanking soap opera, CLICK HERE to view every episode update and see for yourself!
*****************************************
Clare has also been busy getting the ever so delightful Lindsay Meyers in another great film at Spanked Callgirls – Lindsay is leaving the callgirl ring and going back to college. She knows this is costing Clare a lot of money. She asks Clare if she can have a bare bottom spanking to make her feel less guilty about what she is doing to her boss. Poor Lindsay is paddled as well but she knows she deserves it!
Personally, I love seeing Lindsay spanked, a really spankable bottom and she has that wonderful squinting look without her glasses on… I'd have played tricks on her hiding paddles and hairbrushes from view until it was too late if she was over my knee and take advantage of her poor eyesight… but I'm a cruel person… lol! However, unlike her YOU can see some of Lindsay's best spanking films at SpankedCallgirls.com
TOP TIP: As you know, Clare has her infamous CLARE FONDA PASS which includes both sites featured above – a great way to view your monthly or quarterly membership options at a fraction of the price of single site memberships!
*******************************************
Remember I said something a little different? How's about this beautiful 19 year old Russian bride (called Dior) who was given the Dallas Spanking treatment in front of her hubby… her English wasn't the best but I guess she quickly understood what was happening!!! She was simply stunning as you'll see from the promo images below and I have a short spanking clip which shows you a very small part of Dallas getting to grips with this young woman's amazing butt! It includes some nice cam angles of this gorgeous thing too… as it would be a shame not to capture her reactions! Don't worry… Dallas didn't – images and clip taken courtesy of the archives from DallasSpanksHard.com
!!! YOU CAN ONLY SEE THE FULL MOVIE HERE !!!
***************************************************
I also have a treat for those that enjoy just the odd download rather than a membership, I see there are a couple of new movies added at NaughtyBottom.com, I'll show you some images and where to download a free preview clip with the full description of the movie along with the original site should you want to download MORE or all of their movies instead!
CLICK HERE TO VIEW THE FREE PREVIEW OF APRIL FLOWERS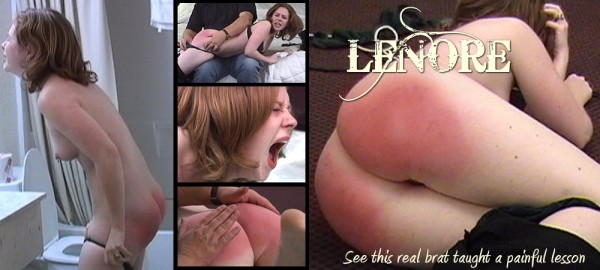 CLICK HERE TO VIEW MUCH MORE OF NAUGHTY LENORE!
The latest full list of movies available for download are located HERE

The above download films are taken from BunBeatingFun.com – if you want to download ALL their 80 plus fantastic movies with one membership fee option!
Have a great May Bank Holiday!
Back tomorrow with more NEW movie updates for you!
Chief.