I trust that you have all enjoyed the holidays… typically here in the UK, it is a time of the year for the heavens to open and it's God's way of saying thou shall not BBQ in our quiet retreats that are our gardens… but in a dramatic twist…  where I am, the weather had been miserable all day and then decided to clear up just before I had given up on the day and decided to sit down with my bottle of Australian Blaxland Shiraz and write this little post this evening… the damned sun has come out, it's a glorious end to the day and it's like God is giving me the finger! Well, Sir… 2 can play at that game and I give you Monday's offering which will make even the Lord God himself blush seeing beautiful girls thrashed for no other reason than they had commited rather petty or minor offenses… life's not fair, I know… so deal with it, oh blessed Creator! Seriously though, I hope you like the following sites and clips, pics and such that I have got for you, this is a reminder of why the following sites are so damned good when you start to check out their massive archived data, then you'll come across the following amazing girls and their punishments…  what I've chosen for you are seriously sexy girls who are properly punished, many to real tears and I am sure you will all thank me later before I am smited or whatever it is God does nowadays to blasphemous sinners like myself!
Angie from Girls Boarding School was always one of my favorites and for good reason, she was so seriously sexy, she cried beautifully and got some damned hard thrashings off both Headmaster Tom and his cohort, Mr Lewis! Here below you'll see the dangerously pretty Angie paddled in the diaper position, snivelling like a baby as Mr Lewis reminds her about why she shouldn't break School Rules! Film images are followed by some amazing HQ Photos of this punishment… you *have* to see this entire film to fully appreciate the ferocity of Angie's entire punishment!!!
Note: The file is in original RM format as the conversion to Flash player was terribly out of sync! (sorry)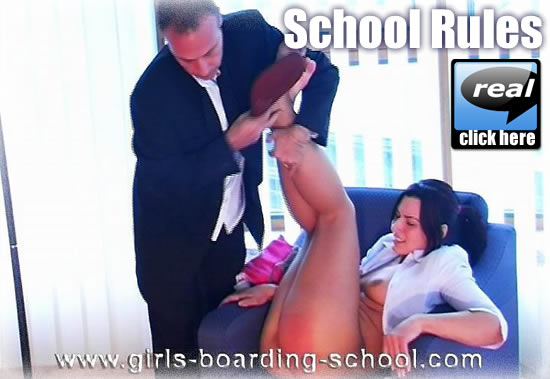 & below are some wonderful HQ images as promised as Angie is paddled over the wooden drawers
Click HERE to see more of Angie's relentless and unforgiving punishments!
*******************************************
Kailee Robinson still remains a firm favorite of mine and this girl can really take a ferocious paddling or belting across her wobbling cheeks as I'm sure you are aware of… so as I had been showing you some incredibly erotic and sexy girl/girl spankings recently from Badtushy.com I thought I'd remind you of just how hard Kailee could take a thrashing across her already sore cheeks courtesy of this site and this film (one of tons she did here) where she is told off by her strict Aunt for avoiding the chores and homework whilst at hers – gossiping on the phone and social online networks meant that she'd learn a very sore lesson…. much to our viewing pleasure as you'll see in this old classic!
More stunning films of Kailee getting it real hard can be seen HERE
**********************************************
The following film has been released this week and I had known that Mike was planning on filming with both Pandora Blake & Amelia Jane Rutherford for a while so I am very happy to see his latest film at Spanked-in-Uniform.com with both girls together and it's a welcome return to the South West Police station as the girls play 2 bumbling police officers who are sent to pick up a man in a run down council estate for questioning… that couldn't go wrong, could it?
PC Rutherford and PC Blake were sent to a local council estate to pick up a criminal in flat 24 of one of the towerflats. The little madams forgot the right flat number and they arrested the poor tenant in flat 23. Back at the station they got a good scolding from Chief Johnson and he gave them both a sound heavy leather paddling interupted halfway by some time in the corner. Both PC's were sent back to their duties with sore, hot burning bottoms under their uniforms.
Both girls will be appearing in yet more spanking uniform japes & sore retribution very soon HERE!
***********************************************
Finally…. a few tasters from NorthernSpanking.com which should keep you interested as you'll see from the images shown below! You can see why I once asked Leia about Jadie filming with my own site as it was mooted that she was retiring…. however, although these images were taken a while back, they have just been released for the first time and these are only teasers(sorry folks) but members can get to see oh so much more of this twosome that work so well together…. don't you think? jadie reece over leia-Ann's lap getting a spanking, lovely!
You can see more of Jadie's forfeit at the hand of Leia HERE
The below set features a brand new girl to spanking…. I'm not sure, but I think she is part of the staff that helps maintain the hideaway residence that Paul & Lucy use in Hampshire so she knew what they got up to and was of course curious… and the first results of paul spanking her can be seen from these wonderful images below…. She's called Lexi and isn't she adorable? Paul seemed to think so 🙂
Lexi's very red bottom can be seen in more detail on the home pages here
An example of what is to come soon is below with Lexi's bottom looking the part, don't you agree?
CHECK OUT THE LATEST SPANKING UPDATES AT NORTHERN SPANKING HERE
***********************************************
Ok, that's it, I have been adding bits to this post and now it's late (I started it an age ago…. please don't go far as I have the very latest news on the new film coming out at AAAspanking and it features 2 girls I've shown somewhere here today… but you'll have to wait until my next post to discover exactly who…. in fact, I just realized that there are 3 people above out of 4 in this film that are featured in today's post… am I teasing? You'll have to wait, so don't go far! I promise it's worth the wait!
Chief. xx 🙂