Thanks for the few emails and such regarding my birthday and wellbeing… I even got sent a nice graphic from Dave at CRR who obviously has too much time on his hands to be designing nonsense like this… but it made me smile!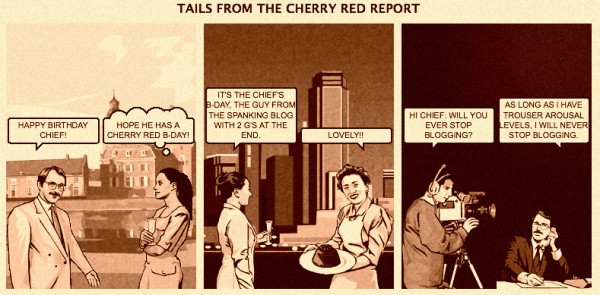 Now then… Spankings aren't always about severe punishments, there's some light relief in between too and of course I'm going to show you that, but first, an awesome new movie update from Punishedbrats that took my breath away as the gorgeous pouty Lorraine gets what's coming to her in her PJ's on her bed from Aunt Veronica! Be careful you don't go busting a gut watching this movie! Images only are below for your perusal… (and trousered safety)
Lorraine got a strapping for sneaking out of the house whilst Aunt Veronica was at work so the following morning Lorraine got a rude wake up call with Me Strap across her beautiful unprepared bare bottom…
Check out one of my favorite stars from Punishedbrats get a damned hard strapping HERE
**********************************************
A quirky series of movies were filmed by Dallas of the duo Venus & Darling. I'm not sure if I had featured these girls filmed by him before… so forgive me if I have but some of you might remember that I had met both girls way back when I used to work elsewhere and had filmed with them. They were great and made some excellent films, although I think I remember Venus having a couple more tattoos on her body than featured here, and Darling's hair was longer so I reckon this must have been originally filmed by Dallas way back… perhaps 2003 or 2004 but it has been beautifully re-rendered as films at that time were often uploaded in lower res formats due to the restrictions of internet access at the time, of course. What I find ironic about this movie is that it's based on a real life event where Venus and Darling became room mates… however, I had heard not long after they had filmed alongside me in the UK in 2005 that Venus had moved out… pity, these girls looked great together… as you'll see from the movie images and the clip of Venus getting a good ass roasting thanks to the palms of Dallas! Wonderful!
There's a special free preview clip of Venus being spanked HERE (courtesy of the Teen Spanking Tube)
To see MORE of what Dallas does so well with his girls… click here
**************************************************
Hmm, now here is something unnusual and it's part of a great series of films of some of the most popular girls that have been highlighted in the past at SpankingServer – if you fancy seeing some new films from these film makers, check out films like this one featured below as hot Hungarian model Lea tries to tempt Peter with a sexy strip tease and lapdance… only he's interested in the merchandise on her derriere as she soon finds out and the playful spankings soon turn more menacing as Peter gets his way in a really sexy romp that has him spank Lea in some very provocative revealing positions!
Check out the images below taken from the movie and you'll see what I mean! Features hot ass grabbing and decent no nonsense spanking you'd expect and more! This is seriously sexy stuff but check out the site 2punish.com and you'll see more hot punishments of some seriously good looking women! Damn those East Europeans and their sexy websites! All images taken from 2punish.com
YOU CAN CHECK OUT MORE OF THIS SITE IN FULL HERE!
*******************************************
Now then…You can't get sexier than seeing spankings at the following site I'm reviewing… my favorite West Coast redhead, Amber is again up to no girly good at SpankAmber when her shopping spree is seriously disapproved of by Daddy who soon shows us what happens to naughty girls that overspend and for every precious Dollar over her budget (I won't say how many… but it's an awful lot!) Amber gets some extra whacks with his hand AND a nasty looking wooden spoon that has Amber yelp! Why didn't she get those Jimmy Choos? Damn… the film would have been an hour long, lol!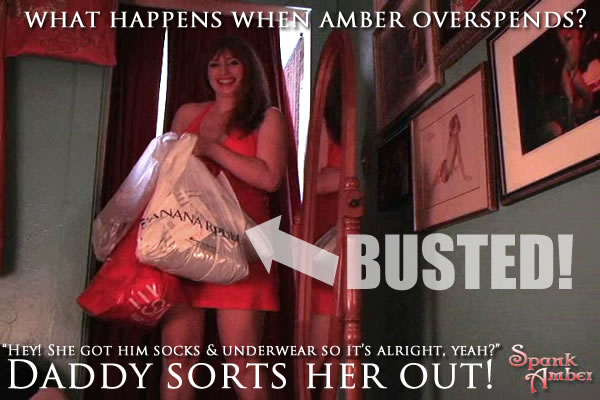 As with any real life spanking couple you'll see a lot of tender moments and intimacy that I so enjoy seeing in such situations, that lingering caress, or perhaps an extra swat or a bratty comment from Amber that might incite a further reaction. There are now over 400 films at SpankAmber and this latest addition with her Daddy (I do enjoy seeing him more and more involved with the spankings on film) as it's nice to see who is in control when Amber needs a good maintenance spanking!
Amber reminds us she is best when she's bad! Can't argue with that 😉
SEE MORE OF AMBER SPANKED FOR REAL HERE

***************************************
Watch out girls! When Mike decides to wear his dreaded striped Polo Shirts… you're in trouble and there's no girl I love seeing getting into such trouble more in Holland than Angel (who certainly isn't). Her quirky Dutch accent and gorgeous bottom make her addictive viewing for me and in this 2nd part movie Mike really gave her a good hard thrashing for using her cellphone whilst in traffic. Actually, this annoys me too, I hate seeing people using the phone whilst they are driving, they are inviting an accident and apart from that, here in the UK, it's illegal if you don't use a "hands free" piece of kit… & you know me… I'm a stickler for regulations and the law! *wink*
Love seeing naughty girls thrashed? Want to see more from Holland's most established spanking site?
Of course you would! If you haven't already, check out the extensive tour pages & see what is available from the vast archives that makes of Real-Life-Spankings.com and you'll also get to see far more of naughty Angel (above) getting many a well deserved spanking too!