Sarah probably thought our usual "summer weather" was abysmal (it usually is), however, the last couple of days has seen pretty much a fantastic mini heatwave that reminds me that summer could be on its way again… I know it's too hot when I find it uncomfortable to drink red wine during the day and turn to chilled white or rose, lol! & as I suffer over what replacement car to purchase (spending hours on the Net searching for suitable ones) I haven't neglected my spanking updates here and I thought you'd like this bumper set of varied sites to kick start off our week! Updates are both new and what I have been watching so you know exactly where to find anything you liked 😉
I haven't featured BadTushy.com for a while and I have been currently updating my external hard drive as I lost some of their older films so am replacing these at the mo… one film I particularly enjoyed is below and from what you'll see, I think you'll understand why!
This is an amazing visual treat that should cover many of our favorite niches! Miss Law is always so strict and nasty never taking any crap from the girls in her charge so it is no surprise when she hears this foolish girl swearing, using foul suggestive language on the phone… smoking and dressed wholly inappropriately in those very tight jeans highlighting the shape of her fantastic bubble butt, that it's not long before this young madam is given a spanking & a belting! her rump is first thrashed over her jeans, then her gorgeous bottom is accentuated by her tight panties until she cusses and swears, calling Miss law a "bitch" (big mistake!) and is given a bar of soap to suck on instead. The muffled noises and the bare bottom punishment that follows is indeed worth the entrance fee alone and this punishment continues until she is close to tears! I have got some images that accompany this film which should also give you a better idea of just how amazing this girl's rear looked in and out of her clothing!
See more from this site HERE includng the latest new movie starring Madison Martin (below)
***********************************************
Back to England for the next couple of updates as I first give you the low down on this hot new girl called Aleesha Foxx. As I was present at Paul's last shoot (with Leia) so I asked them about Aleesha and they were both full of praise for her and Paul promised me there were some great films coming up! Leia admitted to being naughty again… "the resident NS lesbian" she joked… you can see her get her claws into Aleesha's rump below… here is the description by Paul of Aleesha, "She is gorgeous, a true spankette and a delight to be around. You will be seeing much more of Aleesha. Here we can see her being thoroughly enjoyed by the wicked Miss Woods!" Images below for your perusal.
There are plenty of other updates going up all the time here, including a new film (again with Leia… but I can write what I want inside brackets as she informed us all she usually disregards anything written inside such nonsense!!!) starring Lottie Kinsade, an amazing bottom and such a sullen lassie that could always take a hard spanking… and 2 great images I've got from other updates this week which I shall write about later at one of my other blogs… these star Rosie and Clover!
DOWNLOAD ALL THE LATEST UPDATES AT THE UNIQUE NORTHERN SPANKING HERE
**********************************************
Next up is a site I haven't featured much of… I must have been mad but it's no use keeping these things to yourself and as it's part of the English Spankers stable of sites, you know EXACTLY what you'll be getting as this site features just about anything going that happens behind closed doors in Britain when it comes to spanking punishments of wives, girlfriends or schoolgirls… and of course there is also some naughty films included too where domestic discipline with sex and spanking are involved… covering women of every age, size, shape and color… this is a site that marvels in the spanking of women and they are proud to make their films a celebration of that fact! Some images below and a brief description should give you an idea of what Redstripe Films are all about, these are selected from me of some interesting movies shown recently!
Spanked & Fucked: When the wife's away, well Dani Loveday took advantage of poor Karl and persuaded him to let her suck his cock, he agreed and she did and what a blow job! He then tried out his new spanking paddle an Dani's beautiful firm bottom and turned it a bright red before bending her over and giving her the hard pounding fucking of her life with her sore red cheeks on full display.
Party Girl caned: Returning in the early hours of the morning Natasha is surprised to find a welcoming committee waiting for her. She is not so happy when after a telling off she is told she will be paddled and caned there and then. Her dress comes up and her skimpy panties come down as both aunt and uncle take it in turns to give this naughty girl a real tearful punishment she won't forget!
Hairbrush Punishment: Schoolgirl Lotty has had a severe slippering but her Guardian is still not happy that she has got the message about behavior. More strict discipline is called for and a large hairbrush was used much to Lotty's obvious dismay! Bent over, school knickers down… the heavy hairbrush beats down on her bare bottom and it has to be said Lotty did not like this beating one little bit and it shows in the full movie!
You can see the above free movie previews and dozens more from the extensive tour pages of Red Stripe Films
*************************************************
Regular readers to this blog will know my affection for one Miss Michaela McGowen who is only found at FirmHandSpanking.com – both she and Samantha Woodley were the 2 main players at this site several years ago that drew me to my continued membership and they are still featured regularly such as this very latest film now showing in the ongoing series… "College Discipline". Michaela… as always, never disappoints! Her puppy dog eyes and pleading go unnoticed as she is given a thoroughly humiliating leather paddling punishment by Mr Ryan.
Michaela McGowen pays the penalty after Spring Break in College Discipline. Mr Ryan discovers she hasn't registered for all her classes. It's an excuse to punish her jutting bare bottom with 21 licks of a leather tawse. Great reactions from Michaela & slow-mo cheek-rippling replays!
This site would be worth every penny just downloading Michaela's many many films alone, but of course, it offers so much more as it stars a vast collection of some of the hottest girls in spanking, and of course, this is at a usual membership fee making it a site difficult to ignore! You can see the extensive tour pages and the FREE Movie Clip of Michaela (featured above) direct from Firm Hand Spanking HERE
**********************************************************
Girls-Boarding-School.com have become VERY interesting recently withthe news that awful Michael had been fired… to be replaced by Headmaster Tom again (yay!) – You can almost sense the groans of the girls already caught inside the Boarding School as we see in the latest installment of Tom's first film back when he shows this insolent schoolgirl that bedtime will be a time NOT to look forward to over the next coming days!
The films updates have already begun and there is a promotional trailer which I'be added here along with some fantastic original images that members can view which also help promote this momentous occasion!
Tom is back & I can heartily recommend this film and all future updates! CLICK HERE FOR MORE INFO
*********************************************************
It's been a short while since everyone reading this blog had their Japanese spanking fix… I get more searches for this type of spanking on my blog (even more than pajama/pyjama punishments!)… so to give what some of you have searched for, here are the latest (stunning) Japanese girl spanking updates which you have come to expect on here! I start with probably the cutest girl currently on the books of CutieSpankee, called Shizuku… she's  finding out just what a spanko perv her nasty step mother, old Mrs Kanga, can be!
& as a special feature today I have made a comic strip from another most recent update where I used a little artistic license, OK, in the actual film, it wasn't a "Rear of the Year" award… but looking at this cute office girl's behind, I couldn't resist! The actual movie is available from inside the member's area now to download! Click on the comic strip below to enlarge fully!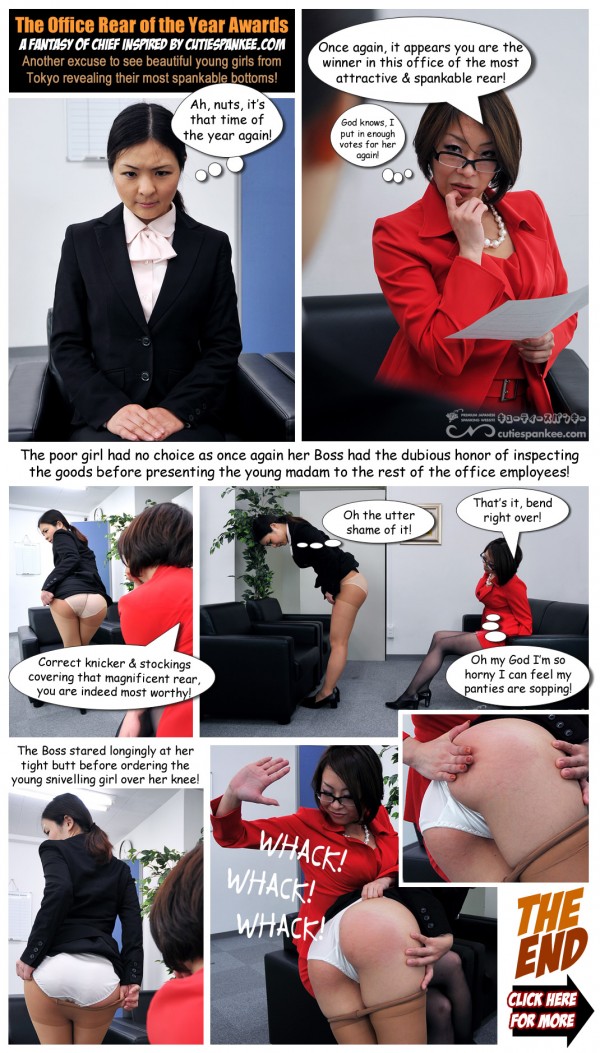 More from CutieSpankee including free previews of the cutest girls can be seen HERE
Back soon with more news and arsing about… I'm off to update my other sites
Chief 🙂