Interesting spanking positions…. part 1
Imagine being allowed to spank this contortionist if she didn't pot the ball!
Ahem…. and with that… I bring you some interesting positions of some models we've all seen and what better than to start with the gorgeous Adrienne Black from FirmHandSpanking.com – who is strapped with her legs (and they are long!!!) held high in the air in almost the diaper position on the soft comfy chair… however, during this punishment, comfort is the least of her worries as she feels the sting and shame of having her bare bottom thrashed in such an embarrassing way, awww… isn't she just adorable?
College Discipline is Strict! Gorgeous tall blonde Adrienne Black has used her dad's credit card. Lawyer, Earl Grey (who is charged with her ongoing discipline), has decided to strap  her bottom… legs in the air, so we can see her beautiful butt and anguished face! After 10 swats on her tight skirt, it's skirt off for a whole lot more on her pert soft bum! Adrienne admitted that this stung like hell and was an extremely embarrassing punishment!
See more of some of America's most beautiful teenage brats getting what they so deserve HERE!

***********************************************
Now… being naked whilst waiting for your punishment is bad enough, so imagine these two, Lila and Veronica, who have already been punished, waiting for the next part of their humiliating discipline… sore bottoms poking out over the chair! Well, this embarrassing position, as you'll see below, is precisely what the girls find themselves in with their exposed bottoms ready for Round 2 of the session, a hard (and it IS hard!) paddling and strapping as each girl is made to count the other's cruel swats… do not miss this movie – which is totally exclusive to RealSpankings.com only!
You can see both girls facing their very severe & embarrassing strapping HERE

***************************************************
I love this punishment below: Imagine you're this foolish girl… & being punished by Auntie Katie is bad enough, but being punished naked in the bedroom, chastised, then having your bared bottom stuck out, back arched so she can slipper your exposed bottom can't be the best moment for young arrogant Sally, can it? Fortunately, Sally is stunning and a real English brat that gets what's coming to her, I promise you will not be disappointed with this series of films starring these 2 warring females!
Click image below which leads to some free movie clips of this actual HOT home punishment!
Check out more free spanking previews at this site HERE
***********************************************
The following OTK positions, you might not thinks are anything special, but from the latest movies (and then I threw in a film I just watched again from last year….) you'll see why Punishedbrats.com is still one of the sites I love watching because they have the most adorable brats really getting it over the knees and laps of their loved ones or colleagues… usually in the capable hands of either veronica or David…. but Pixie likes to get her hand in too! The following films are as follows.
Shower Power – Sassy little Pi is pulled straight from the shower and right over Veronica's lap for a nude spanking. Pi has learned a tough lesson on what happens to foul mouthed little brats that call their mom a bitch.
"Principal Called" – Joelle told her principal to go to hell and her Uncle David is going to teach her to have a little more respect for school authority. Joelle has lost her attitude and pleads for her spanking to come to an end.
Juliet Valentina's Sick Day – Juliet tried to trick Pixie into giving her a sick note so she could take time off work until the examination revealed she was lying! However, Pixie agreed to give Juliet a note excusing her from work for the rest of the day since there was no way she'd be able to sit at her desk after trying to cheat her earlier!
Remember that you can still take advantage of the 5 year Birthday Pricing Offer – CLICK HERE
*********************************************
OK, onto some other girls not featured here before and a delve into the archives of SpankedCallgirls.com – one of Clare Fonda's favorite sites she admitted working on (because it gave her scope to fully perv as brothel madam "Momma Clare") – here we see her introduce to us a new girl to the scene (at the time) called Kylee Reese, I remember this blonde honey was a real hit, hardly surprising from the images below, eh? I love this scene… so so hot!
*****************************************
Finally, something as little different as Clare Fonda shows us her "Mommy" side, as if we didn't know already in her infamous NaughtyDiaperGirls.com website. This doesn't contain a spanking scene though there are plenty of spanking clips at the site, it concentrates on Adult baby Girls, Diaper changes, rectal thermomenter takings and basically all of Clare's girls she hires for her regular spanking shoots having a hoot dressing up as "baby" and goofing off or being a little rude in their cribs and diapers, maybe even peeing themselves, like babyfaced Missy below, a really cute new girl I haven't seen, and am wondering if she's gonna appear at one of Clare's spanking sites… if she does, I'll be sure to let you know!
Check out the images and clip below of the delightful Missy. Who admitted she peed her pants at school and brought home a diaper for Clare to put on her!!!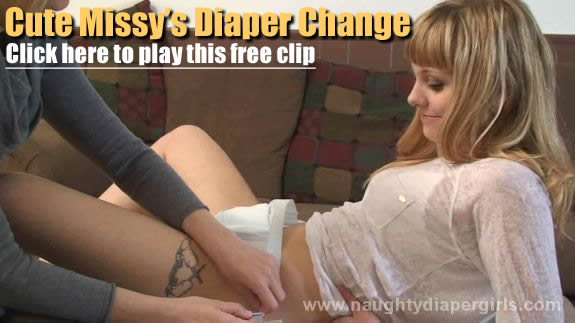 See more stories and updates at this unique site HERE
******************************************
Don'r go far, as I will have news and behind the scene gossip on the very latest film to come out at AAAspanking.com tomorrow, and I am still undecided, but it will probably be a new double bill schoolgirl special with Jasmine Lau & Kami Robertson! Seriously… don't miss it, it's a good 'un!