Make the most of it, those darn kittehs are lurking, especially that Basement Cat and I'm getting worried that they seem to be using the blog to message each other about mice, birds and other no goodness that cats get up to… but fear not, as I intend to dazzle you with some spanking entertainment so take no notice of those pesky felines!
You'll see some past, retro and present movie reviews today. Sadly I see some other peeps have beaten me to some updates I was gonna do, which is why this first one will no doubt not be found anywhere else, so apologies if it is… but I was in a retro mood and checked out some of my old English style discipline movies and came across this old classic as a rather excited Old Etonian enjoys teaching his Ghetto girls a lesson in the aptly named film called "Black Marks" from ClassicSpanking.com – this was originally shot on VHS many years ago so they've done well to remaster it as they have – but it's still a delightful classic and even though the old gent is (to be honest) a bit crap spanking the girls, he's obviously enjoying himself too much… I can fully understand! However, what he makes up for in his feeble spankings, he finally gets it right with the cane (after all, he's an old English gentleman!) … just check out the welts at the end of the clip you're about to see including the images… the actual WMV movie is better but I think from what you'll see here, you'll get the idea!
The above clip was brought to you courtesy of TEEN Spanking Tube
MORE amazing spankings from yesteryear can be viewed at ClassicSpanking.com
**********************************************
From something retro to something bang up to date, this marvellous movie from English-Spankers.com has a former glamour model that I recognize… this is Shannon who thinks she can still use her obvious charms to wriggle out of very poor grades in her latest assessment to better herself… (what's the point in that, my dear?) Well, luckily, Mr Stern is after my own heart as I would do exactly the same as him as you'll see in these freeview images and special clip you can play instantly below! I am rather unimpressed with women that try to use their beauty to get themselves out of trouble… I rather like to put them into MORE trouble because they think they are somehow better than other girls! It also makes viewing their distress, embarrassment and of course obvious visual charms all the more addictive!
Check out all the very latest free spanking previews including this movie "Offer Refused" HERE
********************************************
Talking of brand new, Clare Fonda has another beautiful 1st timer on her site called Sophia Locke who is sure to be another big success story, just check out this girl below and the story behind some of her life growing up in the spanking interview site SpankedSweeties.com – what's more… she is being spanked by Snow Mercy, I'm sure you are all aware of how I adore her either as a spankee or as a top! This is a hot new update, so thanks, Clare!
Sophia has a high threshold and she and Snow, real life friends, play out great scenes. The two have played in real life and bring their chemistry to Spanked Sweeties as you'll see in this forthcoming movie of which there are some sneak images below like this mommy/daughter scenario which I can't wait to see next!!!
See MORE of Sophia & Snow out now at SpankedSweeties.com
Don't forget that this site is part of the infamous CLARE FONDA PASS Network!
***********************************
On the other side of the world, how could I ignore the latest updates from Japan? Hmm, should I show you cute snivelling schoolgirls & beautiful crying teens punished at work and at home? Yup… let's take a peek at their very latest updates at the following site CutieSpankee.com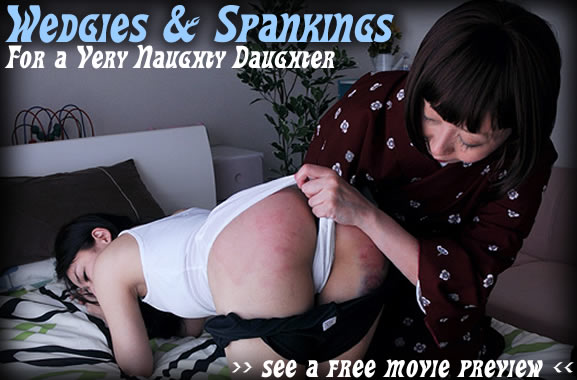 Check out old Mrs kanga's daughter and that bruised bottom, if you're in any doubt as to the girls getting thrashed when they get paddled (the Japanese instrument of choice) then perhaps this film will change your perception of their punishments! Oh, and check out the fact this unfortunate girl gets a severe wedgie! Ouch!