PJ's – jim-jams or jimmie-jammies… I never quite know which way to spell the actual word or present it on this site (since 70% of my readership is American I hope you guys appreciate that I am trying to accommodate you all where possible since spelling "color" or "labor" is odd to me (instead of my preferred "olde english" way of colour or labour)… now, I seem to recall that many American websites spell this word as  "pajamas" and over here in England we usually spell it as "pyjamas" (I think, am I confused? Yup!). So whatever way (maybe both are correct) I decided to call our latest movie – which has just been released at AAAspanking.com as "Pajamarama Jamboree" in celebration of this visual PJ feast and the fact that we used Dropseat "jammies" for the 1st time (which were great!). Yes, a nonsense title but full of PJ related jinx including a stern new Top who some of you will know as Mr Paul Down (a PJ enthusiast!)… so who better to have slipper and punish the girls (and he's a leftie… not politically, like some darned commie pinko – yes, I'm joking before you humorless socialists write in… & yes, that was another jape again for goodness sake!) He's naturally left handed which helped when we did a movie together punishing the girls with canes at the same time… but that's another film and for another day!
Click on the image below – it leads to a special extended preview as well as the massive free tour pages!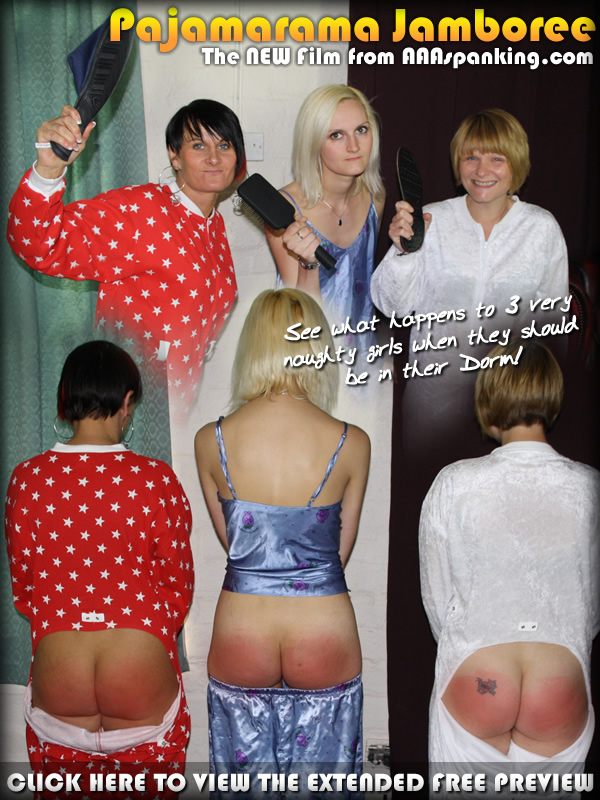 A Special schoolgirl pajama punishment with 3 naughty girls who should be in their dorms but instead were ransacking the House Master's office whilst he was away. The girls had found the keys to his liquor cupboard & his desk where he had stashed away spanking magazines & his implements like the slipper & hairbrush he had often used on many a naughty girl! However, he had returned early & the tipsy girls were punished on the spot in front of each other without mercy as he lowered the dropseats of their pajamas for a bare bottom spanking, slippering & a nasty scene of heavy hairbrushing at the end on their bared bottoms for their insolence! An additional punishment for Sara was given for not wearing the regulation dropseats in favor of her own satin nightwear! Mr Down was far from impressed as you will discover in this special pajamarama jamboree celebration. One not to miss for those that love to see very naughty girls punished in their PJ's!
No doubt you'll want to see some images taken from the movie, I have some additional images that I took but will save those for another time… check out the storyline in images and check out Sara's facial reactions which I've saved 'til last, these are actual screen images and are superb! That coupled with the Dropseat PJ's used makes this a proper visual treat, I hope those who are members will appreciate this one as it's out now!
The girls are larking about, drinking Mr Down's booze & reading his hidden spanking mags when he returns early to discover this outrage in his own Office! Below scenes are the spanking, slippering & hairbrush punishments they got for daring to disrespect his privacy in this way!
& as promised some superb facial cam shots of Sara as she winces in real pain!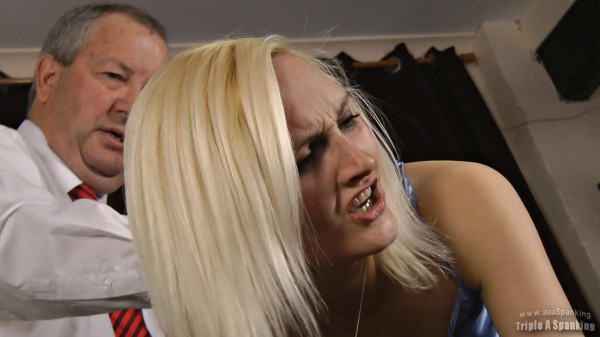 If seeing schoolgirls thrashed in their PJ's is your thing, you'll be happy to know that there are a whole series of films covering this subject at AAAspanking – I hope you enjoyed viewing this as much as we did making the film! & don't forget that we have held down the pricing for this site even though one whole movie is uploaded at least once a week (without fail) & with a glut of updates and more… longer term memberships have proved very popular, especially the low priced 3 month non recurring option but I see there are those that now enjoy the lower recurring price too… (Actual pricing is HERE) so a big thank you to those that continue to support us, as without you, we can not make any new films!

Inside info: Our next film shoot is with Sarah Gregory (her site is HERE if you didn't already know! If you have any requests (I WILL get her in dropseats PJ's by the way) but we are going to ensure she receives a very British welcome and there's a nasty cold old school room & Dunce's Hat waiting for her (oh my!) … but please leave suggestions, you never know, a fantasy to see Sarah punished the way you'd like could come true!