I was feeling a little self indulgent and in a bid to lighten things up on here (don't worry, I've put the soap box away… for now!) I decided to track down one of my favorite Samantha Woodley movies… and guess what, it wasn't at Firmhandspanking.com (although I shall feature that great site later in this post with another classic I loved) – nope, it was Samantha's rare trips outside her contractual relationship with Firm Hand to an old friend, Dallas… who she did some awesome movies for back in 2007! What's more, Dallas had the films set in a higher format so they play at full screen in Real Media (.rm) Format very well, you'll see a clip later that I've cut for you of a brief but delicious OTK scene so you can experience more about this movie!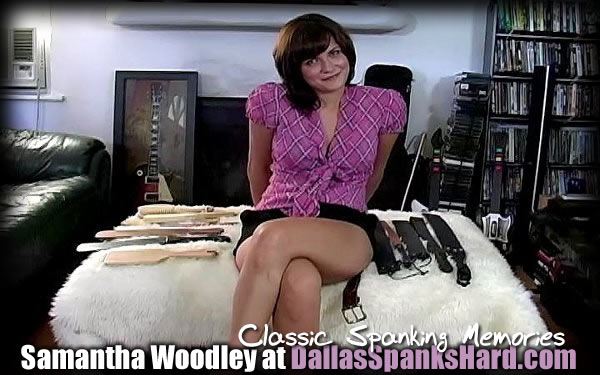 Beautiful Sam sits among many of the implements that will go across her bare bottom later!
The opening credits to the particular film I am showcasing here describes their friendship and past history in "the Scene" and, I am guessing here, Sam had probably been a guest "chez Dallas" for a while as she had quite a tan line on her bottom so probably had been encouraged to loaf around by the pool and catch some rays! Now I remember reading way back that Dallas admired the tan lines on a girl's butt (as do I) as there is that beautiful highlight of white hidden flesh against the bronzed tone of the skin and of course the redness that follows spreads and you can see the color changing across the various skin tones… it's quite a spectacle (and guess what… as you'll see later, Sam's white bottom doesn't remain that color for long, mmm!)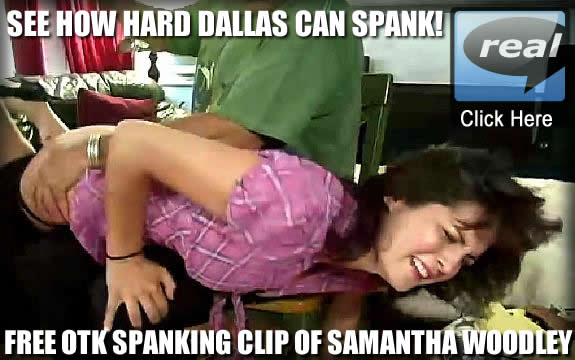 If you want to see MORE of the amazing series of films Dallas shot with Samantha, then Click HERE or on her beautiful tan lined bottom below and you can find out how to view the full films and much more as Dallas shows his girls what a good hard hand spanking and paddling on their bare bottoms is all about!
********************************************
& as promised something from my old collection of spanking memorabilia from the excellent FirmHandSpanking.com and this particular series has the naughty Amber Thomson with an amazing bubble butt that could take quite a paddling & strapping (see below)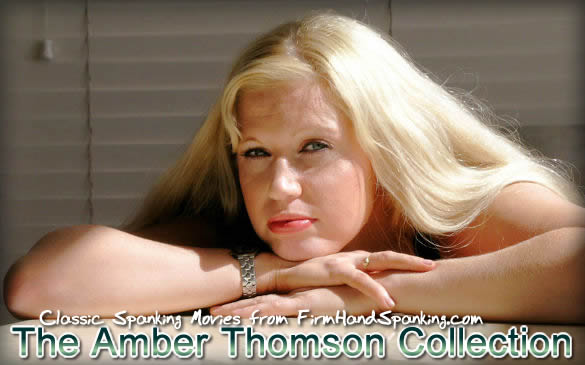 Amber starred in many schoolgirl themed films in this series – she was paddled and strapped as a cheer girl also, but I think I once featured that way back so why not check out Amber here in her gym kit – I watched this movie again earlier and her magnificent bubble butt got a cracking punishment that left her in no doubt that further misbehavior would result in yet more severe discipline of this kind! Here you'll see coach Mike sort her out! I hope you appreciate these images as the movie itself is amazing!
Plenty more of Amber alongside all the girls I've showcased in the past can be seen HERE
***************************************************
Finally today from English-Spankers.com – I watched this great strapping movie of Sasha Harvey – I know that she can take one hell of a leather strapping, I have been fortunate enough to witness this on several occassions, but this movie had an added spice to it, Sasha isn't a shy girl but she can play the "work shy" slut perfectly…. almost too perfectly (awww, Sasha… only kidding – you're a real star as this movie clearly shows!!!)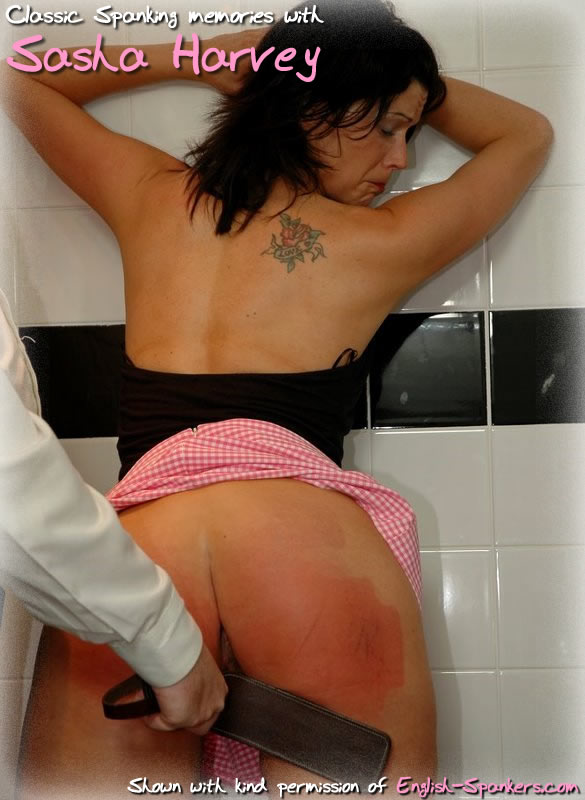 Sasha Harvey works in her local night club and has a habit of upsetting the boss. Saturday night finds her in the toilet playing with her pussy, boss not amused and a sound punishment ensues. First a hard spanking followed by a blistering application of the leather paddle which leaves her bare bottom red and marked. His girl really can take a hard paddling and punishment.
Yikes! Sasha, you are soooo naughty!!! You can see her preview clip of this great movie HERE!