As promised, I have been a busy bee and got you a ton more spanking goodness to keep you occupied and provoke you into some thought about a few other websites I have been perusing over recently… and if you thought I had ignored the beautiful oriental girls… oh boy, are you so wrong! However, a mega Japanese update is at one of my other blogs, I urge you to check that out HERE when you have more time to read as I got some EXCLUSIVE image screens from a few movies in that review, so it's well worth a look 😉
Hopefully if Mike from Spanked-in-Uniform is reading this… I hope you do update some French maids again at the Birchington Inn, I rather liked seeing the girls in their outfits playing with each other and being punished when they were sent to this retreat from hell… here is a reminder of some of my favorite films from that particular series which contains something like 20 odd full length movies alone! I've chosen 2 images each from various films that may jog your memory… or perhaps make you want to investigate this naughty spanking section just a little further! (If you love uniforms… then seeing girls punished as French Maids is a MUST!)
************************************************
As it is supposedly summer (here in the UK) I actually thought I'd find some spanking films with some great outdoor shots… no heatwaves over here at the moment, no risk of what few air conditioner fans we have breaking down in what is another damp squid of a lousy summer here in Britain (global warming… my big fat hairy arse!)… So I have been rather impressed with the outdoor shenannigans going on at SpankingBareButts.com especially as it has gorgeous Bryanna and her charming southern accent (along with the wibbly-wobbliest and most mesmerising bottom around!). This was taken from part of the ongoing "Butt Spank Island" series of films… and I thank Bryanna and co for warming me up watching her get a spanking outdoors on the desserted island beach… the sounds of waves lapping the shore mixed with the "smack smack smacking" of her reddening cheeks is quite intoxicating!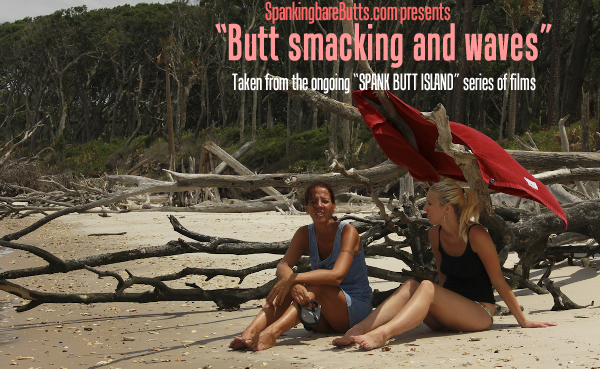 For a free clip from this movie – Check it out HERE
************************************
Punishedbrats not only have some brand new updates out right now, but some new girls as well, and I'm liking the hot naked spankings they have been showing recently…. here is new brat Amaya Solace… getting a naked OTK spanking from mother, Veronica!
Veronica is not content to wait for her daughter, Amaya, to finish up her bath before discussing some matters with her. She pulls the naked girl right out of the bath for an over the knee spanking!
Check out more naked girl spankings and humiliating home discipline of brats HERE

**********************************************
Ah nuts… I was planning on doing more today… but I have been called into work and since I'm trying to get a promotion… I better show willing (the joys of working for others, eh?) have a great weekend, please don't gloat as you imagine me slaving away for mere pennies this weekend, and the sun has just popped out and it is rather pleasant outside *shakes fist at sky rather pointlessy cursing the Almighty One" *
Back soon as usual… hope there were some reviews here worth your consideration… Chief