Seems my soapbox rant did the trick… finally it appears American politicians have realized that they MUST sort out some sort of deal, put aside their differences and deal/compromise/accept something which will stop the country defaulting on its bills…  and it appears there could be something tangible in agreement. Far be it from me to continue ranting about it, but of course if America DID default and was unable to pay the bills, interest rates on mortgages and credit cards would rise sharply as the Triple A (AAA) credit rating would disappear below that of Greece (which is, well, frankly embarrassing ) and we'd all suffer the double dip recession… especially here in Britain as we rely heavily on trade between ourselves and the USA so it doesn't bear thinking about.
I am of course wanting this to be resolved, I want people to have more money in their pockets, so they can buy luxuries once more like spanking site memberships, I want them to particularly buy MY site's memberships so we can continue making more films – I have already told you we were precariously close to the edge, like many producers feeling the pinch… I have no shame in admitting that… so have worked my socks off behind the scenes to address our issues to avoid that catastrophe and it benefits those who now want to sign up to the site. I have tried to encourage those to join up with our BEST ever deals for both non recurring one off payments and longer term membershps which, for the content we now got… is pretty damned good! So will we avoid our own Spanking Armageddon? I would have said a 100% "No" if America defaults tomorrow… but as that is looking unlikely now, and 70% of my market is American… with the cheaper prices available, I implore all my hard working affiliates and those who are just reading this blog, maybe for the 1st time… please do go check out AAAspanking (yup, we still got Triple A rated girls… but they come at AAA rated prices) but without our wonderful membership's support, things will obviously look quite bleak for the future… so we thank each and every member that joins, you are helping us to commit to producing yet more content and I have my next schoolgirl filmshoot booked and confirmed for around 2 weeks time, I won't say who it is just yet, but she is VERY popular, a girl we have filmed with in the past and I have so many things I want to film: We have a great school location lined up… I'm looking forward to this… and I know that when we edit and upload our kick ass HD-MP4 movies courtesy of my hard working and undersung Editor geezer who really does miracles with our stuff… I know you will appreciate it too!

Or if you prefer, our ever increasingly popular Clips4sale Store goes from strength to strength and you can order as many or as few clips to download and keep if you don't want to sign up to our new cheaper membership options. See below for the latest films added there today!
Incidentally, if you have any schoolgirl scenarios, here are some of the props/location we will be using so please do send in suggestions for stories and ideas! We will be filming in an authentic looking classroom with desks, we will have use of an old fashioned Gym Horse (I love those things) so Gym wear, school uniform and of course PJs for Dorm Detentions will be the norm… We also have use of an office, I won't be focussing on bedroom scenes at this film shoot, but as I said, that doesn't stop me punishing the girls in their PJs!!!
**********************************************
& onto my first spankings elsewhere that I have had a quick look at so far… and as producers worldwide continue to ignore what is happening financially throughout the world, it means no let up in the ass thrashing departments, as one very sluttily attired Miss Francesca Le discovers when the (noticeably buxom) Miss Law confronts her over messing around with the students at BadTushy.com … she takes a thrashing off her or gets fired by the Dean, the choice is simple! Fortunately, Francesca chose to take the former and we get to see a great F/F teacher on teacher discipline film… Beware, Francesca's bubble butt is rated "TA" (will cause Trouser Arousal). I have images and a snippet for your perusal!
You can see MORE of this hot sexy faculty punishment movie right HERE
**********************************************
I haven't shown you anything of Amelia Jane Rutherford for quite a while so it is with some relief that I finally get to show you the very latest movie update of her in this TV style spoof documentary with Dr Zaegler in the continuing series at Firmhandspanking.com called "The Definitive Guide to CP". This week Amelia experiences the cane and these are quite hard and powerful strokes that scared her… but she took them and the film is unedited to include the reaction and facial shots which reveal the intensity of the strokes!
Fans of Miss AJR will NOT be disappointed with this at all! Out now from FirmHandSpanking.com
********************************************
I saw there was a very watchable movie starring naughty Kisa recently who was running away from home… I would too if it meant I was being spanked by the infamous and stern Lily Starr! You can see what happens below in this footage taken from the amateur spanking specialists MarkedButts.com from when she's caught and I will show you where to find a free preview clip of this new film:
"Runaway Gets the Hairbrush" – Frustrated Lily drags Kisa back into the house after having to go fetch her from the police following her third attempt to run away this year. Kisa's attitude is terribly snotty and rude. She insists that she will just keep running away because she hates it at home and doesn't want to follow any rules. Even though she has never been spanked before, Lily decides that it's the only way she can think of now to deal with her and much to the girl's horror pulls her right across her lap for a much needed bare bottom spanking followed by the hairbrush that has Kisa howling in pain!
You can see a free preview clip of this film HERE
*********************************************
I have to admit I do love seeing girls dressed up as cheerleaders and such… so when I delved into the archives of Spanking Teen Jessica I knew that she would be wearing this trademark uniform, so tight and trim in it… it almost seemed criminal to see her paddled severely… but of course I wasn't finished with thinking about that, I knew there was a double cheer girl movie (in fact, there are plenty actually) with her other sometime co-spanking star, Brandi… so here is a double paddling special of both Jessica and Brandi together, for failing and cheating their Test Papers! Enjoy!

************************************************
Finally, since I was feeling nostalgic, one of my fave all time Rosaleen films is available to download for just $5, no hassle or sweat, just the price of a good cup of coffee and this uber brat is yours to see thrashed again and again in a rather humiliating film in and out of her uniform courtesy of her nemesis, Elizabeth Simpson. Click on any image below and it will lead you to the special preview and download page (there's a decent freeview clip too!)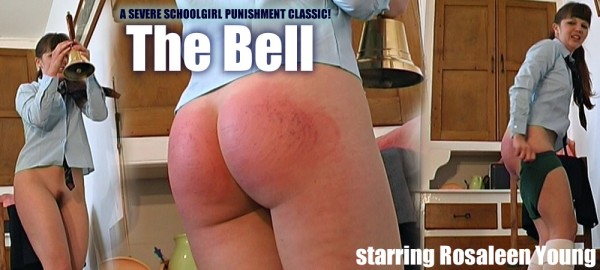 See one movie that made Rosaleen Young's many punishments so addictive & evocative to watch! This is a schoolgirl classic co-starring Elizabeth Simpson who shows Rosaleen no mercy as her pert bottom is thrashed severely with the cane. Note the added humiliating twist with posture training courtesy of the bell that has consequences for sounding it through unwanted movement! the caning scenes are heavy and given hard across Rosaleen's soft ample buttocks! Download & keep for just $5!
FULL LISTINGS OF ALL MOVIES – CLICK HERE
*****************************
Oh, before I go, I haven't asked anyone to do this, but if you don't mind and you already have a Google account activated whilst browsing this… would you mind just clicking on the +1 button at the bottom of this post? I'm not sure what this is supposed to do, exactly… but as this blog has mysteriously always been a little touch and go with the Google rankings, maybe this will help… I don't know. I have used the WordPress SEO optimizer, but I actually think that is a hindrance rather than a help and is probably penalizing this site… if anyone knows, I'd sure appreciate it. I just find the random rankings bizarre, sometimes I can be right up there, even number one on the (odd) occasion if you typed in "spanking" or "spanking blog" on Google, and then other times, like now… nowhere to be seen… it sucks! Anyhoo… have a good 'un. Back tomorrow, Chief.