Well, I'm a little late in bringing you some behind the scenes info on my very own latest movie just released yesterday at AAAspanking.com as well as everywhere else, so no point bleating about it, please enjoy today's updates and feast your watery eyes on what's out there currently! 'Tis a veritable concoction of spankings, tears, mayhem and naughty discipline many of you have come to expect from me on here! Peruse at will!!!
Wynter – aka Sara Winter gets her comeuppance for real when she took too long on a cigarette break!
Now, I'm strictly of the old school fraternity that hates to see girls smoking! I hate the smell of stale tobacco lingering in a room, OK, I have the odd fat Havana cigar… but like former President Clinton once exclaimed "I did not inhale!" (no, sir, you just dipped it in your intern's honeypot and enjoyed the taste… but I would be digressing… ahem) So, of course I'm no mean bastard, the girls & crew can take coffee and cigarette breaks as and when throughout a day… but to hide away and take longer than expected… holding up the film shoot… well, that's not on, is it? A perfect excuse to slyly bring down a video camera and punish the girl right there and then… and that's just what I did to Sara in this latest release now showing! I ensured she got a good hard spanking and brought  a couple of straps with me to reinforce the point that slacking off like that was a big breach of trust issue. I hope you like Miss Winter's suitably reddened sore bottom as payback for that abuse of my trust! I love excuse and impromptu maintenance spankings like this!
This is the blurb given on the tour pages describing the film in more detail: "Sara had snuck off to take an extended coffee break during John's film shoot and was caught smoking a cigarette in a restricted area. Not only was she caught out, she had deliberately taken her time and had held up another film being made! John had seen enough and told her not only was she getting less pay for the day for messing his company around, he was going to spank and humiliate her further right there and then! Sara knew she was in the wrong and accepted her fate without too much of an argument. John quickly pulled down her knickers and gave her a spanking and a good hard strapping for her foolish attempt at trying to cheat him out of a film that she was contracted to make! Let this be a lesson to the slackers out there! Mr Osborne doesn't miss a trick, ladies! Ahem… meanwhile, if you lovely ladies fancy working for his fine upstanding company… then please do visit the Models Page HERE which is also located on the front bottom pages of the site. You can be sure he'd "love" to find more excuses to spank all you naughty ladies out there!"
A small exclusive image of what was taken near the end by the stills camera! 🙂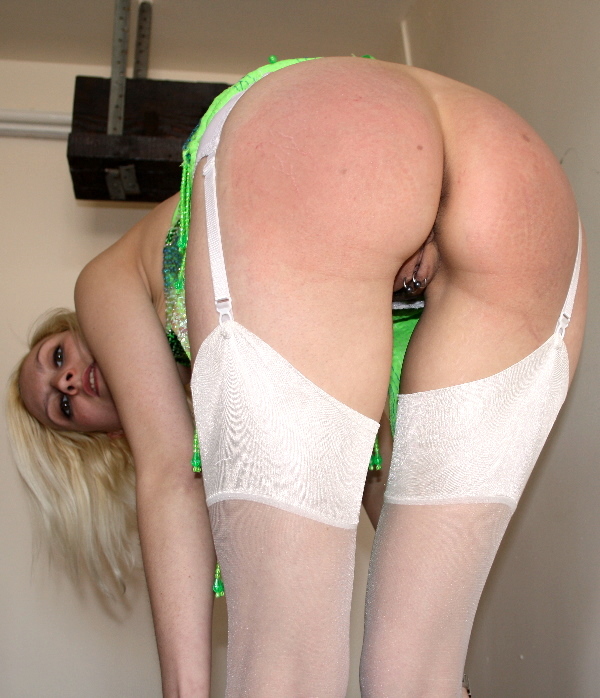 Check out all the latest previews & quality cheap sign up options now available HERE
*******************************************************
& the spankings and paddlings (with possibly the thickest, meanest wooden paddle I've ever seen) at GirlSpanksGirl.com as Clare Fonda's infamous EXCLUSIVE EDUCATION 6 series continues and I have some amazing images which highlights the paddlings and also the real life niece of feared Miss Lana Miller over her knee in this first for both of them… I really do hope Clare persuades Mandee to come back, there's not enough black girls getting a good spanking in such an environment and consequently, I love seeing this rare gem of a spanking – great on Clare for getting Lana and Mandee to shoot this!
 & check out the awesome paddlings as promised below! Yikes!!!
If this wasn't enough, remember that Snow Mercy is one of the fearsome teachers in this series… well, in the same disciplinary section of the site a brand new long play movie has just started and features Miss mercy on the receving end (OMG! I can never get enough of seeing Snow bent over shamefully with her panties removed and getting an embarrassing spanking!) – Well, wait no more as she is an aunty in DEEP TROUBLE as you'll see below!
Aunt Snow has been slacking over the summer and maybe even doing drugs. Her neices, who are staying with her decide it is their responsibility to teach her a lesson. So they overpower her and toss her over their laps for a handspanking, then bend her over and spank her with a hairbrush. Snow swears she has learned her lesson.
Check out MORE of these great updates at GirlSpanksGirl.com
Remember – this site is part of THE top value CLARE FONDA PASS!
*************************************
Grrrr, I am really having the gremlins as I post this today… I have noticed that  recently when posting, it really slows me down… not that you'd notice, of course as you'll be reading the finished project. Damned images and such aren't aligning correctly, even though I have used this stupid software for an age… bugger, f*ck and sh%t!!!
As I have such a potty mouth, here's a delightful girl that will take away my feelings of anger, a girl I could NEVER get annoyed with… even though she plays the brat oh so well, I am of course referring to the beautiful Pixie Amber Wells and just check out her latest great movie (now out in full) that you can watch exclusively at PunishedBrats.com
Pixie's film "Babysitting Blues"
Veronica arrives home earlier than expected and finds evidence that the babysitter, Pixie, must have invited her boyfriend over. She finds a rather large shoe abandoned in the living room that could not belong to Pixie or the children, and paddles the girl for having boys over on the job. The teardrop shaped dark wood paddle does a number on babysitter Pixie's bare bottom. Pixie will think twice before ever bending a rule while working for Veronica in the future!
& check out new girl Amaya getting a much needed thrashing off Veronica in her bedroom… this looks really promising!!!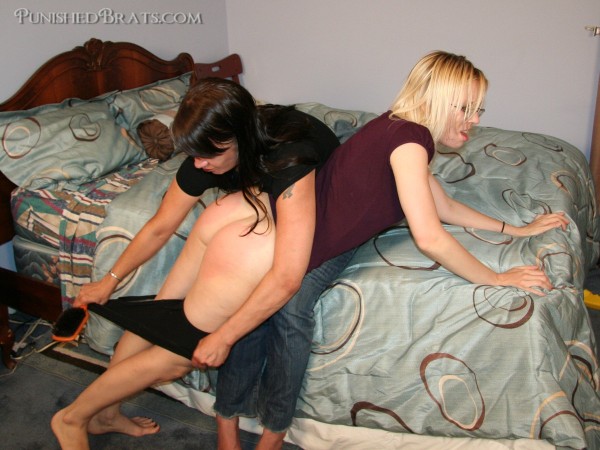 A new film starring Amaya  over Veronica's knee – "Insolence and Consequence" – Amaya went out despite being grounded by Veronica. Clearly that punishment is not getting the message across. Amaya is ordered to the bedroom for a hairbrush spanking.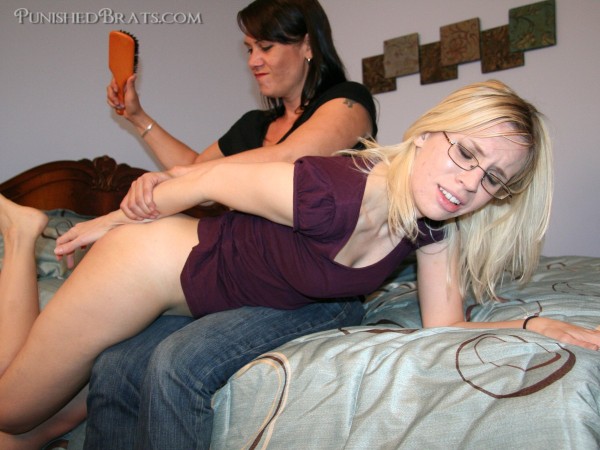 ****************************************
Finally today, I have a butt thrashing festival of tears and very sore bottoms as I think this is probably the 1st multi bum spanking that the mean ol' Headmaster at Spanked-Coeds.com has carried out and I can tell you there are PLENTY of tears and screams as he dishes out a severe and nasty spanking and paddling of each girl… twice! By golly, these co-eds get a hell of a thrashing and these images don't really do it justice but I hope you get an idea anyway!
A tear jerking butt busting spectacular! Go check out the free previews and see for yourself!

*****************************************
Have a great weekend! Chief.