Bloody hell, it's hot here… it's supposed to be a bit chilly as the leaves start to fall from the trees, but as Briatin basks in its warmest ever September day (and I'm guessing tomorrow will be the warmest October on record) here is an example of how we last celebrated such unseasonally warm weather… way back in 1895!
The Victorians. They really were quite prim and proper in those days… compare that to the image taken and circulated yesterday in our newspapers of a girl sunbathing in London's Hyde Park… with hardly anything on (nice view by the way!) They could have shown an ass shot too… bah!
Of course this is a spanking blog and I should be getting you some updates at least before I head off to my film shoot we're doing tommorow, but before I do quickly give you an update, why not feast your eyes on our fine ladies and cracking images as we "swelter" in near 90's heat… I "love it"
Cambridge University students take a punt on the river Cam
"Typical awesome ass we see on the beaches nowadays!" *sigh*
******************************
OK, here is a brief update, I have also updated my other blog HERE if you wanna check out some classic stuff I really enjoyed viewing again late last night (ahem!)
Someplace where it is always warm and sunny is LA in California and I got to checking out the latest developments of Clare's awesome EE6 series, the 1st classroom mayhem scene, which in itself is an epic spanking story, has been completed and available for download and currently the new cheergirl is being taught a lesson for being late… but if you haven't seen much of it then why not catch up withthis great compilation clip that you can view immediately, I have ensured the quality is as best as it can be for Flash Player playback… but all in all, it looks pretty damned good and is representative of what members are viewing right now!
Liked that? You can check out the FULL film HERE
If you liked that, you'll love what is coming with what I think is the meanest looking paddle, I asked Clare about this and she was a little intimidated by it's heaviness and power at the time and you can see why as it doesn't take much of a swing to get that to crack on a poor girl's bare bottom… needless to say, I have been reliably informed that Ten Amorette took it as a personal challenge to get a good whacking…. this is possibly Ten's finest hour in spanking and she looks simply stunning as you'll see below! These HQ images are available to view for members and accompany the ongoing EE6 series which will make it the BEST (in my opinion) ever!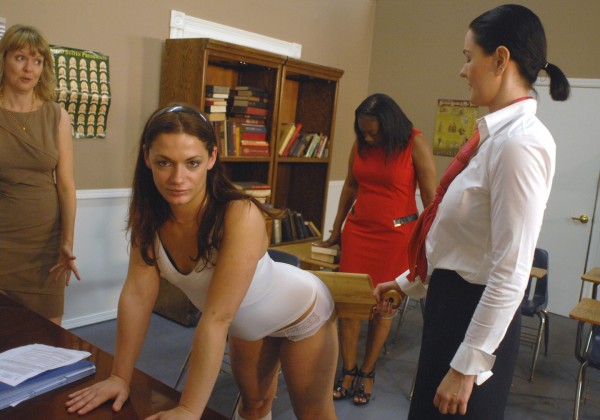 Ten takes all of the wooden paddle – to the surprise and delight of the teaching staff!
& of course many of the other girls are going to be taking this most evil wooden implement too!
SEE THE LATEST MOVIE PREVIEWS AND UPDATES RIGHT HERE
& DON'T FORGET IF YOU WANT TO VIEW THIS CHEAPLY AS PART OF CLARE'S NETWORK OF SITES
THEN CLICK HERE FOR DETAILS AND FULL OPTIONS!
***********************************
OK, You may have seen me rave on about new blubbering girl Claire from BunBeatingFun most recently (Greg gave me a good heads up on her – producer to producer, as I had been helping him with some behind the scene issues we all suffer from recently) so, as I showed you some images from his amazing new film, they really didn't do Claire and her punishment any justice at all…. so check out this snippet below I made…. tell me that seeing her bawl her eyes out, mascara running down her cheeks, seeing this real life brat get a good hard bare bottom thrashing doesn't get your juices flowing! This really is one of their best films (and I said that last time bratty Charity came online, lol!) Well done Greg & co for making a top OTK spanking film! See Claire get what's coming to her….

For all the images you can easily check my previous post below that showcased Claire, as that is all I have time for today! Gotta go pack and be on my way! I'll let you know how my shoot went (and if the neighbors are nosey or not… gulp!)
Have a great weekend and to my readers in Britain… enjoy the unseasonally warm weather! This is our last blast of the year before winter gloomily approaches!
Regards, Chief.